THE BEST PERENNIAL PLANTS FOR POLLINATORS
Turn a patch of your garden into a banquet for beneficial insects by putting these native plants on the menu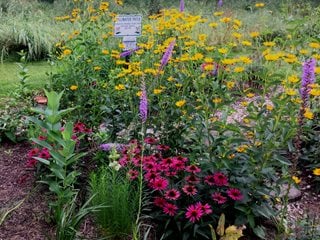 Bring a variety of insects to your pollinator garden by choosing native plants with different flower colors, shapes, sizes, and blooming periods. Photo by: Anne Balogh. Pollinator patch planted by the second grade students at Abraham Lincoln Elementary School, Glen Ellyn, Ill.
If your garden has become a ghost town rather than a hive of activity from pollinators, you're not alone. One of the major reasons for dwindling pollinator populations is habitat loss. Butterflies, bees, and other pollinators are becoming rare sights due to the widespread use of pesticides and a dwindling supply of the nectar-rich flowers they rely on for food. Fortunately, you can play a role in reversing this trend by creating a pollinator habitat in your garden.
"Small plantings may seem insignificant to you, but if each yard devotes a small area to pollinators, your neighborhood will serve as a season-long buffet of nectar and pollen that supports a diversity of bees, butterflies, and other flower visitors. If you do not have the yard space, you can fill a decorative planter with pollinator-friendly plants and place it in a sunny spot on your patio or stoop," says Kelly Gill, pollinator conservation specialist for The Xerces Society. (Read her article "Everyone Can Play a Role in Pollinator Conservation".)
Also see: 10 Tips for Starting a Pollinator Garden
10 PERENNIALS FOR POLLINATORS
These 10 perennials are all native to North America and attract butterflies and bees, as well as other beneficial insects. Get more region-specific resources (plant lists, habitat assessment, and more) from The Xerces Society.