Aster Flowers for Perennial Fall Color
Learn how and where to plant 16 varieties of aster in your garden.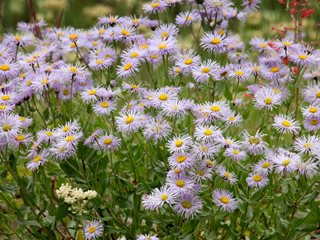 Western Aster, Symphyotrichum ascendens, growing in Grand Teton National Park in western Wyoming. Photo by: B Brown / Shutterstock.com.
Asters come in a wide variety and grow quite effortlessly. Colors are diverse, ranging from white and pastel blues and pinks, to hybrids of deep scarlet and purple. Asters have the iconic flower shape that signals we are looking at, essentially, a daisy. Their flowers provide a large store of nectar that attracts pollinators, they are disease and deer resistant, and bloom predictably and reliably.
GROWING AND CARING FOR ASTERS
Zones: 3–10; varies depending on species and cultivar.
Soil: All types of soil, but most prefer well-drained, organically rich soil. Learn more about preparing your soil here: Garden Soil 101.
Water: Once asters are established, they require little watering, unless conditions have become unusually dry and the plants show signs of stress. New York aster (Symphyotrichum novi-belgii) cultivars have shallow roots and may need more frequent watering during the summer, especially when planted in free-draining soils. Keep soil moist, but not saturated. Mulching to reduce water loss is an important strategy for preventing disease.
Exposure: Full sun, tolerates light shade, likes cooler summer temperatures.
Pruning: Pinching back stems, or deadheading, several times before mid-July helps to control plant height, promote bushiness, and encourages blooming through the entire season. Leave a few wilted blooms at the end of the season if you want your asters to self-sow. Learn more about pinching and deadheading here: Pruning Garden Shrubs and Perennials.
Staking: Taller stemmed varieties may require staking.
ASTER PICTURES
With such variety, it is easy to see why these autumn-blooming perennials take center stage in so many gardens. Here are a few varieties to explore:
EXPERT DESIGN TIPS
Choose Contrasting Companions
Hardy ornamental grasses and substantial foliage plants such as Yucca, Carex, and coleus provide a sturdy backdrop for softer or brightly colored asters. For Jim Sutton of Longwood Gardens, his favorite sustainable companion plant is kale—especially 'Lacinato'.
Go Big
Paul Picton, co-author of The Plant Lover's Guide to Asters, says, "When planted en masse, billowing clouds of color will enhance and revive gardens at a time of year when most other flowers are fading."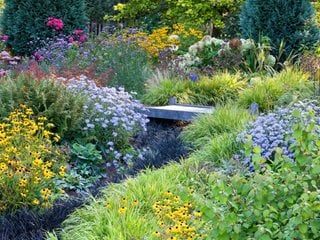 Planting asters alongside late-blooming perennials and grasses with strong color brings the autumn garden to life. Here, Aster ×frikartii 'Mönch' is joined by Rudbeckia fulgida 'Viette's Little Suzy', Rudbeckia subtomentosa, Hydrangea 'Annabelle', Verbena bonariensis, Sedum 'Matrona', and Rosa 'Rosemary Rose', sweeps of Japanese forest grass, and black mondo grass. Photo by: Richard Bloom.
Put Them in a Container
Use a single bushy plant, or create a mini landscape with smaller asters and grasses. Picton suggests Aster cultivars, Symphyotrichum ericoides 'Golden Spray', and S. novi-belgii 'Lady in Blue' or 'Rosebud'.
Pump Up the Color
Place asters next to other fall-flowering perennials, bulbs, and shrubs—or more asters. Mr. Picton recommends yellow and says goldenrods make wonderful companions for asters.
Vary Heights
Plant a mix of tall upright stems, low spreading shrubs, and everything in between. Used as a mid-border plant, medium-to-tall asters will pop out after the summer blooms have gone off. "Come September, they get a chance to shine," Sutton says.
Place Properly
"Asters from Symphyotrichum novi-belgii, S. novae-angliae, S. ericoides, and S. cordifolium are happy in an open, sunny site in soil that doesn't get too dry in summer," Mr. Picton says. "Other species such as Eurybia schreberi will be happy to grow in dry shade. Warmer conditions might be tolerated by some of the true Aster found wild in Europe and Asia."
Whether you want a pop of late-season color or an addition to your pollinator garden, Asters could be the answer.
Portions of this article were adapted from a piece originally written by Meg Ryan for our print magazine.
RELATED:
The Magic of Mums
Fall Flowers