TOP 24 PURPLE FLOWERS FOR YOUR GARDEN
Create different effects in your garden with purple flowering plants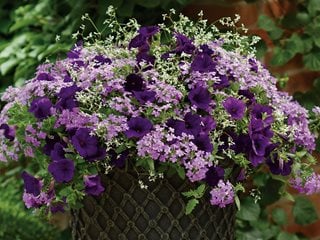 'Glory Days' container recipe. Photo by Proven Winners.
Using color wisely is an important component of good garden design. Purple is a symbol of royalty and elegance and a favorite of avid gardeners and designers. Subdued shades of lavender evoke a sense of calm, while brighter hues such as magenta create excitement and drama.
Purple goes with most other colors and the sum effect becomes more sophisticated. Harmonious hues of blue, silver, and white cool the heat of summer, while contrasting shades of orange, yellow, and red create visual tension. By using basic principles of color theory, you can create the desired effect in your own garden. Get started with these purple garden flowers:
Great plants with purple foliage include some varieties of spiderwort (Tradescantia) and coral bells (Heuchera).
RELATED:
Color in the Garden
21 Blue Flowers for Your Garden
32 Red Flowers for a Gorgeous Garden
How to Start a Flower Garden