20 Blue Flowers for Your Garden
Turn your garden from blasé to blue-tiful with easy-to-grow perennials, annuals, and shrubs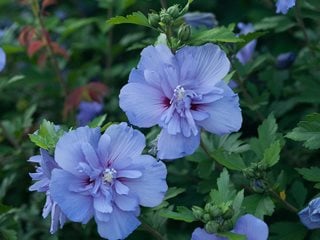 Blue Chiffon® rose of Sharon. Photo by: Proven Winners.
Dutch painter Vincent Van Gogh may not have been a gardener, but he was clearly an admirer of blue flowers, perfectly capturing their beauty in his famous painting Irises (1889). Perhaps as an artist he knew Mother Nature's secret to producing "true" blue flowers, which is actually a blend of plant pigments that reflect light in such a way to create the illusion of natural blue. (Even flowers can benefit from the right lighting!)
Making up less than 10% of the flowering plant kingdom, plants with blue blooms are a rarity, but you still have many options. This elite color group includes a wide range in shades ranging from sky blue to deep indigo and growth habits from groundcovers to large shrubs. And if you plan carefully, your garden will be singing the blues from early spring through late fall.
On this page: Blue Perennial Flowers | Blue Annual Flowers | Blue Flowering Shrubs
BLUE FLOWERING SHRUBS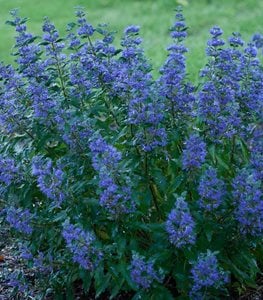 Photo by: Proven Winners.
Beyond Midnight® Bluebeard — Buy now from Proven Winners
Caryopteris x clandonensis
Plants that give you blue flowers late into the season are few and far between, but this compact shrub produces them in abundance. The clusters of fragrant, deep-blue flowers last well into autumn, creating a striking contrast with many popular late summer flowers, such as coneflower and black-eyed Susan. A favorite of butterflies and other pollinators.
Zones: 5-9
Size: 2 to 3 feet tall and wide
Where to grow: Full sun in well-drained soil. Sites with poor drainage and soggy soil can lead to root rot.
Bloom time: Midsummer through fall
Growing tip: It's best to cut back bluebeard in early spring to promote new growth and flowers. You can give your plants a trim in late autumn to remove the spent flowers, but do not cut into the thick, woody stems until growth begins to emerge in spring.
Others to try: 'Blue Mist', Blue Balloon®, Petit Bleu™
Photo by: Proven Winners.
Let's Dance® Rhythmic Blue® Hydrangea — Buy now from Proven Winners
Hydrangea macrophylla
This reblooming bigleaf hydrangea produces huge mophead flowers all summer long, even without pruning. It's also bred to perform well in colder climates, making it a smart choice for northern gardens with harsh winters. The bloom color ranges from pink to lavender-blue depending on the soil pH. For the best blue blooms, keep your soil on the acidic side and treat it with aluminum sulfate.
Zones: 5-9
Size: 3 to 4 feet tall and wide
Where to grow: Full sun to partial shade in moist, well-drained soil.
Bloom time: Midsummer to early fall
Growing tip: In addition to increasing the amount of aluminum in the soil, using a fertilizer that is low in phosphorous and high in potassium is also helpful in attaining the richest blue flower color.
Other blue hydrangeas to try: Let's Dance® Blue Jangles , 'Nikko Blue', 'Decatur Blue', 'Blue Danube'
Learn more about growing hydrangeas.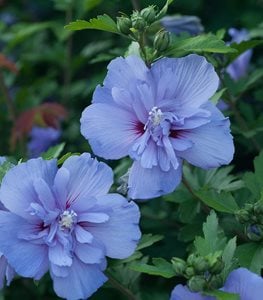 Photo by: Proven Winners.
Blue Chiffon® Rose of Sharon — Buy now from Proven Winners
Hibiscus syriacus
Named 2020 Flowering Shrub of the Year, Blue Chiffon gives you lacy blooms from summer to fall on soft, elegant stems. Its flowers attract birds and butterflies and have a delicate, lacy center. A large shrub that is both heat and drought tolerant.
Zones: 5-9
Size: 8 to 12 feet tall, 4 to 6 feet wide
Where to grow: Full sun in average soil
Bloom time: Early to late summer
Growing tip: Apply a slow-release fertilizer in early spring.
Others to try: Azurri Blue Satin®
Learn more about growing rose of Sharon and hardy hibiscus.
RELATED:
Garden Color Schemes
20 Purple Flowers to Brighten Your Garden
How to Start a Flower Garden