Grow False Indigo Plant for Beautiful Native Wildflowers
With stunning spring flowers and lush foliage, easy-care, baptisia plants enhance perennial beds and borders all season long.
Reviewed by Denise Kelly, Horticulturist
Updated 03/03/22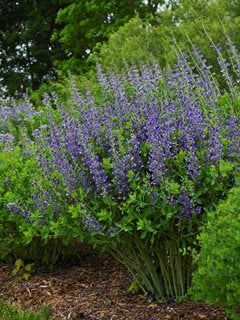 Decadence® 'Blueberry Sundae' false indigo (Baptisia hybrid). Photo by Proven Winners.
Baptisia, or false indigo, is one of those resilient native perennial plants you can count on to bloom and thrive for decades. In addition to being long lived, baptisia also provides a long season of interest, beginning in spring and lasting well into fall.
Perhaps the only downside is the patience required to grow them, since they can take years to reach their full glory. The rewards, however, are well worth the wait.
On this page: Basics | Planting | Care and Maintenance | Baptisia Pictures | Landscaping Design Ideas
On this page:
BASICS
Botanical name:
Baptisia
Common names:
Wild indigo, false indigo
Origin:
North America
Zone:
Typically hardy in zones 3-9 for wild species; 4-9 for cultivated hybrids.
Height/spread:
3 to 4 feet tall and wide
Exposure:
Full sun is the ideal environment for Baptisia, though they do tolerate light shade. In too much shade, plants may get lanky and bloom less profusely.
Bloom time:
Late spring to early summer
Length of bloom
Typically 3 to 4 weeks, depending on the temperature. In cooler weather, bloom times may be longer.
Growth rate
Slow. Plants grown from seeds may take 2 or 3 years to bloom and as long as 5 years to reach their full, shrublike appearance.
Flower colors and characteristics
Florets are shaped like pea blossoms and are borne loosely on elegant 12- to 24-inch spires. Wild species, such as B. australis and B. alba, are typically limited to shades of blue, purple, and white. However, newer hybrids, such as the Decadence® series from Proven Winners, offer more colors, including bright yellow, pink, sapphire, and even bicolors.
Special attributes
Deer and rabbit resistant
Drought tolerant
Flowers attract bees and butterflies
Low maintenance
Self-fertilizing
Rarely bothered by insect pests or foliar diseases
PLANTING BAPTISIA
Decadence® 'Lemon Meringue' false indigo (Baptisia hybrid). Photo by Proven Winners.
When to plant:
Any time during the growing season, although plants will get off to a better start and require less watering if you get them in the ground in early spring or wait until cooler fall weather.
Spacing:
Typically 3 to 4 feet apart, depending on their spread at maturity. Plants can take years to reach their full size, but don't be tempted to space them close together. Baptisias form a deep root system, so they are difficult to move once established.
Is Baptisia invasive?
Although it's not classified as invasive, Baptisia is sometimes incorrectly referred to as invasive because it is difficult to remove due to its deep root system. A true invasive plant is one that causes ecological harm in a new environment where it's not native, which is not the case for Baptisia.
BAPTISIA CARE AND MAINTENANCE
Decadence® Deluxe 'Pink Lemonade' Baptisia
To see the growth habit of Baptisia, view this short video (less than 2 minutes) to see an established Decadence® Deluxe 'Pink Lemonade' Baptisia.
Soil:
Average, well-draining soil that is slightly acidic
Watering:
Keep soil evenly moist until plants become established. Once they take root, they are very drought-tolerant thanks to their extensive root system.
Pruning and deadheading:
Baptisias will rarely rebloom if deadheaded, and doing so will prevent the development of the attractive seedpods. However, you can cut back plants by as much as a third in midsummer to shape them to your liking, just as you would when pruning shrubs. If you want seedpods to form, forego extensive pruning and let your plants go to seed. You do not need to prune back Baptisia in the fall.
Dividing:
Because mature baptisias have thick, long taproots, they don't fare well if you try to uproot and divide them. Transplanting and dividing is best done while your plants are still young. If you must divide them, wait until spring and dig deeply to avoid cutting into the root system.
Fertilizing:
No need. Because they are legumes, baptisias supply their own fertilizer through the nitrogen-fixing bacteria on their roots (see All About Roots).
Support:
Baptisias don't normally require staking, but may need some support if they're grown in partial shade. If your plants tend to flop, secure them to a peony ring or other support in early spring.
End-of-season care:
Cut your plants back to the ground after the first hard frost in fall or before new growth emerges in the spring. The frost-nipped foliage will blacken, but the attractive seed pods add interest to the winter garden.
BAPTISIA PICTURES
LANDSCAPING DESIGN IDEAS
Baptisia is right at home in cottage gardens, meadow and native plant gardens, as well as pollinator gardens. There are many ways to use baptisia, and here are a few suggestions:
Hedge
Mass planting
Specimen plant
At the back of beds and borders.
Add to a cut-flower garden for long-lasting indoor bouquets. The seed pods in fall can be enjoyed in dried flower arrangements.
What to plant with Baptisia
Baptisia provides blooms from late spring to summer, so pair it with plants that begin blooming in early spring or late summer and into fall.
Echinacea purpurea, which has a long bloom time lasting from April through September, would look fabulous planted in front of Baptisia—it sits a little lower, reaching about 1 to 3 feet tall.
Bulbs that bloom in early spring—such as daffodils, tulips, snowdrops, and irises—can add a pop of color before Baptisia begins it show.
Asters, which begin their stunning floral disaply in late summer and into fall, will begin blooming as Baptisia seedheads begin to form.
Roses and Baptisia are a winning combination—when Baptisia isn't blooming, roses add pops of color at various times of year. And when roses aren't blooming, Baptisia's foliage offers something interesting to look at.
RELATED:
How to Grow and Design with Perennial Plants & Flowers
24 Purple Flowers to Brighten Your Garden
21 Blue Flowers for Your Garden