Growing Glorious Black-Eyed Susans
With daisy-like blooms that last for weeks, these prolific wildflowers bring nonstop color to the late-summer garden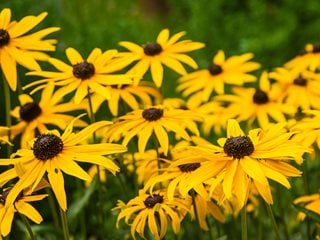 Photo by: darkmoon1968 / Pixabay.com
Right on cue during the dog days of August, black-eyed Susans (Rudbeckia) illuminate flower gardens and open fields everywhere like bright rays of sunshine. If any plant could be the poster child of late summer it would be this one. The brightly colored flowers in cheery shades of lemon-yellow, orange, and gold bloom for weeks with minimal care. They also attract a continuous procession of pollinators, bringing even more color and vibrancy to the summer garden.
Although black-eyed Susans have often been dismissed as common wildflowers, the National Garden Bureau put them in the spotlight as first-rate garden plants by declaring Rudbeckia the plant of the year in 2008. This well-deserved accolade has led to the development of an impressive array of garden cultivars in a complete gamut of heights, colors, and forms. These new-generation Susies offer greater flair and versatility, making them suitable for settings ranging from prairie-style plots to urban gardens.
On this page: Black-Eyed Susan Basics | How To Plant | Growing Tips | Popular Varieties | Plant and Seed Sources | Good Companions
BLACK-EYED SUSAN BASICS
Rudbekia is a member of the sunflower family (Asteraceae) and has similar daisy-like flowers. Although black-eyed Susans are also called coneflowers because of their cone-shaped heads, they should not be confused with purple coneflowers (Echinacea purpurea). Both flowers come from the same plant family and require similar growing conditions, but the color and appearance of the flowers differ. Confusion also arises when gardeners come across the black-eyed Susan vine (Thunbergia alata). This unrelated Rudbeckia look-alike is a tender, warm-climate perennial native to Africa.
Zones:
Varies by species, but the typical range is 3 through 9.
Exposure:
Full sun (See more full-sun perennials).
Bloom period:
Plants have a long bloom period even without deadheading, typically flourishing from late July until the first frost. Some cultivars, such as 'Early Bird Gold', have extended bloom times and will begin flowering in mid to late spring.
Height:
Varies dramatically, anywhere from 10 inches to 7 feet, depending on the cultivar.
Flower characteristics:
Flower sizes range from 2 to 9 inches wide and can be single, semi-double, or fully double. The petals range in shade from bright yellow to orange-gold, and some cultivars display flushes of red, bronze or mahogany. The flower's eye, or center, is actually more dark brown than black, but some cultivars, such as 'Prairie Sun', have green centers.
Common types:
There are about 25 species of Rudbeckia, all native to North America. Many species are actually biennials or short-lived perennials but because they self-sow readily, they often return each spring from seed dispersed the previous fall. Rudbeckia hirta (common black-eyed Susan) and R. fulgida (orange coneflower) are the species most readily available to gardeners and include many of the newest cultivars. However, there are number of other species worth seeking out because of their unique attributes including R. maxima (large coneflower), R. laciniata (tall coneflower), R. triloba (brown-eyed Susan or three-lobed coneflower), R. subtomentosa (sweet coneflower), and R. nitida (shiny coneflower).
HOW TO PLANT
When to plant:
Although black-eyed Susans can often be purchased as bedding plants in the spring, they are very easy to grow from seed and you'll have a much broader selection of cultivars to choose from. You can start the seeds indoors in early spring about 10 weeks before your climate's last frost date or sow them directly in the garden in spring or summer. Perennial varieties can be sown from seed or transplanted in fall or early spring. For the best seed germination, plant when the soil temperature has warmed to about 70° F.
Where to plant:
Rudbeckia will thrive in just about any sunny location that has well-drained soil. They will tolerate drought better than they will soggy ground. If you live in a hot, humid climate, choose a spot in the garden where your plants will receive ample air circulation to avoid the development of powdery mildew.
Sowing directly in the garden:
Scatter seeds then gently press them into the soil or cover with a very light layer of soil. Water regularly to keep the seedbed moist. As seedlings grow, thin to 6 to 12 inches apart for dwarf varieties and annuals and 18 to 30 inches apart for perennials, depending on the mature size of the plant. Water thoroughly to keep the soil moist until your plants become established. Once they are well-rooted, they will be able to tolerate dry conditions.
Sowing seed indoors:
Sow seed indoors following the seed packet's directions for planting depth, growing medium, and watering requirements. As soon as the seedlings emerge, provide plenty of light by placing them on a sunny windowsill or beneath fluorescent plant lights (see Starting Seeds Under Fluorescent Lights). Before planting your seedlings outdoors, be sure to accustom them to outdoor conditions by keeping them in a cold frame or another sheltered spot for a week.
GROWING TIPS
Like most wildflowers, black-eyed Susans are remarkably carefree, drought-tolerant, and disease resistant. Even so, here are some steps you can take to prolong their bloom time and keep them healthy:
To extend the flowering period, deadhead your plants by pinching off the blooms at the base of the stem. You can cut also cut back black-eyed Susans after they flower to encourage a second surge of blooms later in the fall.
If you want to attract birds to your garden, leave a few flower heads on your plants and let them to go to seed. You'll also be rewarded by new seedlings sprouting up in the garden the following spring.
Because Rudbeckia are zealous self-seeders, you may end up with more plants than you bargained for. If your plot becomes overcrowded, remove or transplant the extras.
You can propagate perennial black-eyed Susans by division in early spring, just as growth begins to develop, or in the fall after they finish flowering. Simply dig up the root ball and cut it with a sharp knife, making sure each division has roots. Replant the divisions about 12 to 18 inches apart.
Black-eyed Susans don't like water lingering on their foliage, which can result in powdery mildew. Be sure to maintain adequate spacing between plants and water at soil level rather than watering from above.
PICTURES OF POPULAR VARIETIES
PLANT AND SEED SOURCES
GOOD COMPANIONS
Black-eyed Susans grow alongside bee balm. Photo by: Vahan Abrahamyan / Shutterstock.
Although the bright, sunny flowers and dark center cones of black-eyed Susans create a striking color contrast on their own, these versatile plants pair beautifully in the garden with other summer- and fall-blooming perennials and annuals. Try some of these high-impact looks:
RELATED:
20 Drought-Tolerant Plants
20 Flowers for Your Summer Garden
The Best Perennials for Pollinators
20 Fabulous Fall Flowers
21 Low-Maintenance Plants