Shasta Daisies - How to Grow this Classic Garden Flower
Everything's coming up Shasta daisies! With dozens of cultivars to choose from, there are many ways you can enjoy the irresistible delights of Leucanthemum flowers.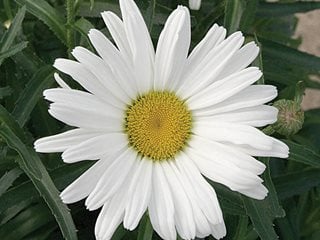 Amazing Daisies® Daisy May® Photo by Proven Winners.
The Shasta daisy is what most people consider to be the poster child for the perfect daisy — pure white she-loves-me-she-loves-me-not petals radiating from a sunny yellow center. While it may seem foolish to try to improve upon such perfection, there's nothing wrong with having a bit of variety.
Today's Shasta daisy cultivars offer that and more, with larger, longer-blooming flowers available in single, double, quilled, and fringed forms, some even having yellow petals. You now have a broader range of plant heights to choose from as well, from container-friendly versions under a foot tall to waist-high varieties just right for petal plucking.
On this page: The Basics | How to Plant | Care and Maintenance | Varieties | Design Ideas
On this page:
SHASTA DAISY BASICS
Plant type:
Herbaceous perennial
Hardiness:
Zones 5-9
Exposure:
Full sun
Height:
6 inches to 4 feet
Bloom time:
From spring to fall, some with repeat bloom.
Flower size:
2 to 5 inches in diameter
Bloom time:
Varies by species. Most Shasta daisy flowers will bloom from early through late summer.
Special attributes:
Attracts butterflies.
Deer and rabbit resistant.
Drought-tolerant.
Few insect or disease problems.
The narrow, serrated leaves remain dark green throughout the season and may stay evergreen year-round in warmer growing zones.
Origin:
Introduced to the garden world in 1901, the Shasta daisy (Leucanthemum ×superbum) is a hybrid combining the best qualities of the oxeye daisy (Leucanthemum vulgare), English field daisy (Leucanthemum maximum) and Portuguese field daisy (Leucanthemum lacustre). It was bred by American horticulturist Luther Burbank as an easy-care ornamental alternative for the home garden. He aptly named his showy new flower after the snow-capped Mount Shasta, located not far from his home in Northern California. Learn more about the history of the Shasta daisy.
HOW TO PLANT SHASTA DAISIES
Where to plant:
Plant Shasta daisies in full sun to light shade in well-drained soil rich in organic matter. Good soil drainage is especially important in winter because damp and soggy soil around the root crown of the plant can lead to rot.
When to plant:
In spring or early summer, after the danger of frost has passed. Seeds can also be sown outdoors from early spring through summer and will often flower the first year if started early indoors. In colder climates, avoid planting Shasta daisies in the fall because they may not become established in time to survive winter.
How to plant:
To improve drainage, add organic matter to the soil before planting. Space plants 1 to 2 feet apart to ensure good air circulation.
SHASTA DAISY CARE
"Unbreakable Heart" combination recipe from Proven Winners includes Amazing Daisies® Daisy May®, Primo® 'Black Pearl' heuchera, and Color Spires® 'Crystal Blue' salvia. Photo by: Proven Winners.
Water requirements:
Although Shasta daisies prefer soil that's kept evenly moist, well-established plants can tolerate short periods of drought. In fact, overwatering often does more harm than underwatering, since Shastas don't like wet feet. For the best performance, give your plants about an inch of water per week during summer dry spells.
Staking:
The stems of taller varieties of Shasta daisies may need to be staked if the flowers begin weighing them down. As an alternative, you can pinch back the stems of your plants in early spring to reduce their height and encourage bushier growth.
Pruning and deadheading:
Deadheading the spent flowers of Shasta daisies will extend their bloom period and prevent plants from going to seed. In the fall, after your plants have finished blooming, cut back the dead stems to basal growth and cover with a layer of mulch to provide winter protection.
Propagation:
Although Shasta daisies readily self-sow, the offspring don't always look like the parent plants. The most reliable propagation method is to divide your plants every other year. Because Shastas are often short-lived perennials, this will also help to maintain their vigor and increase their lifespan. The best time for division is in early spring or immediately after flowering.
SHASTA DAISY VARIETIES
DESIGN IDEAS
These classic garden flowers are perfect for borders and garden beds.
Perfect choices for cottage gardens, pollinator gardens, moonlight gardens, or meadow gardens.
Shorter varieties can also be grown in containers.
All types of Shasta daisies are excellent additions to cut-flower bouquets.
Good companions:
Combine with other sun-loving, summer-blooming perennials such as bee balm (Monarda), yarrow (Achillea millefolium), daylilies, Russian sage (Perovskia atriplicifolia), bellflower (Campanula), hardy geraniums, catmint (Nepeta), and delphiniums.