25 BUTTERFLY GARDEN PLANTS & FLOWERS
Attract butterflies to your yard with these nutrient-rich plants and flowers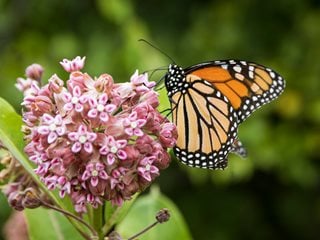 Monarch butterfly on milkweed plant. Photo by Catherine Avilez.
When it comes to food sources for butterflies, not all plants are created equal. Through evolution, individual butterfly species became highly selective with the types of plants they feed on. While many plant varieties can attract butterflies, some are better than others for providing essential nutrients.
Adult butterflies and their offspring differ in the way they consume food. Adults drink through a long tubular tongue, relying solely on liquid sources such as flower nectar, tree sap, and fallen fruit. Butterfly larvae have chewing mouth parts, feeding on leafy food sources such as milkweed foliage, herbs, trees, and grasses.
By learning which plants and flowers are the best food sources, you can attract and support butterflies in your yard.
Read more about what it takes to create a beautiful butterfly garden that serves both adult butterflies and caterpillars.
RELATED:
30 Essential Plants for Pollinators
Perennials for Pollinators
Flowers for a Bee-Friendly Garden
How to Start a Flower Garden