HOW TO GROW & CARE FOR LANTANA
Lantana plants brighten up the landscape with carefree color all season long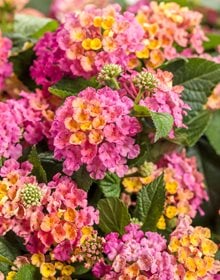 Luscious® Royale Cosmo lantana. Photo by Proven Winners.
Nothing beats lantana for nonstop color throughout the growing season. The cheerful flower clusters—in a rainbow of single and multi-hues—bloom nonstop from late spring through frost, and nearly year-round in warmer climates. Known for its carefree nature, lantana is grown as an annual in northern regions, and a broadleaf evergreen shrub or ground cover in frost-free climates. The flowers attract butterflies, hummingbirds, and insect pollinators.
A member of the verbena family, it is native to tropical regions of the Americas and South Africa. Though there are 150 different species, those most widely available to home gardeners are Lantana camara and modern hybrids. Also known as Spanish flag, lantana thrives in hot, dry weather and is tolerant of salt and sandy soil, making it a popular choice for seaside landscapes. These same attributes are what allow it to become invasive in some areas.
On this page: Basics | Planting | Care | Choosing the Right Lantana | Pictures | Landscaping Tips
BASICS
Hardiness Zones:
Annual in Zones 1-8, perennial in Zones 9-11. Some varieties act as a tender perennial in Zones 7-8.
Height/Spread:
Lantana can reach 2 to 6 feet tall and 3 to 10 feet wide when grown as a perennial. In areas where treated as an annual, lantana grow 3 to 4 feet tall and 1 to 3 feet wide in a single season.
Exposure:
Full sun for at least 6 to 8 hours a day.
Bloom time:
Late spring through frost when treated as an annual; nearly year-round in frost-free regions.
Flowers:
Flower clusters 1 to 2 inches across are solid or multicolored, some changing as they age. Colors include yellow, orange, red, purple, white, coral, and peach. Non-sterile varieties produce small berries after flowering.
Foliage:
Green or variegated foliage is rough textured, oval shaped, and can get up to four inches long. When brushed up against, the leaves have a pungent, sage-like scent. Young annuals have fleshy stems, while older plants become woody.
Toxicity:
Lantana can be harmful to children, pets, and livestock. The leaves can cause brief skin irritation or a rash. Though all parts of the plant are poisonous, the berries are the most toxic, and can be fatal if ingested. See more Common Poisonous Plants for Dogs and Cats.
PLANTING LANTANA
With so many colors in one plant, Luscious® Citrus Blend™ brings variation to a container even when planted alone. Photo by Proven Winners.
When to plant:
Lantana loves heat and will do best when planted in mid-late spring when all danger of frost is past, after the soil has warmed up.
Where to plant:
In a sunny site with fertile, well-draining soil that will stay evenly moist until plants are established.
Planting in beds & borders:
Loosen soil and amend with compost. Dig a hole slightly larger than the root ball and place so the top of the crown is level with the soil surface. Remove plant from container and gently tease out roots if potbound. Place the plant in the hole and backfill. Tamp down soil around the base and water well. Mulch with coarse organic matter or gravel (keeping away from the crown of the plant) to suppress weeds and retain moisture.
Planting in containers:
Use a high-quality potting soil and make sure the soil and pots drain well. Read more: Growing Lantana in Pots.
Spacing:
Depends on the variety and whether it's being grown as an annual or perennial.
LANTANA CARE AND MAINTENANCE
Pruning lantana:
Where grown as a perennial, plants will become woody shrubs or groundcovers. In early spring, cut out dead wood and prune back by a third to stimulate new growth. As an annual, lightly prune to shape as needed or if it outgrows a space. Pinch stem tips to encourage branching and flower production.
Deadheading:
Some require deadheading to encourage new flowers and prevent berries from forming. However, plants in the Luscious® series from Proven Winners have little to no berry set and are unlikely to set any seed. They also do not require deadheading to continue blooming prolifically, although doing so won't hurt them.
Overwintering:
In colder climates, plants can be overwintered indoors in a cool room or basement. In marginal regions, some varieties can overwinter in the ground. Mulch with several inches of fallen leaves or other organic matter to insulate the roots after plants die back in fall.
Soil:
Lantana is tolerant of most soil types, but prefers rich, well-draining soil that is slightly acidic. Mulch with pine needles to increase soil acidity.
Amendments & fertilizer:
It's not necessary to fertilize established plants, but a light dose of all-purpose fertilizer can be applied in spring. Too much fertilizer can actually reduce the amount of flowers.
Watering:
Water regularly until plants are established. Mature specimens prefer less water and are quite drought tolerant. Irrigate once or twice weekly in dry climates or extreme heat, especially if grown in containers.
Diseases and pests:
When planted in ideal conditions, lantana is relatively carefree. Too much shade, lack of air circulation, or high humidity can cause plants to develop powdery mildew or botrytis. Poor soil drainage can result in root rot. Insect problems include whiteflies, aphids, spider mites, mealybugsand lace bugs.
Deer resistance:
Because of the sandpapery texture and pungent scent of lantana leaves, deer will avoid lantana, though extreme conditions can result in deer grazing on plants they wouldn't otherwise.
HOW TO CHOOSE THE RIGHT LANTANA
For beds and borders:
Grow upright forms in a mixed border, or as hedging along a pathway. Use groundcover types to quickly fill in a bed.
For containers:
Plant smaller upright varieties as a stand-alone accent, or as filler in combination with other summer blooming annuals. Trailing lantanas can be used in hanging baskets and window boxes.
For slopes and hillsides:
Use spreading types as a quick-growing groundcover and for erosion control.
---
LANTANA VARIETIES
Is lantana invasive?
There are some parts of the south including Florida and Texas, as well as Hawaii, where it is considered invasive. If you live in a frost-free region, check with your local nursery or extension service to see if it is considered invasive in your area. You can also plant newer non-seeding hybrid varieties.
Learn more: Where is this species invasive in the U.S.?
Lantana alternatives:
Perennial substitutes include Oso Easy® roses, hibiscus, hydrangea or sage.
LANDSCAPING TIPS
There are many ways to incorporate lantana into your landscape. Here's how:
Grow a trailing type at the edge of a stone wall and allow it to cascade over the edge for a waterfall of nonstop color.
Place a long window box along a deck or patio and plant with lantana to enjoy months of bright color up close.
Grow lantana in brightly colored ceramic pots along with bold-foliaged plants such as 'Tropicanna' and 'Pretoria' canna lilies, elephant ears, and sweet potato vines. Group the pots together for a dazzling tropical effect.
Combine in a hanging basket with other butterfly and hummingbird-attracting plants such as 'Vista Red' salvia, nicotiana, and petunias. Hang on a shepherd's hook so the basket can be moved to different parts of the yard for a fresh look.
Plant a butterfly garden near a patio or window where you can relax and enjoy these beautiful insects up close. Other butterfly attractors include butterfly bush, pentas, zinnias, lavender and phlox.
Use upright shrubby types as hedging along a pathway, at the edge of a border, or as a foundation planting.
In frost-free regions, groundcover lantana can be planted on a slope for long-term erosion control.
RELATED:
Colorful Plant Combinations for Containers
20 Drought-Tolerant Plants for Your Garden
How to Plant a Hummingbird Haven
Amazing Annuals for Sun