Best Flowers to Grow for DIY Bouquets
The top 10 flowers to grow in your garden for DIY flower arrangements
Hortulus Farm, Garden & Nursery, floral designer and event maestro Renny Reynolds creates simple, unstructured arrangements with seasonal and homegrown botanical ingredients. He and partner Jack Staub collect elements from their perennial borders, cutting garden and flowering shrubs to create highly personal arrangements for decorating their home.
Here are their top 10 choices to grow for cut flowers:
In the late summer, the gorgeous blooms lend scale to any design. In the fall, the cut stems are allowed to slowly dry in vases for display throughout the winter months.
While they bloom for only 3-4 weeks in the early summer, nothing matches their wistful beauty and subtle fragrance.
With countless shapes and hues, dappled and ruffled petals, these bodacious blooms are the quintessential flower of late summer.
"Like a party in a vase!" Jack observes. They like to plant a patch of Zinnia elegans 'Magellan' dwarf varieties in complementary fiesta colors.
'Golden Splendor' trumpet lily. Photo by: Dorling Kindersley Ltd / Alamy Stock Photo.
CHINESE TRUMPET LILY
The heavenly trumpet-shaped varieties of Lilium regale are highly valued, including 'Golden Splendor.'
Double Take Peach™ quince (Chaenomeles speciosa). Photo by: Proven Winners.
In early spring, Renny and Jack display cut branches of quince—appreciating the blooms' intense coral petals emerging from architectural twigs-in a big cylindrical vase.
'Sweet Juliet' rose. Photo by: David Austin Roses.
ROSE
Blowsy, heavily-fragranced David Austin varieties are lush ingredients to a garden bouquet. The apricot-hued 'Sweet Juliet' is a favorite.
Amazing Daisies® Daisy May®. Photo by: Proven Winners.
"There's nothing prettier or more 'country-feeling' than an old pitcher with Shastas on the kitchen table," Jack says.
With more than 120 varieties of the scented, early spring flowering bulbs planted at Hortulus, there are armloads of these beauties to fill vases for every room.
Lily of the Valley. Photo by: Jh. Baumann / Pixabay
Jack and Renny often harvest clumps of this tiny woodland flower to replant in small flowerpots or julep cups. Topped with moss, the delicate arrangement puts a smile on the face of anyone who sees it.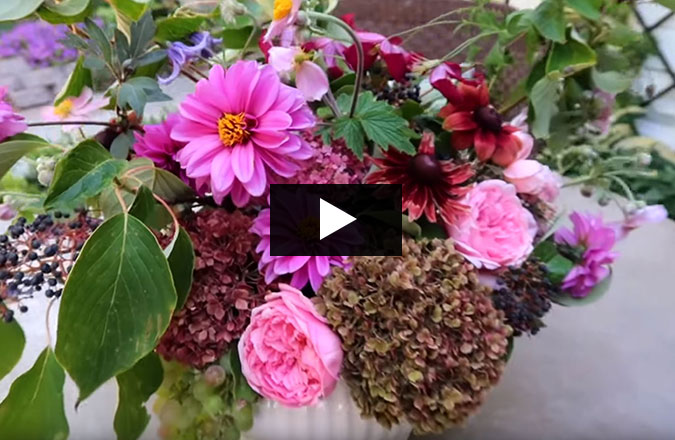 See how Laura from Garden Answer creates a beautiful floral arrangement from her garden.