How to Use Hydrangeas in Bouquets
Get tips from hydrangea experts on how to successfully use hydrangeas in arrangements.
Hydrangeas are lovely in floral arrangements, but the flowers tend to wilt quickly after cutting, so success depends on following tried-and-true techniques.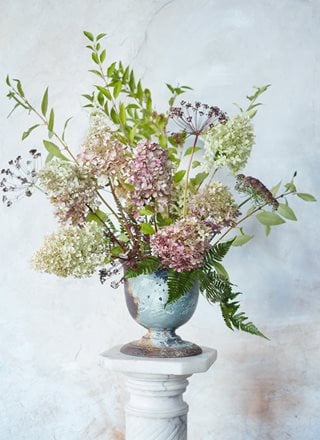 This combination showcases the romantic quality of Hydrangea paniculata: varieties Bobo, Pinky Winky, Vanilla Strawberry, and 'Little Lamb' are accompanied by delicate forsythia foliage, ferns, and purple Ammi majus. Photo by: Ngoc Minh Ngo.
Here are guidelines based on advice from Donna Mills of Floral & Hardy Farm (www.floralandhardyfarm.com) given in Hydrangeas for American Gardens by Michael Dirr:
Thoroughly water the shrub the day before.
On the day of cutting, take a clean bucket of water into the garden, early in the morning.
Choose flower heads with 90 percent of their florets open.
Cut stems at an angle and place immediately into the bucket of water; keep out of direct sun.
As soon as possible after harvesting, plunge the cuttings completely under water—flowers and all. Leave them submerged, pulling cuttings out of the water as needed.
Remove leaves that will be underwater when in the vase, or remove all leaves if you prefer.
Recut or mash stem ends before adding to the vase. Sap at the stem tips can also be dissolved by briefly dipping cut ends into a cup of hot water.
Use warm water in the vase which enhances hydration, by helping prevent air bubbles from blocking water absorption in stems.
If hydrangeas in a vase start to wilt, refresh by submerging under water for 45 minutes, and recutting/mashing stem ends. Change vase water every other day.
To support heavy flower heads: Pick a vase that allows most of the hydrangea stems to be under water, or use a short vase and keep stems short. Tape a grid of floral tape at the top of the vase or use a ball of chicken wire inside the vase to support stems. You can also wrap wire or floral tape around the stems to hold the bouquet in the shape you want.
Here are two simple formulas for floral preservative to add to the vase water.

1 Tbsp sugar + ½ tsp bleach + 2 Tbsp lemon juice + 24 oz. of water
24 oz. 7UP or Sprite (with sugar, not diet) + 24 oz. water, + ½ tsp bleach
This bonus content accompanied "Old Reliable, New Tricks"—an article that showed new hydrangea varieties and provided tips for using and caring for them—in the Summer 2017 issue of Garden Design magazine.
For longer enjoyment, flower heads can be dried. Watch How to Dry Hydrangea Blooms for more.