How to Prune Hydrangeas
Learn when to prune your hydrangea plants for best bloom results.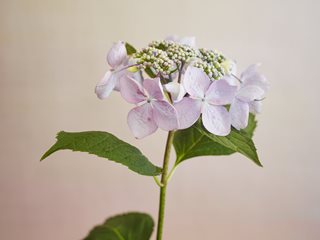 Blooms of Hydrangea macrophylla Let's Dance Diva! grow on both old and new wood. The dinner plate-size dollies of lacecap flower heads have individual sepals as big as your palm. They can be baby pink or baby blue depending on soil pH. Photo by: Ngoc Minh Ngo.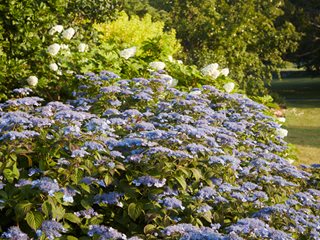 Hydrangea serrata 'Blue Billow' is a mountain hydrangea with blooms that grow on old wood. Its lacecap panicles appear to float above the dense glossy foliage, covering the plant in midsummer in azure blue (or pink, depending on soil pH). Photo by: Ngoc Minh Ngo.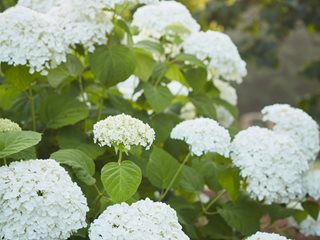 Hydrangea arborescens Incrediball is a smooth hydrangea with blooms that grow on new wood. Its flowers emerge chartreuse in early summer, mature to creamy white, then transition back to green again in fall. Photo by: Ngoc Minh Ngo.
Two basic categories of hydrangeas determine the timing and degree of pruning: those that bloom on old (previous year's) wood, and those that bloom on new (current year's) wood. Many newer varieties combine these two types, blooming on both old and new wood, often referred to as "reblooming" or "remontant" varieties.
Some hydrangeas may only warrant pruning to tidy or refresh them. And there can be benefits to adopting a prune-only-as-needed attitude, including lower risk of removing flower buds, protection of the shrub's crown from cold damage, and the winter interest afforded by branch structure and dried flower heads.
Basic Pruning Advice
Make cuts above a node.
Every year or so, during winter, cut one-fourth to one-third of the oldest canes to the ground.
Remove dead branches, which will be apparent in spring as new growth emerges on viable stems.
Pruning Advice for Hydrangeas That Bloom On Old Wood
Buds for next year's flowers form as days grow shorter and temperatures cooler during late summer and fall.
Prune after flowering stops in summer, but stop by August 1.
Do not prune in fall, winter, or spring.
Tip-pruning as leaves emerge in spring can encourage flowering from buds farther down the stems, thus forming multiple, smaller flower heads rather than fewer larger flower heads at the ends of the stems.
Pruning Advice for Hydrangeas That Bloom On New Wood
Buds form on current year's growth.
Prune in early spring.
For H. arborescens, minimal pruning promotes large vigorous shrubs with numerous, smaller flower heads; hard pruning produces larger flower heads. Prune to 12 to 18 inches from the ground or all the way to the ground for fewer and larger blooms that may flop without propping.
For H. paniculata, in order to create a strong framework, prune out the surrounding smaller wood, leaving the larger stems.
This bonus content accompanies "Old Reliable, New Tricks"—an article that shows new hydrangea varieties and provides tips for using and caring for them—in the Summer 2017 issue of Garden Design magazine.
RELATED:
How to Prune Shrubs & Perennials