How to Create a Cut Flower Garden
Get tips for planning and designing your own cutting garden and ideas for the best plants to include.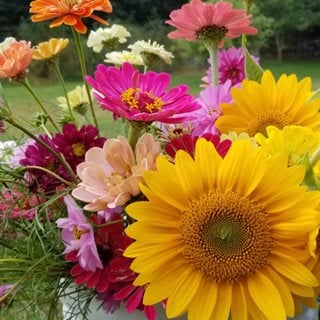 Photo by: Jesse Oman / Shutterstock.
If you love to fill your home with vases of freshly cut flowers but feel gardener's remorse whenever you lop off the heads of your beautiful bedding plants, it's time to plant a garden devoted solely to flowers for cutting.
"As gardeners, we've been conditioned to resist the urge to clip from our blooming plants, and instead leave them to put on a show outdoors. But once you experience the pleasure of harvesting armloads of flowers right outside your door, your approach to growing them will quickly change," says professional flower farmer Erin Benzakein, in her book, Floret Farm's Cut Flower Garden.
Cut flower gardens offer environmental benefits as well. By growing your own bouquets and skipping those trips to the florist, you are reducing the carbon footprint for the production and transport of greenhouse-grown blooms.
Featured in: Garden Design's Top 9 Garden Trends for 2023 ("Growing Your Own Bouquets")
WHAT IS A CUT FLOWER GARDEN?
Think of a cutting garden as a flower farm designed for production and harvest, much like a vegetable garden. "Unlike a mixed border or showy flower bed that functions to provide a pretty and perfect display, a cutting garden's primary job is to produce a bounty of cut blooms all season long," says Benzakein.
WHERE CAN YOU PLANT A CUT FLOWER GARDEN?
Most flowering plants love sun, so locate your cutting garden in a spot that receives at least six hours per day of full sun. Another essential is to choose a place sheltered from gusty winds that can topple over your flower-laden plants and increase moisture loss. If you have a shady garden or you are short on space, many flowers suitable for cutting can be grown in containers on a sunny deck or balcony.
Also, research the specific needs of your favorite cut flowers. For example, some flowers prefer dry soil over damp and acidic soil versus alkaline, which will influence what you plant and where.
HOW DO YOU SET UP A CUT FLOWER GARDEN?
"A cutting garden should be set up with production and efficiency in mind—this means narrow, rectangular spaces that are easy to tend and harvest," says Benzakein. She recommends choosing a bed width that allows you to reach the center when standing on either of the long sides and to establish pathways between beds for easier access. Growing your flowers in raised garden beds will also facilitate planting and harvesting.
Another tip: Separate perennials, which return every year, from annuals that must be removed in the fall and replanted in spring.
HOW BIG SHOULD A CUTTING GARDEN BE?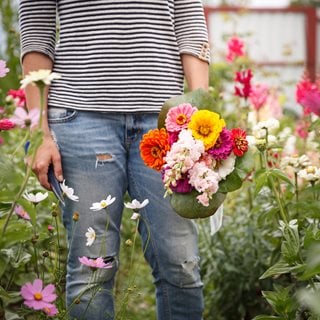 Photo by: goodmoments / Shutterstock.
When growing flowers for cutting, the goal is to grow as many plants as you can in the space available. But you don't need a huge garden plot to reap a big harvest of blooms. By growing plants with long stems and spacing them closely together, even a small cutting garden can be surprisingly productive. If garden space is really tight, vining plants that can be grown vertically on a trellis, such as sweet peas, are great space savers.
CAN I GROW CUT FLOWERS IN A VEGETABLE GARDEN?
Absolutely! There are many benefits to growing flowers and vegetables in harmony, as long as the plants have the same growing requirements. In addition to making the vegetable garden more colorful, flowers can act as an organic pest control by deterring certain pests. Some marigolds, for example, can help drive away tomato hornworms, nematodes, and squash bugs. Learn more about companion planting.
WHAT MAKES A GOOD CUT FLOWER?
A wide array of annuals, perennials, bulbs, and shrubs can be used in a cutting garden. Plants with strong stems, a long vase life, and a high yield typically make the best cut flowers, but also consider the colors, the particular flowers you love, and the rooms you want to fill with your floral designs. You may also want to include flowers just for their ability to add fragrance to a bouquet, such as lavender or flowering tobacco (Nicotiana langsdorffii).
CUTTING GARDEN DESIGN TIPS
Plan for all seasons. When properly planned, a cutting garden will keep your vases full of bouquets in every season. Grow spring-blooming bulbs and a variety of perennials that will bloom in succession from early summer through fall. For winter, include a small shrub with bright berries, such as winterberry. Also grow flowers that can be dried for year-round arrangements, like celosia and globe amaranth (Gomphrena globosa).
Grow cut-and-come-again flowers. Maximize the productivity of your cutting garden by including flowers that bloom over and over again after you cut them, such as zinnias. Cutting the stems from these flowers stimulates the growth of new stems and more blooms, rewarding you with a bountiful harvest throughout the season.
Cut-and-come-again flowers are especially useful if you have a small cutting garden with limited space because you can grow fewer plants and still reap a bumper crop.
Stagger planting times. For annuals that don't rebloom reliably, you can get a steady stream of flowers by succession planting, says Benzakein. Staggering the bloom times throughout the season also allows you to keep up with the cutting. She recommends allowing 3 to 4 weeks between plantings, depending on your climate.
Aim for variety. To keep your floral arrangements from looking monotonous, choose plants with a variety of flower textures, sizes, and forms. A combination of blooms that are spiky (think salvia), globe-shaped (try alliums), and umbelled (such as yarrow) will give you the most interesting displays.
Plant complementary colors. The most exciting floral arrangements blend a mixture of different colors, but you'll get the best results if those colors complement one another. For example, purple and yellow flowers are always a beautiful combination, both in the garden and in a vase. Monochromatic color schemes that pair light and dark shades of the same hue can also be quite striking. Learn more about using color in the garden.
Don't forget foliage plants. "One of the biggest mistakes newbies make is selecting only pretty blooms, and not having any greenery to mix them with," says Benzakein. Her recommended ratio is to devote half of the garden to flowers and the other half to mainstay foliage and filler plants that can provide material for the base of your fresh flower arrangements.
But, also look around your existing garden beds for interesting foliage to add to bouquets, such as fern fronds and hosta leaves. Or try snipping a few aromatic herbs to use as fillers in your arrangements, such as rosemary and sage.
Go native. Don't overlook native wildflowers when designing your cutting garden, such as bee balm and black-eyed Susan. Not only are native plants super-hardy and easy to care for, they also help support local wildlife. Although it's tempting to grow hybrid flowers bred to have larger, frillier blooms, they often produce less pollen and nectar than the native species.
Join us for our next webinar!
WORKING WITH BULBS:
The Great Dixter Way
with Fergus Garrett
Saturday, October 21st @ 12PM EDT
6 CUTTING GARDEN FAVORITES
Pin this article for later:
RELATED READING