Companion Planting for Vegetables & Herbs
Enjoy the benefits on companion planting, help your plants help each other.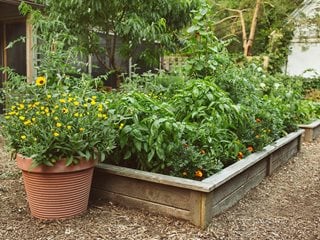 Photo by: Proven Winners.
Many factors help plants to grow, including light, soil, water, and nutrients. What many gardeners overlook are the beneficial relationships that exist between plants, a growing method known as companion planting.
For example, one plant may deter garden pests that harm another species, while in return, that other species might enhance soil nutrients. Vegetables in particular see better yields, flavor, and pest and disease resistance when sited next to good neighbors. Conversely, certain combinations can result in poor performance.
Companion planting isn't an exact science. Some combinations work better than others; factors such as weather and regional differences can impact effectiveness. Understanding how plants, insects, and organisms work together can reduce or eliminate the need for inorganic remedies, increase your gardening successes, and influence your plant choices.
Here are some key vegetables and herbs to consider, along with their beneficial helpers and plants to avoid. These are general recommendations; results may vary.
VEGETABLE GARDEN COMPANION PLANTS
RELATED:
16 Spring Vegetables
15 Fall Vegetables
Raised Bed Garden Design