Caring for Calla Lilies in the Garden
Learn how to care for calla lilies, get growing advice and discover tips for including them in your garden design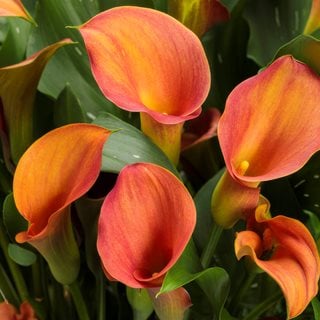 Be My® Main Squeeze™ calla lily (Zantedeschia hybrid). Photo by: Proven Winners
Calla lilies have long been a symbol of rebirth and resurrection, and are closely associated with the Easter holiday. In addition to the pure white flowers of the traditional species, modern hybrids come in a wide array of colors. The flowers, also known as spathes, bloom for weeks, adding long-lasting color to containers, borders, mass plantings and cut flower arrangements. Grown from rhizomes, this tropical is also sold in florist shops as a houseplant.
While not really lilies, calla lilies do share many of their qualities—they are sensual, graceful, suggestive, and exotic—leaving many gardeners surprised at how easy growing and caring for these flowers can be. Read on to learn more.
On this page: Basics | Planting | Care | Pictures | Design Ideas | Growing Indoors | Floral Arranging | FAQ's
On this page:
BASICS
Botanical name:
Zantedeschia spp. and hybrids
Zones:
Although Z. aethiopica can be grown in Zones 8-10; hybrids are more comfortable in Zone 9 and warmer. Or treat them as annuals in colder climates.
Height/Spread:
Upright habit; 12 to 36 inches tall, 9 to 24 inches wide
Exposure:
Full sun to partial shade; with bright, indirect light being ideal. Dense shade might put a damper on bud count, and scorching midday summer sun can prove equally challenging.
Bloom time:
Flower stalks begin shooting up about eight weeks after planting, and you'll be delighted by blooms for the next couple of months.
Color and characteristics:
Calla lily is an herbaceous or semi-evergreen perennial grown from rhizomes. Tubular shaped flowers with pointed tips produce a long, finger-like spadix at the center. Blooms come in colors of white, yellow, orange, pink, red, purple, green, or black. Tall elegant stems rise above broad solid green or speckled leaves.
Are calla lilies poisonous?
Calla lilies are highly dangerous to pets and humans if any part of the plant is ingested. Sap may cause skin or eye irritation. Wear gloves and handle plants carefully. See more: Common Poisonous Plants for Dogs and Cats.
PLANTING CALLA LILIES
Persimmon container recipe. Photo by: Proven Winners
When to plant:
Plant your calla any time between February and June (but after danger of frost is past).
Where to plant:
Choose a sunny to partially shaded site with amended, well-drained soil.
How to plant:
Bury the tuber-like rhizomes 3 to 4 inches deep in porous soil directly in the garden or in containers.
For more on how to plant bulbs:
CALLA LILY CARE
Temperature and humidity:
This tropical plant prefers temperatures between 60 to 80 degrees F. Calla lily thrives in humid and moist conditions and may need protection from hot afternoon sun. Plants will go dormant when temperatures drop below 50 degrees F. Don't allow rhizomes to freeze.
Soil:
Hybrids prefer a well-drained, porous soil. Sandy soils are good if you add fertilizer; clay soils can be tricky. For containers, use a high-quality, all-purpose potting mix.
Watering:
Give them water when the soil is slightly dry (but don't overdose—the hybrid callas dislike soggy soil), and they're good to go.
Amendments and fertilizer:
At the time of planting, apply a slow-release fertilizer. Excessive nitrogen will encourage a bounty of leaves and long stems, squelching bud production. In a fertile soil, no further food is needed.
Deadheading:
Cut off spent blooms and remove damaged or discolored leaves to tidy up plants.
Pests and diseases:
Diseases can include bacterial soft rot, botrytis, powdery mildew, gray mold, blight, leaf spot, dasheen mosaic virus, spotted wilt, and armillaria rot. Pests can include slugs, Japanese beetles, aphids, spider mites, or thrips.
Winter care:
Before frost threatens in autumn or early winter:
Potted callas: Cut the foliage back to the ground once it yellows and bring pots indoors to a cool, dry environment to rest the rhizomes.
In-ground callas: Cut the foliage back to the ground once it yellows, dig up the rhizomes, and store them in a dry 55ºF environment.
Withhold water for eight weeks or longer before jump-starting the cycle again with light and water.
DESIGN IDEAS FOR CALLA LILIES
For borders and landscapes: Use calla lilies in mass plantings, mixed borders, and along streams or bogs.
For slopes and hillsides: Mass along a slope, by itself, or in combination with other plants.
For containers: Calla lily can be grown in a pot as an indoor houseplant, or outdoors during warmer months. Plant by itself or in combination with other plants with similar cultural needs.
There are many ways to incorporate calla lily into your home or landscape. Here's how:
Plant in a decorative container by itself or in combination with other plants with similar needs and place on a patio or deck to enjoy the blooms up close.
Place a houseplant near a bright window in a living room or kitchen where the flowers will be regularly enjoyed.
Enjoy cut calla lily spathes in a tall, slender vase for an elegant arrangement.
Plant towards the front of a mixed border for long-lasting summer color while other perennials and shrubs go in and out of bloom.
Adorn a semi-shaded woodland border with plantings of calla lilies amidst other plants such as hostas, ferns and astilbes.
Mass calla lilies in a bed and underplant with groundcovers such as lamium, creeping Jenny or bugleweed.
Plant on a slope with groundcovers, shrubs and perennials for season-long color.
Site along a pond, stream, or waterfall with other water lovers such as gunnera, ligularia, or elephant ears for a bold tropical-looking display.
Companion plants: Plant with dahlias and gladiolus for a cutting garden that will last until frost. Other companions include creeping Jenny, New Guinea impatiens, ferns, and astilbes. For containers, plant alongside warm season annuals such as petunias, dusty miller, heliotrope, or dichondra.
INDOOR CALLA LILY CARE
If you've just received a potted calla lily as a gift, they make wonderful houseplants.
Here are a few tips for caring for callas indoors:
Keep the soil moist, but not soggy
Provide bright, indirect light
Apply liquid fertilizer monthly while in flower
Keep away from heating and A/C vents
Reduce watering when the plant enters dormancy (November)
Cut the leaves off at soil level once they've died
Allow callas to rest in a cool, dark area during dormancy
Repot annually before the growing season
Photo by: designs by JH / Shutterstock
USING CALLA LILIES IN FLORAL ARRANGEMENTS
With the variety of spathe colors available—think mango, cinnamon, ember, molten, vermilion, sunset, flaxen, canary, fire engine, or smeared lipstick—callas show no sign of slowing tempo as cut flowers.
Calla lily bouquets are very popular for expressing love and appreciation on Valentine's Day and Mother's Day. Calla lilies are also a prevalent flower in wedding arrangements, gracing centerpieces, bridal bouquets, corsages, and boutonnieres.
CALLA LILY FAQ'S
Do calla lilies come back every year?
This tender perennial will die down or go semi-evergreen in winter come back from the rhizomes in spring in warmer climates. In areas colder than zone 8, the rhizomes can be dug and stored indoors over winter.
Will calla lilies spread?
Rhizomes will reproduce and spread, and can be dug up and divided every few years, or as needed.
Do calla lilies grow well in pots?
Calla lilies are well-suited to being grown in containers, either by themselves or in combination with other plants. They are also commonly sold as a potted houseplant.
How long do calla lilies bloom?
Calla lilies are long-lasting, with flowers blooming from 6 to 12 weeks, depending on the variety and growing conditions.
Are calla lilies invasive?
Calla lilies may be invasive in parts of California. Seeds are spread by birds, and small pieces of the rhizomes can break off and show up in unwanted places. Learn more: Where is this species invasive in the US?
Why grow calla lilies?
Gardeners are slipping callas, which originated in South Africa, into garden beds and containers for the following reasons:
Calla lilies are easy to cultivate
They offer a sensuous color range
Callas bloom just eight weeks after planting
Their arrow-shaped foliage is attractive
They make captivating cut flowers
This article has been adapted from its original version for use on the web.
RELATED READING