HOW TO GROW & CARE FOR SWEET ALYSSUM PLANTS
The uses for this beloved flowering plant are endless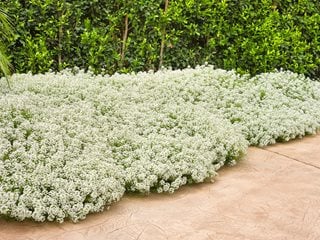 Snow Princess® sweet alyssum makes a vigorous flowering groundcover. Photo: Proven Winners
One of the most enduring garden annuals is sweet alyssum. This old-time favorite produces dainty honey-scented flowers throughout the growing season. The mounding or trailing habit is well-suited for containers, hanging baskets and garden beds.
A member of the mustard family, sweet alyssum is forgiving of varying soil and light conditions. Native to the Mediterranean, this reliable heirloom overwinters as a short-lived perennial in warmer regions.
Sweet alyssum is attracts butterflies and is a pollinator magnet—hummingbirds love it too. With so much going for it, what's not to like?
On this page: The Basics | Planting | Care | Pictures | Choosing the Right Alyssum | Landscaping Tips
ALYSSUM BASICS
Zones:
Annual up to Zone 8; short-lived perennial in Zones 9-11.
Height/Spread:
Sprawling or mounding habit, with plants growing 4-10 inches tall, 10-48 inches wide, with branches trailing up to 36 inches long.
Exposure:
Sweet alyssum flowers best with at least six hours of full sun, but can tolerate partial shade. In warmer climates, plants perform best with protection from hot afternoon sun.
Bloom time:
Spring until the first hard frost.
Color and characteristics:
Plants have tiny, hairy, oval leaves that are green, blue-green, or variegated. Branching stems bear prolific clusters of 1/4-inch wide four-petaled blossoms. The delightful honey-scented flowers come in shades of white, pink, rose, lavender, purple, and apricot.
Types:
Older varieties (Lobularia maritima) are easily grown from seed and self-sow readily from year to year in temperate climates. Referred to as cool-season annuals, they are much more cold hardy than the newer hybrids, as well as being more drought tolerant. They bloom best in spring and fall, with a lull during hot summer months.
A newer generation (Lobularia hybrids) were developed for extreme vigor and bigger plant size, and bloom nonstop throughout the growing season. These varieties take the heat much better than L. maritima types, but are not drought tolerant. They do not produce seed, so are only grown from cuttings.
Toxicity:
Sweet alyssum is not known to be toxic to pets and children, and flowers are edible.
PLANTING INSTRUCTIONS
When to plant:
Sow seeds indoors in flats several weeks before the last average frost date in your region, or sow directly outdoors after all danger of frost is past. For nursery starts, plant outside any time after the last frost.
Where to plant:
In the garden, plant in full sun to partial shade in average, well-draining soil. For baskets and containers, make sure there is adequate drainage.
How to plant:
Broadcast alyssum seed in flats indoors, or well-amended soil outside. Don't cover seed, as light will aid in germination. Keep moist until germination, 7-20 days. Transplant seedlings when there are at least two sets of secondary leaves, allowing 6 inches of space between plants.
For containers, place plants in high quality, well-draining potting mix and allow 6-12 inches of space between plants, depending on the variety. Water plants thoroughly.
SWEET ALYSSUM CARE
Pruning and deadheading:
Newer hybrids flower nonstop and need no deadheading. For older cultivars, shear plants back by half in mid-summer and fertilize to stimulate new growth and flowers.
Soil:
For containers, use a quality all-purpose potting mix that drains well. In the garden, soil should be well amended with good drainage. Older varieties are tolerant of poorer soils and somewhat dry conditions.
Amendments & fertilizer:
Sweet alyssum are moderate feeders. Add a time-release fertilizer to the soil at the time of planting. When blooms are spent, apply water-soluble fertilizer to stimulate new growth; reapply monthly.
Watering:
Keep plants well-watered, but don't overwater. For containers, allow the top two inches of soil to dry out between each watering. Check daily in hot weather, as pots can dry out quickly. Older varieties are more drought-tolerant, while newer hybrids need more water.
Diseases and pests:
Sweet alyssum is not prone to pests, but can get stem rot or leaf blight if planted in an overly moist site such as shade or a bog. Seedlings are susceptible to damping-off disease.
Deer resistance
Deer have a keen sense of smell, which causes them to be overwhelmed by scented plants. Because of this, they will shun sweet alyssum.
For more on growing sweet alyssum:
HOW TO CHOOSE THE RIGHT ALYSSUM
With so many uses for sweet alyssum, here are a few tips to consider when selecting:
For containers, hanging baskets and window boxes:
Choose trailing varieties, and combine with other plants with upright and mounding habits for the "thriller, filler, spiller" effect.
For edging and between pavers:
Use varieties that stay compact so that plants don't spill into areas meant for walking.
For bedding displays:
Mass plants together for greater impact, and to keep plantings in scale with the landscape.
ALYSSUM LANDSCAPING TIPS
There are many ways to incorporate this versatile annual into any landscape. Here's how:
Place a hanging basket near your home's entrance or next to the patio or deck where the sweet fragrance can be enjoyed up close.
Sow seeds in between rows in the vegetable plot to help suppress weeds and attract insects that are essential for crop pollination.
Plant as a ground cover around roses or taller plants for a season-long carpet of color.
Combine white sweet alyssum with red salvia and blue ageratum for a July 4th patriotic theme.
Showcase in a rock garden with columbine, creeping thyme and sedums.
Broadcast seed or use plant starts to fill in gaps in a perennial border.
Plant along rock walls and allow plants to spill over the side for a romantic, cottage-style effect.
Add white varieties in a moon garden to illuminate pathways at night.
Sweet alyssum combines well with many other plants, such as nemesia, pansies, stock, geraniums, salvia, catmint, sedums and roses.
RELATED:
21 Low-Maintenance Plants
Annual Flowers
24 Purple Flowers to Brighten Your Garden
20 Fragrant Flowering Plants
Planting Ideas
20 Fabulous Fall Flowers