GROWING AFRICAN DAISY PLANTS
Rev up the summer garden with this exotic annual
At first glance, African daisies (Osteospermum) look like typical daisies, with symmetrical petals that radiate from a central eye. But upon a closer look, this South African native is anything but ordinary. The flowers come in many colors from white to deep purple, with single or multi-colored centers and petals that can be double, fringed, or spoon-shaped.
A member of the daisy family (Asteraceae), osteospermum is a half-hardy perennial or subshrub most commonly grown as an annual. A relative newcomer to the horticultural industry, African daisies first become available to home gardeners in the 1990s.
Although commonly called African daisy, it's important to remember the botanical name of Osteospermum, as other garden plants such as Dimorphotheca and Arcotis go by the same common name. Other names include South African daisy, Cape daisy, Cape marigold, blue-eyed daisy, or sunscape daisy.
On this page: The Basics | Planting | Care | Choosing the Right African Daisy | Pictures | Landscaping Tips
THE BASICS
Zones:
9-11. This half-hardy subshrub is grown as an annual in most regions, or perennial in frost-free zones.
Height/Spread:
Upright bushy or trailing habit, 1 to 3 feet tall and 1 to 2 feet wide
Exposure:
Full sun to light shade; bloom is most prolific in full sun.
Bloom time:
Late spring to frost. They are sensitive to extreme heat and flower sparsely in hot weather. Peak bloom time is from late spring to early summer and again from late summer into fall when temperatures begin to moderate.
Color and characteristics:
Daisy-like flowers 2 inches across, come in single, bi- or multicolors in shades of white, yellow, orange, red, coral, pink, blue, lavender, and purple. Oval or lance-shaped leaves are green or gray-green with smooth or toothed margins. Flowers close at night or on dark overcast days, though recent breeding breakthroughs include cultivars where the flowers stay open.
PLANTING INSTRUCTIONS
When to plant:
Plant outside in mid-late spring after all danger of frost is past.
Where to plant:
Grow in a sunny to lightly shaded site in a container or landscape. Plants will flower best in full sun.
How to plant:
For beds and borders, loosen soil in the planting area 6 to12 inches deep. Work in compost or other organic matter. Remove plant from container and gently tease out roots or slice the root ball in several places if potbound. Dig a hole slightly larger than the root ball. Place the plant in the hole so the top of the root ball is level with the surrounding soil surface. Fill in the hole, tamp down soil around the base and water well. Space 12 inches apart and allow for adequate air circulation.
For containers:
Plant as above, using a rich, well-draining potting mix. Spacing can be slightly closer when combined with other plants.
CARE
Maintenance:
Deadhead spent flowers to encourage reblooming, although this is not required for Symphony or Bright Lights series plants. Plants can be cut back by up to half during hot summer weather for a fuller rebloom in late summer and fall. Where they are perennial, plants can be lightly sheared after the last flush of blooms.
Soil:
For beds and borders, amend soil with compost or other organic matter and make sure there is good drainage. Optimal soil pH is 5-5.5.
Amendments & fertilizer:
Apply an all-purpose water-soluble fertilizer every 2 to 3 weeks according to package instructions. Since containers are watered more often, nutrients will leach out faster, requiring more frequent fertilizing.
Watering:
Keep soil evenly moist but not soggy. Plants can become somewhat drought-tolerant once established. Overwatering can lead to fungal disease or rot.
Diseases and pests:
When planted in optimal conditions and properly maintained, there are few, if any, problems. Pests include thrips, whitefly, fungus gnats, or aphids. Diseases include verticillium wilt, powdery mildew, botrytis, phytophthora, gray mold, root or stem rot, all of which can be caused by excess watering, high humidity, or poor air circulation.
Deer resistance:
Deer will leave them alone for the most part, though extreme conditions can result in deer grazing on plants that they wouldn't otherwise.
HOW TO CHOOSE THE RIGHT AFRICAN DAISY
For pathways, borders, and landscape:
Choose larger quick-growing varieties for maximum impact. Plant in a row to edge a pathway, place at the front of a border for a dramatic color accent, or mass in a bed.
For slopes and hillsides:
Select larger spreading varieties that will fill in quickly and mass along a bank or slope.
For containers:
Use any size variety as a stand-alone accent, or combine with other annuals or small perennials with similar growing needs.
OSTEOSPERMUM VARIETIES
Varieties are still being developed for new colors, patterns and shapes, as well as attributes such as longer-lasting blooms and flowers that stay open at night. In the right conditions, osteospermum—which can be grown in containers or in the landscape—will reward you with months of color.
DESIGN TIPS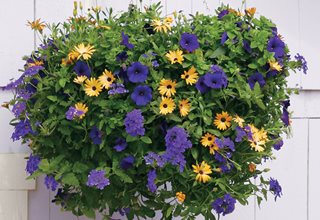 'Summer Sunset' plant recipe in a hanging basket, with Orange Symphony African daisy, Supertunia® Royal Velvet®, and Superbena® Dark Blue. Photo by Proven Winners.
There are many ways to incorporate African daisies into your landscape. Here's how:
Mass at the front of a mixed border for lasting color when perennials are out of bloom.
Plant a single specimen in a medium-sized ceramic pot with a similar or complementary color and place as a focal point on a patio, deck, balcony or table.
Hang a row of planter baskets along the front porch and combine with trailing plants such as lobelia, calibrachoa, or verbena for a welcoming display to greet visitors.
Alternate groupings of complementary colors such as purple and yellow along a slope for an eye-catching display that also helps hold soil in place.
Place a large decorative container at the end of a pathway. Plant African daisy and other brightly colored annuals for a focal point to draw the eye through the landscape.
Plant along a pathway and alternate with other annuals such as 'Profusion' zinnias or lantana that will flower through the hottest part of the summer so that there's always something in bloom.
Site a window box in a sunny location and plant osteospermum with trailing plants such as sweet potato vine and verbena in colors that complement your home's exterior.
Shepherd's hooks are a great way to showcase hanging baskets for instant color by a patio, deck or poolside. Hooks are easily moved around for a fresh look.
The long branching stems and extended vase life makes this a good cut flower.
Container combinations:
African daisies combine well with many other annuals. Think creatively and make your own customized containers using the principle of "thriller, filler, spiller"—using African daisy as a filler.
Thriller companions (for height and volume) include: coleus, lantana, zonal geranium, dusty miller, heliotrope and purple fountain grass.
Spiller companions (to trail) include: petunias, calibrachoa, diascia, verbena, lobelia, sweet potato vine (Ipomoea batatas) and nemesia.
RELATED:
Annual Flowers
Amazing Annuals for Sun
20 Purple Flowers to Brighten Your Garden
How to Create a Container Planting