Designing Garden Pathways: Tips, Ideas & Inspiration
Add or renovate pathways in your yard for function and beauty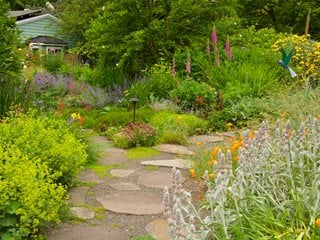 Natural stone and gravel pathway through a meadow garden. Designers: Jay Withgott and Susan Masta. Photo: Janet Loughrey.
Pathways are an often-overlooked aspect of an outdoor space, but are an essential part of any garden design. These avenues can be used to connect or divide garden rooms, provide a way to get to different parts of the yard, and allow access to garden beds for maintenance chores.
A well-designed garden path adds curb appeal, provides safe, easy access to your home and through your yard, and integrates the outdoor space with your home's interior. These thoroughfares are not just a way to get from one place to another; they can be just as beautiful as they are functional. Here are tips and design ideas for creating stylish paths to augment your own landscape.
GET STARTED
Evaluate your yard.
Assess your yard for attributes such as size and dimensions, grade, light, drainage, and soil. Are you already using your yard for the activities you enjoy, or are you starting from scratch? Draw up a basic plan, including pathways to connect different areas such as the front yard and backyard. For more elaborate projects, consult a landscape design professional.
Determine purpose.
Create a pathway by first deciding how it will be used. Do you want to get from one destination to another in the shortest distance? Or to facilitate a leisurely stroll through the garden?
Placement of pathways.
Site pathways in natural access routes such as from your home's front entrance to the driveway, through a side yard, leading to a garden shed, or where your dog likes to roam. Paths can also be placed in less obvious spots such as to maintain a mixed border, or to cut through a meadow garden.
Traffic.
Evaluate the amount of foot traffic through different parts of the yard and choose materials accordingly. For primary paths such as from the home's front door to the street or public sidewalk, use more durable materials such as cement or stone that will stand up to year-round use and maintenance such as clearing snow and ice. For secondary pathways, such as to a secluded seating area in a corner of the yard, a narrow path using bark or mulch may be more suitable.
DESIGN CONSIDERATIONS
A rustic stone path connects the front and back yards of this cottage-style garden. Designer: Mary DeNoyer. Photo: Janet Loughrey.
Scale.
Consider the scale of garden walkways. A path that is too wide can overwhelm a space, while one that is too narrow may be difficult to navigate. Make the pathway from your home's entrance to the sidewalk wide enough for two people to walk abreast. A path leading to the garden shed should be spacious enough to accommodate a wheelbarrow or lawn mower.
Grade.
Pathways may be constructed on level ground, a slope, or hillside. A meandering or zigzag path is safer along a steep slope than one that goes straight down. Steps, stairways, or terraces may be necessary as part of a hillside pathway.
Consider seasonal changes.
Unmortared bricks or pavers may be susceptible to frost heaving in colder climates. A stone path absorbs heat, which may be beneficial in colder regions but problematic in hotter climates during warmer months.
Drainage.
Make sure that there is adequate drainage around pathways to prevent standing water during heavy rains.
Materials.
There are many different kinds of materials to construct pathways with. These can include stone pavers, flagstone, brick, concrete, gravel, tile, bark, wood chips, timbers, grass, or mulch. Different materials achieve a certain look, and some are more durable than others.
Style.
The style of paths depends on your home and landscape. Use materials and colors for pathways that harmonize with your home's exterior and outdoor features. A straight brick path complements a formal English landscape, while a curved pathway made of bark or natural stones is more suited to a cottage garden.
Budget.
When perusing walkway ideas, consider how much you want to spend on materials. Flagstone or pavers are more expensive than gravel or bark. To reduce costs even further, look at free sites or businesses that sell used pavers, bricks, or other materials. Bark chips may be available through a local landscape company that is happy to drop off chips for free rather than pay a fee to take them to a landfill.
Safety.
Consider all aspects of safety when choosing materials, installing and maintaining paths. Some materials are easier to walk on than others. Brick may become slippery when wet. Select materials that are particularly suited for pathways such as pea gravel or crushed stone and make sure they are properly stabilized when installed. Set stepping stones deep enough to prevent tripping or catching on a mower blade. Make sure pathways are well lit at night and install railings on steep grades.
Sustainability.
Choose locally sourced and eco-friendly materials. A gravel path is more permeable than cement, allowing water to percolate into the soil rather than running off. Use recyclable organic materials such as bark mulch or wood chips.
Maintenance.
Consider maintenance when choosing materials. A concrete aggregate or flagstone pathway will be easier to maintain than grass or bark. Keep pathways free of weeds, overgrown plants, and debris. Remove algae and moss from bricks and stones.
DESIGN TIPS
This terraced gravel path is connected by steps, with a large classic-style urn strategically placed as a focal point at the end of the pathway to draw the eye through the landscape. Designer: Scott Eckley. Photo: Alex Hayden.
Shape.
The shape of your path will help determine the look of your garden. A long straight path will make a space feel narrower and longer, while a zigzag path will make it appear more spacious. A straight path is typically used to create a more formal look, while a meandering path is suited to informal landscapes. A curved path can create intrigue and compel visitors to explore, while a circular path is often used to delineate a quadrant or labyrinth garden.
Include edging.
To define pathways and keep loose materials such as gravel from spilling into beds, use landscape edging made of metal or plastic. Paths can also be edged with bricks or stone. Use a powered lawn edger to keep grass pathways from becoming overgrown.
Proportions.
When spacing stones or building terraces or steps, make sure they are functional and safe. Lay stones a comfortable distance apart for stepping, with about 18 to 24 inches between the center part of the stones. Steps should be uniformly shaped, 4 to 8 inches tall and at least 12 inches deep.
Add structures.
Use a gate, arbor, trellis, or pergola to embellish a pathway. Adorn with climbing plants such as roses, clematis, or flowering vines to soften structures and add a living element.
Repetition.
Use the same elements such as containers, arbors, or plants down the length of a pathway to lend unity to the design.
Add a focal point or destination.
To draw the eye through the landscape, site a statue, container or other feature at the end of a path. Place a bench or other seating area along a path for a place to relax.
Keep it simple.
When combining pathway materials, plants, and structures such as arbors and pergolas, don't use too many different-looking elements to keep the design from being too busy and without focus.
Plants.
Choose smaller plants to soften pathway edges. These can include ground covers such as bugleweed, lamb's ears, or creeping phlox; annuals such as sweet alyssum, wax begonia, or dwarf zinnia; or perennials such as hosta, sedges, lady's mantle, or lavender. In more formal landscapes, choose boxwood to outline pathways. Select plants for attributes such as durability, fragrance, and multi-seasonal appeal.
Mix and match.
Combine more than one material such as pavers and gravel, stepping stones set in bark, or grass edged with bricks. Change materials to mark the transition between areas. Alternate pavers in a checkerboard pattern and plant the spaces in between with tough ground covers such as creeping thyme, Corsican mint, Scottish moss, or chamomile.
Get creative.
Think outside the box. Wooden slabs can be used in place of concrete stepping stones. Pour your own concrete stepping stones with different shaped molds and decorate with mosaic tiles or other materials. Sprinkle smooth glass pieces, colored pebbles, marbles, or plastic beads amongst gravel to catch the light.
Join us for our next webinar!
WORKING WITH BULBS:
The Great Dixter Way
with Fergus Garrett
Saturday, October 21st @ 12PM EDT
GARDEN PATH IDEAS & INSPIRATION
A brick pathway connects a vegetable and pollinator garden to a cozy eating area and continues to the garden beyond. Photo by: Proven Winners.
This garden pathway leads to a fire pit destination where friends and family can enjoy this moon garden at night. Photo by: Proven Winners.
A straight brick pathway edged by neatly clipped hedging is typical of formal English style gardens. Photo: Janon Stock/Shutterstock.
Decorative arbors and lavender hedging create repetition through this enchanting pathway. Photo: Yolanta/Shutterstock.
Different pathway materials and plants create an engaging vignette. Designer: Adriana Berry. Photo: Janet Loughrey.
A spacious pathway through this side yard was designed to be wide enough to accommodate a wheelbarrow. Designer: Marina Wynton. Photo: Janet Loughrey.
Separate areas in this small urban garden are defined by different pathway materials. Black mondo grass and durable ground covers soften the hardscape. Designers: David P. Best and Barbara Hilty. Photo: Janet Loughrey.
A checkerboard pattern marks the edge of a grass pathway along a mixed border. Designer: Nancy Cutler. Photo: Janet Loughrey.
At the entrance to this contemporary garden, an angled pathway creates more visual interest than a straight path. Designer: Laura Crockett. Photo: Janet Loughrey.
A curved pathway leading from the front to side yards lends a sense of intrigue. Corsican mint planted between the stones exudes a pungent scent when walked on. Designer: Jenn Ferrante. Photo: Janet Loughrey.
Designed for leisurely strolling, a meandering pathway leads through a woodland garden. Stone pillars create a grand entrance, echoing the vertical shape of the forest trees. Designer: Meredith Hilderbrand. Photo: Janet Loughrey.
This serene Asian-style garden is complemented by an unobtrusive pathway made of stones and low ground covers that blends with the natural surroundings. Designers: Roger and Judy McElhaney. Photo: Janet Loughrey.
Low maintenance plants such as lady's mantle, lamb's ears and self-sowing poppies soften the pathway edges of this meadow garden. Designers: Jay Withgott and Susan Masta. Photo: Janet Loughrey.
RELATED:
Zen Garden Design
How to Landscape a Sloped Yard
Moon Garden Design
Front Yard Ideas & Landscaping
Backyard Ideas & Landscaping