English Garden Design
Discover why English gardens still rule and get ideas for creating your own English-inspired landscape
The English garden is one of the most successful exports of all time, travelling around the globe, gathering fresh nuances along the way. Today we find it as inspiring as ever. Wherever you live and garden, you can take inspiration from the UK's hottest designers and their finest gardens.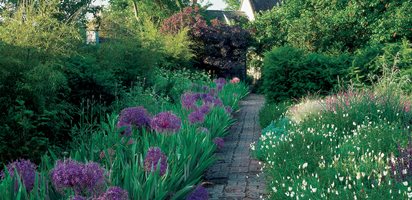 British Naturalistic Planting
Through subtle design and educated plantsmanship, Dan Pearson has transformed the tradition of British naturalistic planting into a dynamic, contemporary form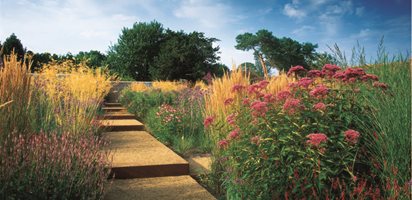 Modern English Gardens
An emphasis on architectural unity is the hallmark of British designer Christopher Bradley-Hole's gardens, but his spontaneous sense of beauty adds delight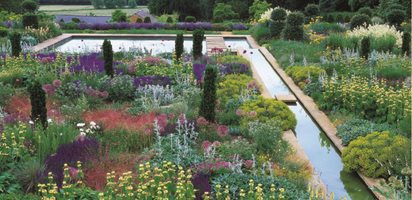 Traditional English Gardens with a Twist
An early start in the restoration of historic gardens imbued Tom Stuart-Smith with the ability to revisit traditional forms and draw fresh magic from old ideas
The Gardens of Jinny Blom
A human touch inhabits the sweeping gestures of the British landscape designer Jinny Blom: "Take risks. If someone tells you something is impossible, see if you can do it. Gardening is a knife edge between disaster and serendipity."
Romantic English Gardens
Isabel and Julian Bannerman rose to the top of Britain's garden world by recreating the romance of the classic English garden. Now they are poised for a second act.
Arne Maynard's Rustic Home in Wales
Known for designing romantic English country gardens, Arne Maynard takes a pared-down approach at Allt-y-bela, his rustic home in Wales.
The creative tension between formal structure and rambunctious planting is at the core of the Arts-and-Crafts British garden style. Marked by walled gardens with giant topiary, England's well-manicured historic estates display a peculiarly British mix of grandeur, wit, and slight dishevelment. Start with good bones (in the form of walls and hedges), add yew topiary for an instant sense of history, sprinkle in roses, ruins, formal allées and follies and you'll be well on your way to creating a dreamy English country garden.
A Contemporary English Garden Offers a Reflection of the Past
In Hertfordshire, England, traditional influences and materials create a garden in harmony with its history
Q&A With English Garden Designer Sarah Price
English garden designer Sarah Price brings a subtle artistry to planting design that belies her gardens' underlying, very British hardiness
London Garden Calls Day and Night
A small urban garden in Barnsbury strikes a balance between beauty and function
Courtyard Garden Blurs the Boundaries
Rows of pleached crabapple trees and a restrained color palette of whites and muted tones provide a natural yet dramatic garden for a Japanese-style cottage in England
The Gardens of Downton Abbey
Filmed at Highclere Castle, an estate that dates to 1218, the garden retains the aesthetic of its famous designer-Lancelot Capability Brown, a preeminent British landscape architect
The Great Great Dixter
England's plant rich, idea-filled garden displays a creative tension between formal structure and wild plantings
American gardens designed in the English style:Whether you're looking for ideas to create an enticing cottage garden, or you prefer the stateliness of grand English manors, here are some examples of how American gardeners have translated the English style into their own gardens.
Photo by: Bonnie Kuchler and friend David Nadalin on NadalinPhotography.com.
My Garden: Bed, Breakfast, and Beautiful Gardens
At Sea Cliff Gardens B&B in Port Angeles, WA, Bonnie Kuchler has tamed an English garden gone wild. Her property has all the traits of a charming cottage garden, including a rose garden, white picket fence and long mixed borders. The style of her garden is quite romantic with flowers in blues, purples and pinks that spill over the borders. Kuchler grows double peonies, the color of raspberry-wine, elegant spires of pink foxglove, sapphire delphiniums, chartreuse mounds of lady's mantle and much more.
Photo by: Kevin Lee Jacobs.
My Garden: From Parking Lot to Rose Garden
A glorious rose garden now grows in what used to be a parking lot in Upstate New York. English inspirations include fragrant flowers that bloom between ribbons of boxwood, brick walkways and classical fountains. Kevin Lee Jacobs, the garden's owner calls it a paradise of fragrance and color.
Photo by: John M. Hall.
Duck Hill: Page Dickey's Garden
Another garden in Upstate New York, Duck Hill is a fine example of how elements of the English gardening style can be incorporated anywhere. Featuring a series of paths that serve as an invitation to explore, Duck Hill is a sequence of courtyards and garden rooms skillfully woven together. Crabapple trees surrounded by boxwood squares offer structure and seasonal interest, while a rose arbor and plants that spill onto garden paths add the charm you'd expect to find in an English country garden.
Photo by: Douglas Miller.
East Coast Garden Finds its True Cottage Identity
This home in Somerset, Maryland was facing an identity crisis. Landscape architect Douglas Miller helped enhance its cottage-like feel and created a garden to match. Key features include window baskets with plantings that are changed with the season, stone walls, and a series of garden rooms. Like many of the best English designs, evergreens serve as the backbone of this garden with perennials mixed in for bursts of color and texture.
TOP 10 ENGLISH GARDEN PLANTS
Almost any type of plant will work in an English garden. Here are some suggestions to get you started:
Be sure to check that the plants you select will grow well in your region.
ELEMENTS OF AN ENGLISH GARDEN
Include some of the following to enhance your garden's English style:
Benches
Picket fence
Garden gates
Tool shed
Borders
Fountains
Furniture
Paths
Antiques
Arches
Stone walls