English Garden Ideas & Inspiration
Create a stylish English garden in your own yard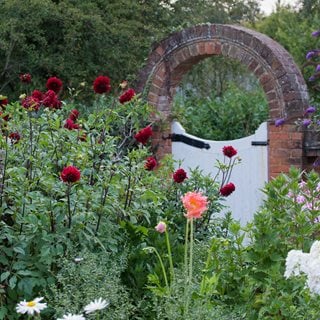 A gate marks the transition between areas in this English-style garden. Photo by: Elliot Hook.
If you've ever been inspired by classic English gardens but are daunted by creating one yourself, there are many different ways to incorporate this design style into your landscape. You don't need to own a country estate or large property; even those with smaller yards can replicate the appearance of an English style garden.
If you don't want to completely revamp your yard, you can still incorporate aspects of English gardens here and there. By following a few basic design principles, you can achieve the look of a quaint English garden in your own yard. Here are some English garden ideas to get you started.
Also see: English Garden Flowers & Plants
ENGLISH GARDEN ELEMENTS
English gardens consist of hardscaping and formal hedging to instill a sense of order, with less formal planting borders as a counterbalance. Include some or all of these English garden elements to create compelling visual interest and timeless appeal.
1. Garden Rooms
Create a series of garden rooms with different functions, which will make your yard feel larger. Enclose these areas with hedging, fencing, screening, gates, or walls. Learn more about garden rooms.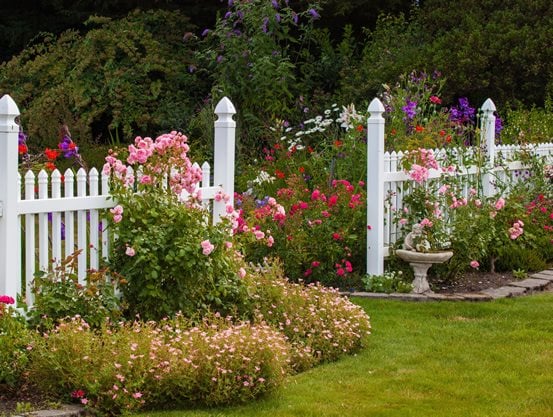 Use a fence, wall or hedge to divide garden rooms. Photo by: Bonnie Kuchler and David Nadalin of Nadalin Photography.
See more of this garden.
2. Pathways
Add pathways to connect garden rooms and provide a place to walk. Typical English pathways are constructed of brick or stone pavers. For a more eco-friendly solution, use spaced flagstones, crushed gravel, mulch, or other permeable surface that allows water to percolate into the soil rather than running off. Instead of a traditional straight-line pathway, create meandering paths for a sense of intrigue.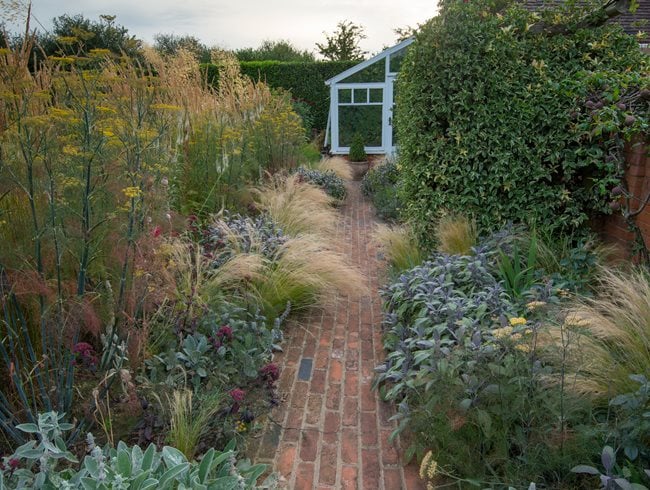 A traditional English garden includes a straight stone or brick pathway. Photo by: Elliot Hook.
See more of this garden.
3. Water Features
Ponds, streams, waterfalls, rills, fountains, or birdbaths add reflections and the soothing sound of moving water. Grand multi-tiered fountains made of stone or concrete are a hallmark of traditional English landscapes. Smaller spaces can be adorned with a tabletop fountain, birdbath or water bowl.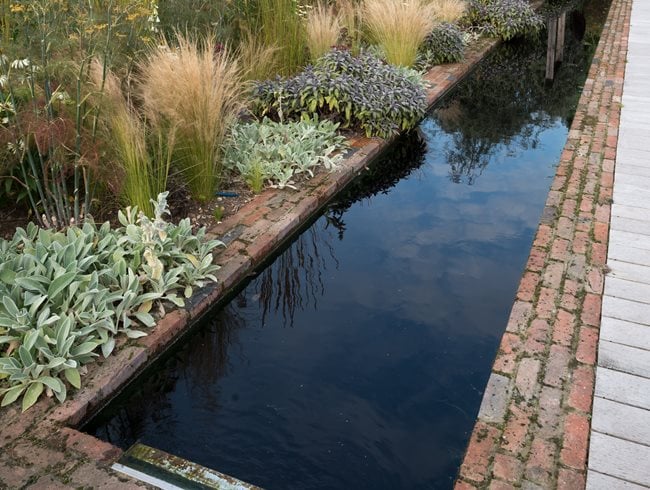 Include a water feature such as a pond, rill, or fountain. Photo by: Elliot Hook.

4. Layered Mixed Borders
Create layered plantings with trees for height, shrubs as structural and background elements, and perennials with interesting foliage and flowers that contribute color throughout the growing season. Intersperse annuals to fill in gaps and for quick color through summer and into fall. Use dwarf varieties for small spaces.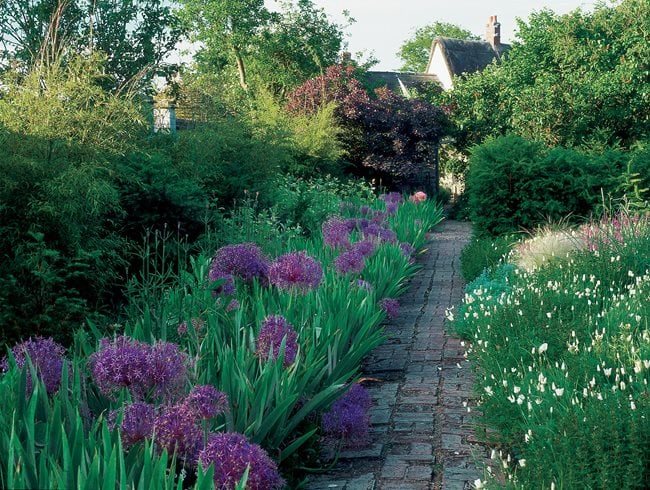 Use a mix of trees, shrubs, perennials and bulbs to create a layered mixed border. Photo by: Nicola Brown.
See more of this garden.
5. Evergreen Shrubs
Add evergreen shrubs for structure, year-round color, and background interest. These can include broadleaf evergreens such as boxwood and holly that can be sheared into formal shapes, or conifers such as yew and juniper. For smaller spaces, use dwarf varieties. To reduce maintenance, include varieties such as 'Green Gem' boxwood and Sky Box® Japanese Holly that need little or no pruning.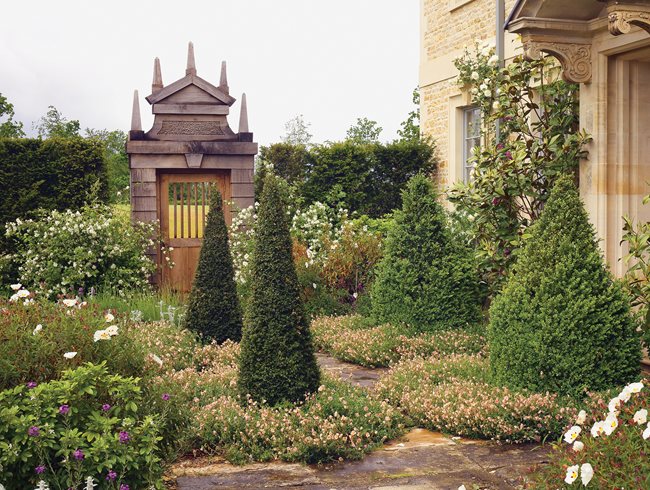 Incorporate evergreen shrubs for structure and year-round interest. Photo by: Adrian Sherratt.
See more of this garden.
6. Focal Points
Include a statue, urn, planter, or reflective gazing ball as a central feature in a garden room, or at the end of a pathway to draw the eye through the landscape. Classic English statuary is typically made from stone or concrete and includes likenesses of human figurines, cherubs, angels, or animals. Choose traditional features or something else to suit your own personal taste. A bench, fountain, or attractive plant specimen can also be used as a focal point.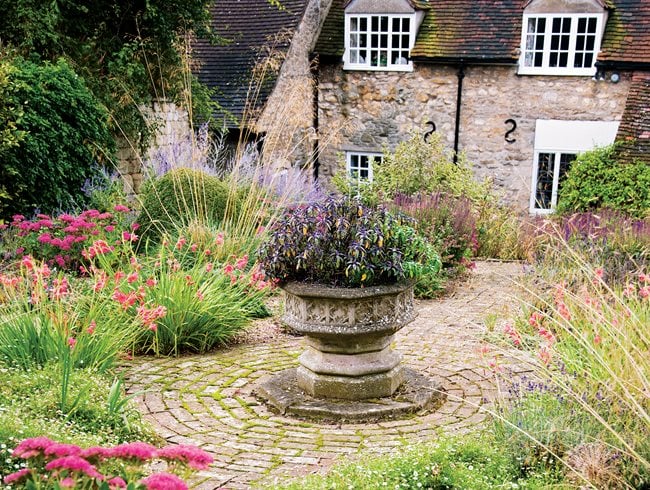 Use an oversized urn, planter, or fountain as a focal point in the landscape. Photo by: Rachel Warne.
See more of this garden.
7. Seating
Place seating strategically throughout your yard as destinations to relax and enjoy garden vignettes or larger views. English garden seating traditionally consists of large stone benches, but you can create your own look with benches made from other materials or by using other types of seating such as bistro chairs.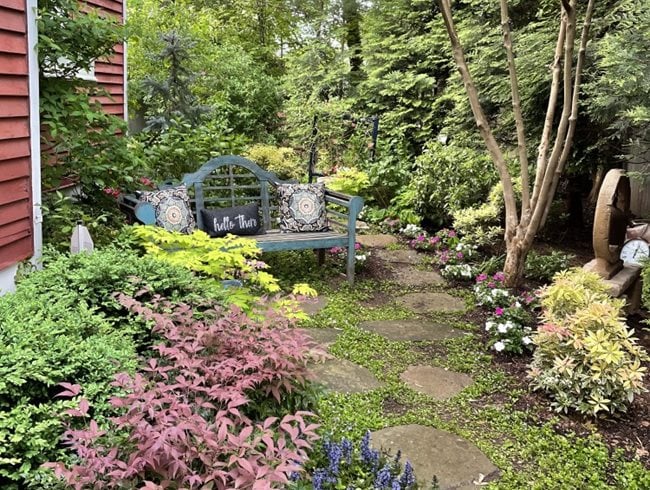 Place a bench or other type of seating where you can relax and enjoy a favorite vantage point in your yard. Photo by: Alli Guleria.
See more of this garden.
8. Plant Closely
Place plants closely together for the full dense look of an English-style border. Filling in gaps between plants will help reduce weeds and retain moisture by shading the soil.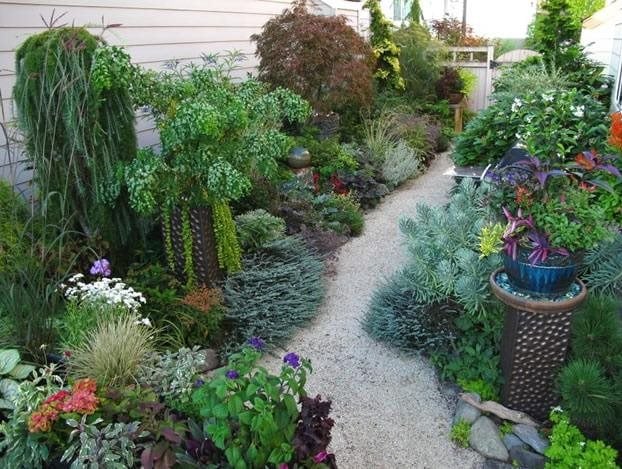 To get the lush full look of an English border, place plants close together. Photo by: Christina Salwitz.
See more of this garden.
9. Structures
Use structures to add vertical height, create focal points, or mark the transition between spaces. These can include a pergola for shade, a sturdy arbor to support larger plants such as climbing roses and wisteria, or trellises for smaller vining plants such as morning glory. Add a decorative gate for a grand entrance or to separate garden areas.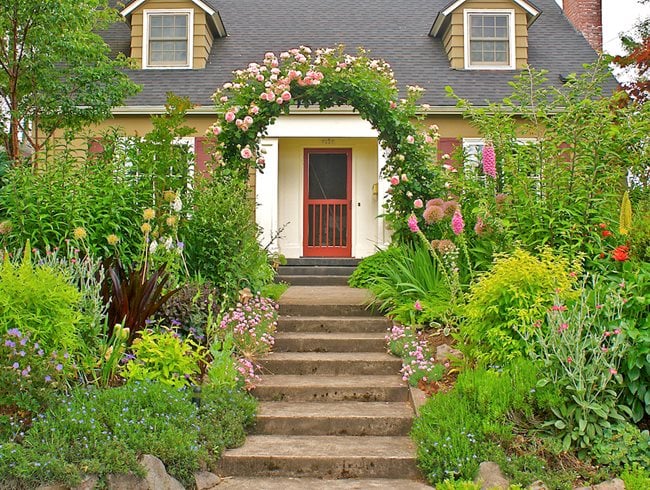 Add height with an arbor or other structure and train a plant such as a climbing rose for a vertical display of flowers. Gardener: Mary DeNoyer. Photo by: Janet Loughrey.

10. Roses
Roses are an essential component of English landscapes. Include fragrant varieties and incorporate different types such as climbers, shrub, and ground cover roses. To reduce maintenance, choose disease-resistant types that need little or no pruning and deadheading such as Oso Easy®, Knock Out®, and Flower Carpet® roses.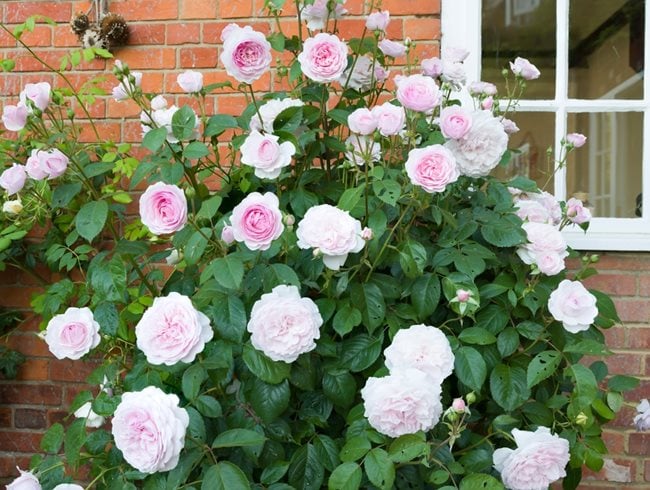 Learn more about the different types of roses. Photo by: Paul Maguire / Shutterstock.

11. Green Areas
Include a green area such as a lawn to allow space between beds. To reduce the use of water and fertilizer, substitute traditional turf grass with tough ground covers that are waterwise and low maintenance, such as creeping thyme, bugleweed (Ajuga), Corsican mint, creeping Jenny, succulents, mosses, or sedges.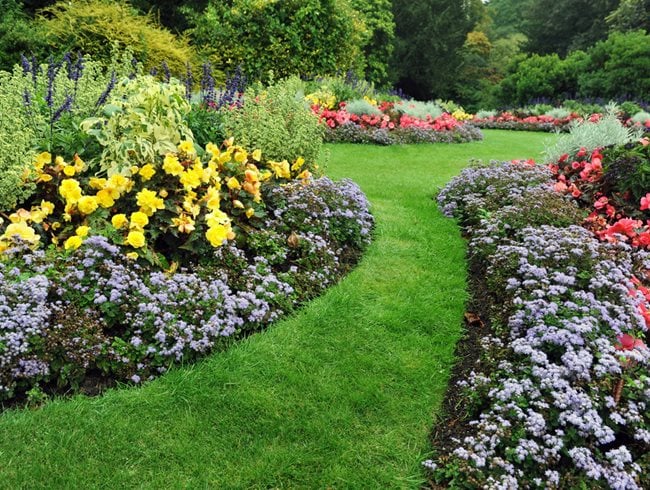 Photo by: 1000 Words / Shutterstock.

12. Repetition
Create repetition by repeating the same color plants throughout the landscape, which will lend cohesiveness. Plant in drifts of 3 to 5 of the same variety for more visual impact.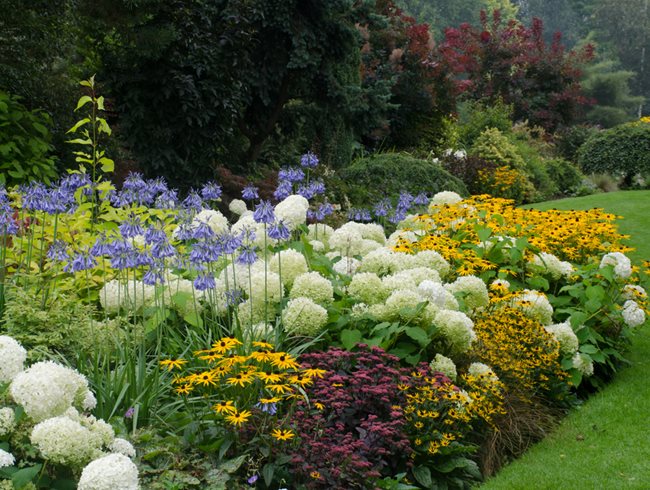 Photo by: Paul Wishart / Shutterstock.

13. Hedging
Add formal hedging and topiaries using boxwood or other shrubs to enclose borders, define garden rooms and pathways, and as background elements.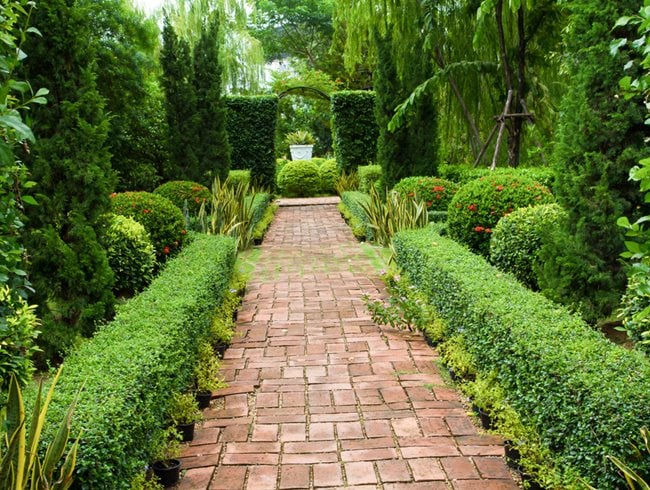 Photo by: Janon Stock / Shutterstock.

14. Four-season appeal
Create four-season appeal by including plants with flowers that bloom at different times, colored foliage, evergreens, varieties with foliage or berries for fall color, and plants with attractive bark or seed heads for winter interest.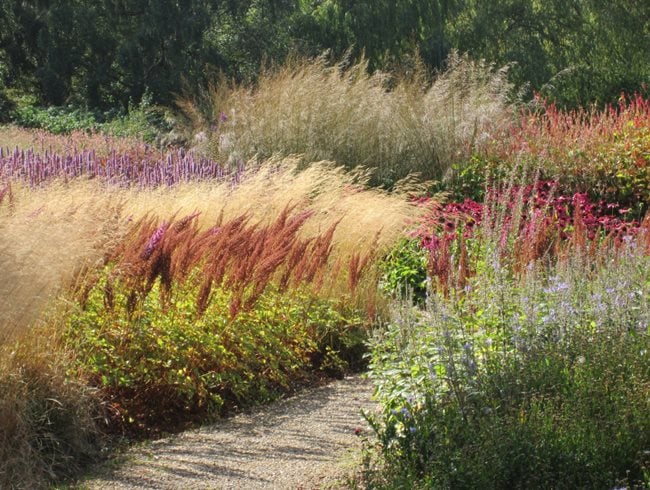 Photo by: Carmina_Photography / Shutterstock.

15. Include Plants with Fragrance
Include plants with fragrance for a multi-sensory experience. Part of the English garden experience is the romantic scent of flowers wafting on a gentle breeze. Scented plants can include roses, daffodil, honeysuckle, jasmine, lavender, lilac, lilies, peony, phlox, and pinks. Place fragrant plants near a seating area where they can be most enjoyed. (See our Top 20 Fragrant Flowering Plants)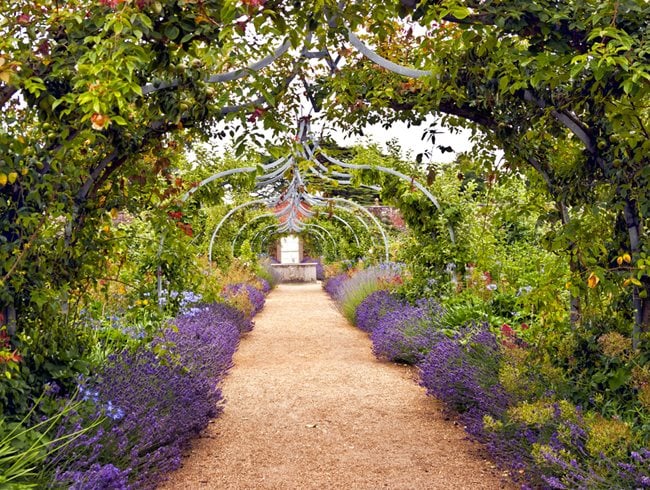 Photo by: Yolanta / Shutterstock.

16. Use Drought-Tolerant Plants in Drier Regions
With many areas becoming drier due to climate change, you can still get the English look by using more drought-tolerant varieties. Instead of mop head hydrangea, plant more drought-tolerant oak leaf hydrangea. Moisture-loving cardinal flower (Lobelia) can be replaced with salvia. Some plants such as bee balm (Monarda) and perennial sunflower (Helianthus) are tolerant of wet or dry conditions.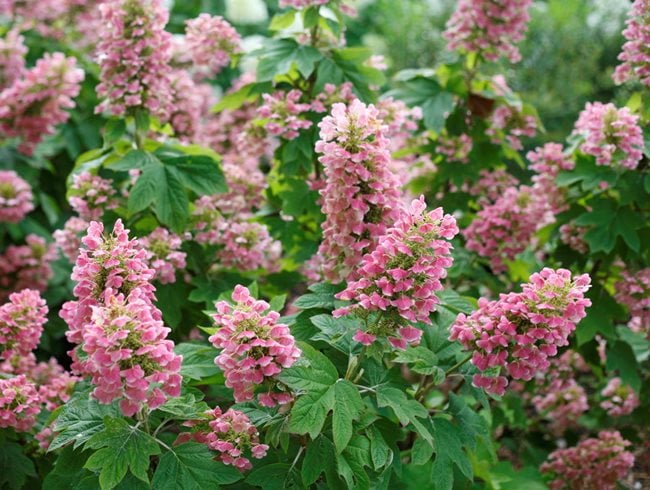 Gatsby Pink® oakleaf hydrangea. Photo by: Proven Winners.

HOW TO DESIGN AN ENGLISH-STYLE GARDEN
Choose and evaluate your site. English-style borders need full to partial sun and good drainage. Find an area in your yard that gets 6 to 8 hours of direct sun during most of the growing season. Amend the soil to create a rich growing medium.
Get ideas. Peruse online resources such as Pinterest and gardening websites for inspiration. Visit local gardens featuring English elements to see what plants do best in your area. Make a list of features you want to include.
Make a plan. Draw a rough sketch to visualize how your yard will look. For more involved projects, consult a landscape professional.
Consider scale. Select materials, plants, and features that are in scale with your home and yard. If you have limited space, you can still include a small water feature such as a tabletop fountain or birdbath. Use bistro seating instead of a large bench. Substitute larger plant species with dwarf varieties that won't outgrow the space.
Consider style. Choose a color scheme, materials, plants, and accessories that will complement your home's facade. Combine English-style elements with other features that suit your personal taste.
WHAT IS THE DIFFERENCE BETWEEN AN ENGLISH AND A COTTAGE GARDEN?
Though the terms "English" and "cottage" gardens are often used interchangeably, there are distinct differences. Elements of these two styles are commonly combined.
The earliest English gardens were created by the English noble class on expansive properties. These grand estate gardens were characterized by formal symmetrical design, large expanses of manicured green lawn, walled garden rooms, exuberant flower borders, neatly clipped hedging, and embellished with classic sculptures and oversized water features. These formal gardens were viewed as a display of wealth and were primarily ornamental.
Cottage gardens were cultivated by peasants who lived in modest cottages on small rural properties. These gardens were more functional and informally designed, consisting of vegetables, fruit trees, medicinal herbs and flowers, and were often enclosed by a low field stone wall or picket fence to keep out livestock. Learn more about cottage garden design.
See more English gardens.