Isabel and Julian Bannerman's Romantic English Gardens
Isabel and Julian Bannerman rose to the top of Britain's garden world by recreating the romance of the classic English garden. Now they are poised for a second act.
British garden designers Isabel and Julian Bannerman don't do things halfway. Their signature act is to create dreamy English country gardens filled with historical allusions: a world of roses and ruins, formal allées and follies. They aren't daunted by unpromising sites. On the Duke of Norfolk's estate in West Sussex, they built gateways and green-oak pavilions based on the drawings of Inigo Jones, Charles I's favorite designer, in a former parking lot. In the middle of a shell-lined grotto, a golden crown rises on the waters of a fountain and dances in midair. When it comes to theatricality, the Bannermans can't help piling it on.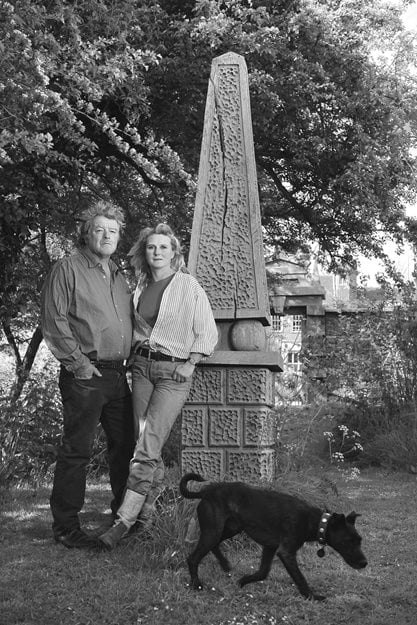 Julian and Isabel Bannerman met in their 20s in the rollicking art scene of Edinburgh, Scotland. They have been together, personally and professionally, since.

Their unreconstructed Bohemian look belies their passion for the well-manicured gardens of England's historic estates and their clientele among England's social elites, from entertainers to the Prince of Wales. Photo by: Adrian Sherratt.

SEE MORE OF THE BANNERMAN'S GARDENS
Like their gardens, the Bannermans possess a peculiarly British mix of grandeur, wit, and slightly disheveled Bohemianism. Isabel's piercing blue eyes are framed by a tangle of pale blond hair, which she often covers with a man's wool fedora. Julian, 60, is 10 years older, more opinionated, and comfortably rumpled. Neither Bannerman prepares you to find on their website the motto "Ich Dien," marking that they are by Appointment to the Prince of Wales, for whom they created a stumpery (a Victorian concoction in which gnarled tree trunks are arranged in a picturesque tableau) at Highgrove, Charles' home in Gloucestershire. More recently, they were on hand when Queen Elizabeth dedicated their memorial garden for the 67 British victims of 9/11 in Hanover Square in lower Manhattan.
The Bannermans have begun to stretch their usual idiom of the large country garden. Recent projects include a low-key cottage garden in Wiltshire for Caryn Mandabach, the American producer of Showtime's Nurse Jackie, and a courtyard for 5 Hertford Street, a new private club in London's Mayfair. The 9/11 garden features a low, snaking wall that roughly marks the shape of Britain and is uncharacteristically contemporary. "That's what was called for in the context," says Isabel.
A view in early summer past the formal water feature to the pear orchard at Wychwood Manor, a garden the Bannermans designed in Oxfordshire, England.

The pea gravel path, foreground, is softened by herbaceous plantings. Photo by: Mick Hales.

SEE MORE OF THE BANNERMAN'S GARDENS
Isabel and Julian met in Edinburgh in the early 1980s, where she was studying history at the university and he was working in contemporary art. The home of an international arts festival, Scotland's capital has long been a thriving cultural center. The young couple could have put their energy into architecture or theatrical design, says Isabel. Instead, they moved to west England and began designing gardens and garden buildings. In 1990, the current Lord Rothschild gave them their first major commission, asking them to design a water garden and grotto at Waddesdon Manor, his family's 19th-century country house. They ended up converting the dairy, once a showplace for the Rothschild cattle collection, into a conference center.
Their work won Civic Trust and Europa Nostra awards and vaulted them to their country's highest spheres. They have designed gardens for England's great and good of every stripe, from Andrew Lloyd Webber to the Marquess of Cholmondeley to John Paul Getty II.
Success has not quieted the couple's restlessness; they have an appetite for exploration in and outside of landscape design. In December, the Park Walk Gallery presented the first London show of Isabel's photographs. The large-scale pictures—most are 3 by 5 feet—of individual plants taken at close range include a crumpled silky flower of a poppy as big as a human head and a peony pistil the size of a squirrel. With some of the flowers dissected or petals removed, the results are eerily erotic, almost anatomical in their detail. They straddle a line between Victorian botanical specimens and contemporary abstraction. [See our slide show of Isabel Bannerman's photographs.]
The enclosed terrace garden outside the sitting room at Wychwood Manor is surrounded by a yew hedge with a doorway the Bannermans designed. The door is made from green oak, a wood that can be carved and treated to resemble more costly stone. Photo by: Adrian Sherratt.

SEE MORE OF THE BANNERMAN'S GARDENS
Her move into photography "was accidental, really," says Isabel. "I had always taken pictures of the garden at Hanham Court [the seven-bedroom gabled house in southwest England where the Bannermans raised their sons, Ismay, Rex, and Bertie], but they were unsatisfactory. I couldn't quite capture its spirit." She began experimenting with close-ups, shooting plants in a box lined with black velvet to provide the perfect neutral background.
The photographs represent a deep bow to Karl Blossfeldt, the early 20th-century photographer whose graphic, almost architectural pictures of plants they recall. "These pictures get right in there to the plant world," says Isabel. "They are more like it is, the texture and the color that you experience in the garden."
Now Isabel and Julian are moving into new projects. Four months ago the Bannermans sold Hanham Court and the beautiful garden they made there to take a 20-year lease on Trematon, a Georgian-era house farther to the south and west in Cornwall. Owned by the Prince of Wales (he is also Duke of Cornwall), it comes complete with its own 12th-century castle in the nine-acre grounds. "The gardens are crying out to be done," says Isabel. They are already planning to have them ready for private garden tours in 2013, but what they will do with their new canvas is anyone's guess. Though they continue to refer in their gardens to Renaissance Britain and Italy, "we don't do it for nostalgic reasons," says Isabel. "It's all about good design, which our culture has provided over hundreds of years."
The rich history of British gardens and country homes, in other words, is no limitation but a license to invent. At the Duke of Norfolk's estate, the seaside location and the inspiration of its earlier master, Thomas Howard (known as "the Collector"), allowed them to plant palms, bamboos, and tropical species "to make it strange and otherworldly," says Isabel, befitting the memory of an earl interested in collecting oddities. The ancient architecture guides the plantings but doesn't determine their choices. "The buildings give you something to anchor the plants to, and the plants soften the buildings," she says. "They really help each other."
This sounds much like the couple's relationship when it comes to planning a garden. Having worked together for nearly 30 years, theirs is a symbiotic partnership. "It doesn't really divide up," says Isabel. "We both think in the same way."
This article was published in our April 2012 issue as "Natural Phenomena."
Caroline Donald is an editor at The Sunday Times of London.