Rooftop Garden Design Ideas
What should I know before starting a roof garden?
ROOFTOP GARDEN IDEAS
Popular in NYC, Los Angeles, Miami, Chicago and other areas, rooftop gardens offer a respite from the fast-paced city and can be used for outdoor entertaining or growing vegetables. Browse the following examples to discover the possibilities for your rooftop space.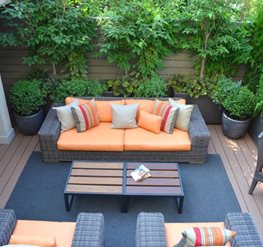 Photo by: Jeffrey Erb.
A Manhattan-Style Rooftop Garden
Thanks to clever fencing, strategically placed plantings, and creative design, this 500-square-foot rooftop garden has become a welcome retreat from the hustle and bustle of city life.
---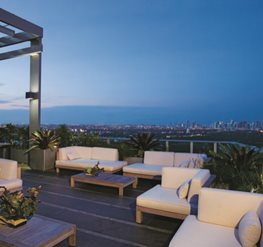 Photo by: Jon Whittle.
Towering more than 30 floors above the street, this rooftop overlooks Sailboat Bay and Miami's cityscape. The owner loved the views, but also wanted her garden space to feel private and protected.
---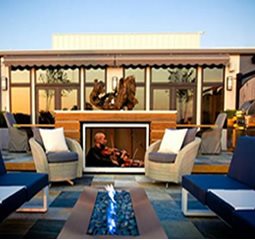 Photo by: Stephen Ironside.
Designing a Luxury Rooftop Terrace
Daniel Keeley, designer of two adjacent rooftop terraces that exemplify urban outdoor living at its finest, shares five considerations for homeowners who would like to transform their rooftop into an outdoor living space.
More rooftop gardens:
Urban Rooftop Garden in Portland
Italy: Green Terrace Roof Garden
A Lesson of Beginnings and Endings
Vegetable Roof Garden
Liza's Garden, on the rooftop at the Royal Ontario Museum
Unique Plants in a Rooftop Garden in Manhattan
Rooftop Living Space in Manhattan
A roof is a very different environment from a garden at ground level. In fact, you'll probably want to get professional help before getting started on a project like this.
Benefits of building a rooftop garden:
Reduce stormwater runoff
Reduce your air-conditioning costs
Reduce your heating costs
Create habitat for birds, butterflies and bees
Provide outdoor space for you to enjoy
Beautify the built environment
Improve air quality
Allow you to grow food
Earn LEED credits
What makes designing roof gardens different?
First, consider the climate on a roof, which is more severe than on the ground. It's often quite windy in summer and very sunny and hot. But if nearby buildings are tall, the garden can be in shade all day, which is too dark for many plants, or quickly switch from deep shade to intense sun.
Designing a Luxury Rooftop Terrace
Never use regular garden soil for a roof garden; it's much too heavy and doesn't hold water well or offers poor drainage. Use a lightweight artificial soil often called a "soilless mix" in your containers.
Plan on building some wooden or lattice screens on the windward side of your plants to keep them from developing a permanent lean. Lattice can also provide some shade, especially for a southern or western exposure.
Rooftop Garden Guide & Checklist
Also install automatic drip irrigation. Container plants need much more frequent watering than plants in the ground. Sun, heat and wind will compound the water requirement. By midsummer, if not earlier, you would need to hand-water at least once a day and in very hot weather, twice a day. That schedule is nearly impossible to maintain every day all season, which is why a drip system is crucial.
Finally, it is essential that you get approval from your landlord or building co-op board and the local planning commission. They will probably require that your roof be examined and certified by an engineer or architect, who will stipulate required changes to the surface of the roof and the weight limits for your structures, containers and plants.
Once you get approval, consider hiring a qualified garden designer who specializes in roof gardens, especially if you have limited gardening experience.
RELATED:
Create the Perfect Balcony Garden
Rooftop Garden Design Resources
Landscaping Roof Terraces
When it comes to design—as long as your roof can bear the load of furniture, foot traffic, and plantings—the sky's the limit.
Green Roofs
Experimentation and fun transform the aesthetics of green roofs.
Rooftop Garden Plants: Urban Edibles
Even city gardeners are hungry for the taste of homegrown fruits, veggies and herbs. Thankfully anyone can have pick-able produce at their fingertips, even if all they have is a rooftop space.