A Manhattan-Style Rooftop Garden
Small-space gardening can present daunting challenges for landscape designers. But thanks to clever fencing, strategically placed plantings, and creative design, this 500-square-foot rooftop garden has become a welcome retreat from the hustle and bustle of city life.
Small-space gardening can present daunting challenges for landscape designers, especially when the site can only be accessed by a narrow flight of stairs and is surrounded by tall buildings. This elegant terrace garden in the Chelsea neighborhood of Manhattan is just shy of 500 square feet yet capitalizes on every square inch of space. Thanks to the transformational skills of designer Jeffrey Erb of Jeffrey Erb Landscape Design, New York, the rooftop garden has become a welcome retreat from the hustle and bustle of city life.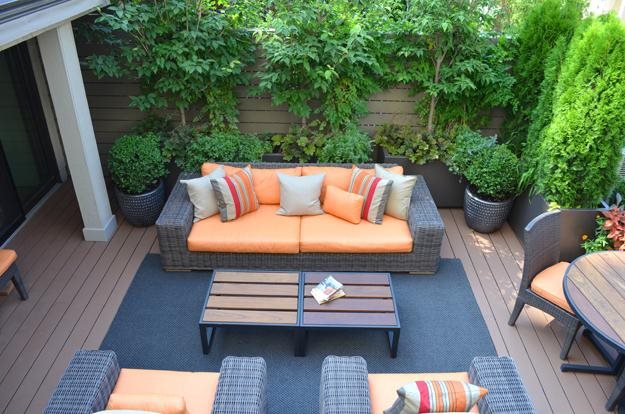 Before, this rooftop terrace in the Chelsea neighborhood of Manhattan was an unusable space with rotting wood decking. Now the 500-square-foot retreat houses a modern area for entertaining within a classic framework of evergreen shrubs and horizontal privacy fencing. Photo by: Jeffrey Erb.
The terrace is situated adjacent to the master bedroom of the owner's apartment and serves as an extension of the interior living space. "One of the immediate goals we had for the space was to make it feel more private. Large offices across the street look directly onto this terrace. We used a combination of sleek horizontal fencing as well as tall evergreens to make the space more secluded without blocking out light," says Erb.
The fencing, evergreen hedges, and a retractable awning create a multifuntional outdoor room oblivious to the towering buildings around it. An outdoor TV and fireplace enclosed in custom-built cabinetry anchor the main seating area, while a separate zone was created for alfresco dining. The entire terrace is adorned by potted plants and shrubbery carefully selected to maximize seasonal interest and fall color.
A mixture of Celestial Dogwood and Miscanthus 'Morning Light' round out the plantings and offer visual interest throughout multiple seasons. Photo by: Jeffrey Erb.
"The evergreens are Thuja occidentalis 'Smaragd' (emerald green arborvitae), which provide a punch of green color year-round," says Erb. "At the base of the arborvitae, we mixed perennials with different bloom times so there is always an extra dash of color. The deciduous trees-three in a row in front of the horizontal slat fence—are Cornus x rutdan 'Celestial' (celestial dogwood) and were added to create some rhythm in the space. They feature beautiful white spring flowers and also have a gorgeous deep burgundy-red color in the fall. I think this cultivar of dogwood does particularly well in containers, and the fall color is one of the best I've seen for this genus."
Even though the terrace is relatively exposed, it doesn't get much sunlight since the Manhattan skyline is always changing. "Because of several buildings to the south, the light patterns are altered. We had to be careful with our plant selection and make sure that the plants could hold up to part shade conditions," Erb explains.
The plant palette is limited in this small space, so the species were carefully selected to maximize seasonal interest. Heuchera americana 'Palace Purple' fills the planters all season and last until the first hard frost. Nepeta 'Walker's Low' is another favorite perennial that was used because its billowy purple blooms will emerge several times in one season, as long as they are cut back to stimulate new growth. Photo by: Jeffrey Erb.
This terrace makeover was completed as part of a major renovation to the apartment interior. A key component of the project was to replace the existing rotting wood deck panels with fire-resistant aluminum decking, in compliance with local fire codes. "All components of the deck are constructed to tie into the framing so they are not penetrating any part of the building. This is a specific thing we do in rooftop gardens. To prevent the decking from looking too modern, we chose a powder-coated brown finish that evokes a feel of wood but without the maintenance," says Erb.
Site access presented a major challenge, since the main entrance to the terrace was through a very narrow stairway on the interior of the apartment. "Every component had to be measured carefully before bringing it to the jobsite. Even the pieces of decking had to be cut to specific lengths before they were brought to the space," says Erb.
It was also difficult to convey to the other contractors on the site that plants can be damaged by construction debris. "It is a constant process of reminding contractors that cutting tile and concrete creates dust, which can be harmful to plants if they get coated. We have to remind them that dumping buckets of water from cleaning into the soil of our planters is also harmful. It sounds silly, but these things happen often," says Erb.
An automatic awning covers the space to minimize glare and allow for protection from the elements. The bioethanol fireplace and outdoor TV directly above it are housed in custom-built cabinetry to disguise them when not in use. Photo by: Jeffrey Erb.
The outdoor fireplace, from EcoSmart Fire, burns bioethanol fuel, a renewable energy source made from fermenting sugars from plant by-products. "It is clean-burning and doesn't produce ashes or soot. This particular model produces a controlled heat and only directs it outward towards the front of the fireplace. It has the look and feel of a fireplace but is really like a large candle in a very attractive and stylish housing," says Erb.
Prior to launching his own landscape design business, Erb served as the design team manager at a New York-based design firm, where he refined his skills in rooftop garden design and installation. He is not unaccustomed to challenges such as this one, which required him to juxtapose modern elements within a classical framework. "A space like this is so rare to have, and it had to be the right balance of aesthetically pleasing yet very functional. We really capitalized on making this space functional," he says.
See more gardens in New York
Get more ideas for rooftop gardens