New York Gardens
Browse gorgeous gardens on Long Island, in Manhattan or Brooklyn, and throughout the Hudson Valley
Gardening in New York varies depending on your available space. Many city-dwellers garden on rooftops or in small urban yards, while those that live in rural areas have more land to work with. Both types of gardens, small and large, can be impressive in their own right. Take a look at the following examples from Manhattan to the Hudson Valley, to see what's possible for your own garden.
Long Island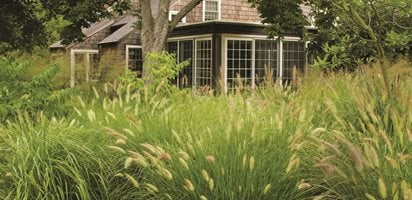 Hamptons Haven
A bountiful, four-season Oehme, van Sweden garden on Long Island breathes new life into an 18th-century farmstead.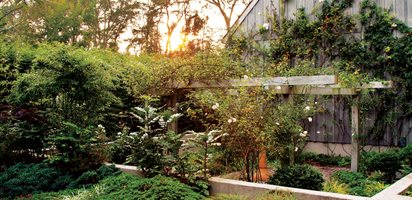 Jack Lenor Larsen: The Dream Weaver
Textile designer Jack Lenor Larsen brings an eclectic sensibility to his lush public garden in the Hamptons.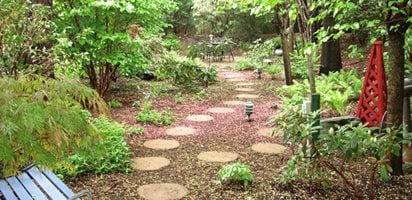 My Garden: A Cool, Quiet Corner of the World
A woodland garden, complete with a "forest floor" and a canopy of trees in Dix Hills, New York.
Robert Hughes' Shelter Island Garden
Even America's best-known art critic needs time, and trial and error, to create the ideal garden.
A Secluded Glasshouse in Sag Harbor
Two New Yorkers go in search of seclusion - and wind up finding it in a see-through house.
New York City
A Manhattan-Style Rooftop Garden
Thanks to clever fencing, strategically placed plantings, and creative design, this 500-square-foot rooftop garden has become a welcome retreat from city life.
The Gardens of Brook Klausing
Designer Brook Klausing talks about how to mix indoor and outdoor furniture and shows off four of his recent projects, including the garden of Jenna Lyons, creative director of J.Crew.
A Celebrated New York Garden: Wave Hill
Experience a garden known for its groundbreaking innovation and its reputation as an oasis for urbanites.
The King Street Lots in Red Hook, Brooklyn
The story of the King Street Lots, public gardens that flourished for 13 years in an series of abandoned lots in Red Hook, Brooklyn, New York.
The James Beard Garden Makeover
In New York City, the backyard of a beloved culinary shrine gets a much needed face-lift from GARDEN DESIGN and partners.
Unique Plants in a Rooftop Garden in Manhattan
Allison Fonte's garden makes her feel like she's in a Balinese village, not the middle of NYC.
My Garden: A Garden Grows in Brooklyn
Garden designer Alexandra Abuza gives a small backyard in Brooklyn a makeover.
Rooftop Living Space in Manhattan
Manhattan Rooftop garden designed by Sawyer/Benson Architecture & Landscape Architecture.
Hudson Valley
Deborah Needleman's Garden
Our exclusive photographs of Deborah Needleman's garden, in Garrison, New York.
Lyndhurst's Rose Garden
In Tarrytown, New York, Lyndhurst, the former estate of Jay Gould (and the setting for two Dark Shadows movies), has a lovely rose garden.
The Return of the Untermyer Gardens
The city of Yonkers, New York, is unearthing a garden from New York's golden age-the grand Persian gardens of Samuel Untermyer, overlooking the Hudson River.
The Steinhardt Garden
The Steinhardt Garden in Mt. Kisco is a wondrous private garden that rivals anything you might see in a public botanical garden.
My Garden: Starting Green
A garden in Garrison, New York ended up converting a bookkeeper into a passionate gardener.
Robert Irwin's Gardens at Dia:Beacon
Artist Robert Irwin designed the gardens at Dia:Beacon and the result is a beautiful echo of both the building and the art inside.
Duck Hill: Page Dickey's Garden
A house and garden grow together, with some strategic planning by their owner, Page Dickey, in upstate New York.
The Bakwin Garden: A Woodland Treasure
For years, landscape designer and author Jan Johnsen wished she could peek inside the 50 acre Bakwin Garden in New York's Hudson Valley.
Manitoga: Force of Nature
The Hudson Valley masterwork of mid-century designer Russel Wright battles the elements.
Making the Flower Pot Stylish Again
To create the perfect pot, a couple turned their lives upside down - and came out on top, as owners of the Potluck garden store.
My Garden: Tiers of Vegetables in New York
This 4-acre property in Lewisboro has an acre and a half devoted to terraced gardens.
My Garden: From Parking Lot to Rose Garden
Kevin Lee Jacobs shares how he transformed his backyard from a parking lot to a spectacular rose garden.
Upstate New York
Romantic Charm in Upstate New York
An upstate New York garden has outdoor living spaces, strolling paths and destinations to engage all of the senses.
A Garden Gone Berserk
With an eclectic mix of plants, author Roger De Muth's New York garden has blossomed into a beautiful obsession.