A Garden 'Gone Berserk'
With an eclectic mix of plants, author Roger De Muth's New York garden has blossomed into a beautiful obsession.
Most of us who love to garden know it can easily become an obsession. But few take it to the same extreme that gardener Roger De Muth has.
"What started out as a hobby taking some exercise time away from my computer ended up as a large jungle enveloping the house," he says in his book A Hobby Gone Berserk. However, one could hardly call De Muth's gardens a "jungle." They are as artfully composed as this book, which combines his talents as an award-winning illustrator, garden designer, painter and photographer.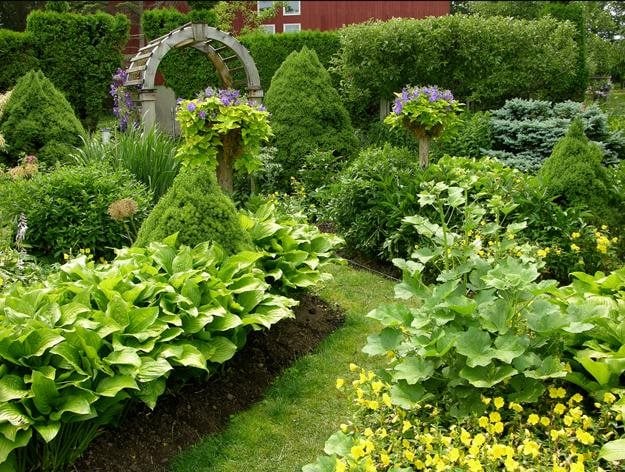 A grass path and arbor lead to the sun garden, with the edges flanked by hostas, sundrops and Scottish thistle. Photo by: Roger De Muth.
Gardening has become such an obsession for De Muth that after spending more than 25 years transforming the one-acre property surrounding his white clapboard home in Cazenovia, New York, he brought the property across the street to start anew. "I've broken one of my most important rules of gardening, which is to keep the garden small," he says. "My gardens started out as extensions of the house and views out the windows, but kept growing and growing. The gardens have marched around the property and now across the road."
The gardens in front of the house are populated with Sedona Coleus and edible kale. Behind the kale are red castor beans and taller green castor beans, with yews in the background. Photo by: Roger De Muth.
This garden on parade is beautifully captured in the book's stunning photography, which displays his various garden beds at their peak of beauty. "I shoot pictures of the gardens nearly every day, using my iPhone and digital camera," says De Muth. "Quite often, I shoot panorama photos by stitching multiple shots together. The pictures give me a record of each year, showing what works and what doesn't work."
De Muth inherited his passion for gardening from his English-born grandmother, Hannah, who grew "one of everything" in her garden in New Jersey. De Muth takes a similar anything-goes approach, mixing plants commonly grown in Central New York gardens—dusty millers, flowering kale and cabbage, coleus and hostas, to name a few—with the unexpected and dramatic, including tropical banana plants and elephant ears. "In each of the corners of the front gardens, I have planted red and green bananas in pots. The huge leaves are a real contrast to all of the other plants," he says.
The giant leaves of a red banana plant add a touch of the jungle to the sun garden. Photo by: Roger De Muth.
Despite the eclectic mix, Demuth repeats plant patterns throughout each of his garden beds to create harmony and cohesion. One of his gardening rules of thumb is to always to have a background, as he does in his paintings. "There is usually an evergreen, a tree, or taller plants that help give lower plants a background. Sometimes there is a trellis with vines, espaliered apple trees, or tall arborvitae hedge along the back edge of each border. In the front of the house, there are tall topiary yews along the back to give the flowers and leaves more definition," he says. De Muth also trains trees over metal and wire frames to create natural archways and living fences.
Around the border of each garden bed is dusty miller and red coleus. This repetition of plant patterns throughout the garden creates harmony and cohesion. Photo by: Roger De Muth.
De Muth likes to give his gardens a background, usually using evergreens or taller plants. In the foreground are bright yellow sundrops in full bloom. Photo by: Roger De Muth.
In addition to the book's fabulous photography, De Muth includes reproductions of some of his paintings, depicting everything from quaint garden gates and arbors to small flower and garden shops he has visited locally and abroad. A section is also devoted to garden designs De Muth has drawn for his clients: "Lots of ideas, quickly sketched on paper then smeared with water to tone the images," he says.
One of De Muth's designs, a frog fountain. Photo by: Roger De Muth.
De Muth has been lauded for his gardening obsession, winning several landscaping awards and having his property featured in a National Garden Conservancy tour. In Hobby Gone Bezerk, he only further proves that rules in the garden are meant to be broken, especially when it comes to size and the use of nontraditional plant pairings. "I hope readers enjoy my garden layout, design, and choice of plants. It takes me all summer to get the gardens looking the way they do now," he says.
The author of Hobby Gone Bezerk, Roger De Muth.
Plants around De Muth's garden. Photos by: Roger De Muth.
De Muth's book is available from the independent book publisher, Blurb. You can see a preview of his book here.
See more gardens in New York