Making the Flower Pot Stylish Again
To create the perfect pot, a couple turned their lives upside down — and came out on top, as owners of the Potluck garden store
Richard Siegel and Karen Skelton had a life. One they'd spent nearly two decades building. One that any outsider, face pressed to the glass eight years ago, would have envied. Siegel was full partner in a Manhattan ad agency; Skelton, a freelance graphic designer, had recently launched a line of top-selling fabrics and wallpaper for Schumacher. The couple spent Monday through Friday in a chic West Village apartment, then headed for their weekend place in the Hamptons — a shingle-covered cottage in Amagansett that they'd restored and surrounded with old roses, blowsy perennials, even a picket fence. Everything, it seemed, was as it should be. Then, in 1991, Skelton walked into a pottery studio on West 19th Street, and walked out with a new life, the one she and Siegel really wanted.
"On a whim, I decided to take a class at this place," she explains, "and I went home with real, tangible things: bowls and plates that I could use and hold and love. Graphic design is often a long, removed, cerebral process. This was immediate and tactile and satisfying. A lightbulb went off. I guess I'm a late bloomer, because, finally, I knew what I wanted to do."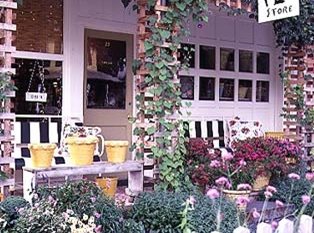 Photo by: Matthew Benson
Photo by: Matthew Benson
Well, sort of. When Skelton got her name added to the waiting list for a booth at the New York gift show — an annual marketplace where wholesalers hawk their wares to retailers from around the country — she wasn't exactly sure what kind of pottery she planned to sell. But since it usually takes several years to secure a spot, she figured she had plenty of time to decide. That particular year, however, the show's creators were adding a new floral and garden section. If Skelton's products fit under that heading, she was told, a booth would be hers in three weeks.
"I'd love to be able to tell you that my decision to make flowerpots came from some need in my own garden," Skelton says, laughing, "but that's not how it happened. If they had told me they had space in a new pet section, I would've done dog bowls."
Photo by: Matthew Benson
Photo by: Matthew Benson
Lucky for the rest of us, they — and she — didn't. Instead, Skelton did for the flowerpot what Kate Spade has done for the tote, Calvin Klein for the slip: elevated the simple to a stylish new level, making the familiar fresh again. The shape of Skelton's containers, an inverted triangle with a lip, isn't new. In fact, she uses store-bought, terra-cotta planters and then covers them with colored and textured glazes: shiny blues as liquid and bottomless as the ocean, delicate greens reminiscent of Chinese celadon, icy yellows that refresh like cold lemonade, a crusty sand you'd swear was the real thing. At a time when garden goods tended to be either plain-Jane or over-the-top ornate, her pots were nothing short of mind-blowing. And buyers at the gift show knew it, even if Skelton didn't. When she took orders for a whopping 6,000 pots — placed by high-end stores like New York's Bergdorf-Goodman, Chicago's A New Leaf, and The Gardener in Berkeley — she was pleasantly shocked. "Then I thought, what the hell am I going to do?"
With funding from Siegel, she ordered thousands of pots from a supplier in Manhattan's flower district, hired a carpenter to transform her Hamptons chicken coop into a studio, and immediately got to work. "The studio was under construction," she recalls, "so here I was out on the front lawn in the chic Hamptons, surrounded by pots and covered in glaze. I was getting up in the middle of the night to turn on this kiln or turn off that one. Pots were drying all over the house. It was a mess."
Photo by: Matthew Benson
Photo by: Matthew Benson
Within two years, as early clients increased their orders and new ones (including Barneys, Takashimaya, and Ad Hoc Softwares) came on board, Skelton realized she had a full-fledged manufacturing operation on her hands — and that Amagansett, with its sky-high property values, wasn't the best place to expand. "Already, the drive out there was killing us," she says. "We tried everything to beat the traffic, even hitting the road at 2 a.m. Still, it wasn't easy leaving a house and garden we'd been working on for years."
The couple purchased four buildings in upstate New York: an area rural enough to keep overhead down, but still close enough to the city for comfort. The business, which Siegel christened Potluck, went into three buildings — a 1930s kit house became the offices, a former roller rink blossomed into a studio, and an old barber shop was reborn as a retail store — on Main Street in Accord. The population of the town, once home to a busy train station, had dwindled to around 5,600, making for an unusual labor pool. "The first employee, Donna Connell, was a waitress when I hired her. Now she's the office manager and knows everything about the business," Skelton says. Another key personnel coup was Siegel himself. Shortly after the move upstate, he quit his day job to work for Potluck full-time. Over the next four years, the couple taught scores of young locals how to glaze pots (as well as Potluck's newer lines of dinnerware) and to run the company store.
Photo by: Matthew Benson
Photo by: Matthew Benson
Of the decision to go retail, Skelton says, "It wasn't much of a risk. We had the space and were already there all day. It began as an experiment, a way for us to learn what our clients went through." But it soon became a destination. Before the shop opened, nearly every storefront on Main Street was shuttered. Today, thanks to Potluck, the local economy is reinvigorated, and all but a few buildings are home to bustling businesses.
In the process of renovating a downtown, though, Skelton and Siegel ignored their own place, an 1840s farmhouse 20 minutes away in Gardiner. At home they worked more slowly, from the inside out. The house's funky floor plan yielded a few outdoor nooks — garden rooms waiting to happen — including one near the kitchen that became a pergola-covered dining terrace. "But the best view was out back," Skelton says, "where the lawn undulates down a hill." When the couple moved in, the room facing the backyard contained a single tiny window. So they knocked down that wall, replaced it with French doors, and added a deck. "Then I sat on the deck for a year," she says, "looking and thinking, before I figured out what to do next."
Photo by: Matthew Benson
Photo by: Matthew Benson
The ideas arrived, as they so often do, in the form of a problem: an unsightly well cover in the middle of the yard. Skelton commissioned a simple, spacious wood arbor to cover the eyesore. "Then we needed a way to get from the deck to the arbor, so we put in a bluestone path. And suddenly, there were all these obvious places to start planting." With the help of Debra Tobin-Gray of Gardenmakers, a local garden-design firm, Skelton stationed Alberta spruce trees at each of the arbor's four corners, put in billowy shrubs to soften the transition from deck to path, and began a perennial border that stretches out from either side of the path.
"Most of the plants are old-fashioned: pretty, flowery stuff," she says. "When I clip pages out of magazines, I always go for the spare, modern, Japanese things. But I don't have a Zen house. I have a cottage, so I planted a traditional cottage garden." Still, it's the unexpected twists on tradition, the surprises — such as two spiky pineapples rising from a pair of classical urns — that define Skelton and Siegel's garden. And their life.
Last year the couple finally sold their Manhattan apartment. "You worry that if you leave the city," Skelton admits, "you'll become unplugged and disappear. It was a huge leap of faith." But just another in a long series of such leaps. As Siegel puts it: "I named the company not so much for what Karen was making as for what she was doing. Potluck means you're never sure how something will come out." And that's the way — without a set menu or a detailed road map — he and Skelton got to where they are today, which is exactly where they want to be.
See more gardens in New York