A Secluded Glasshouse in Sag Harbor
Two New Yorkers go in search of seclusion - and wind up finding it in a see-through house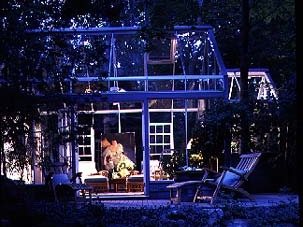 Photo by: Scott Frances
Sometimes you need to get away from the place where you go to get away from it all.
Back in 1967, Joe Petrocik and Myron Clement were still after a primary escape — in this case, from New York City and their new public relations firm. "We needed to unwind somewhere during weekends, to do nothing, to see no one," Petrocik recalls. They started off on the right foot, with a restored 1841 house that required little work, in the still-sleepy Long Island town of Sag Harbor. But it wasn't long before they were busy researching their new home's past and giving historic-house tours. Then the garden, too, began to grab Petrocik's attention.
Photo by: Scott Frances
"It's a project that never ends. Now, if we arrive at 10 p.m., I'm out there with a flashlight." Early on, the two had a Sag Harbor social life of Manhattan proportions. Pals like Truman Capote — whose '68 Mustang still sits in the driveway — dropped by regularly. "We discovered," Petrocik laughs, "that we needed an escape from our escape."
Photo by: Scott Frances
They knew what they wanted: a separate garden structure, a true destination, not merely a wing off the main house. They also knew what they didn't want: cutesy potting sheds or fussy Victorian conservatories. "We were looking for something simple, transparent, modern, quite apart from the living history of our house," Petrocik says. "But everything on the market was so similar, so boring." Unwilling to compromise or to spend a fortune building something from scratch, he and Clement waited and watched. Then, a little over four years ago, they spotted a glasshouse on display at the Hampton Classic Horse Show. It was a simple cedar-and-glass structure with a pitched roof, composed mostly of stock parts, like sash windows and doors that seemed to hover in thin air. "Our attention quickly shifted from horses to houses," Clement says. They wasted no time, meeting with Andrew Caskie (the former solar energy engineer who had designed the display) that very day. Six months later, their second escape hatch was in place.
"When I'm inside it, I feel like I'm miles away from civilization, even though we're only a stone's throw from downtown Sag Harbor," Petrocik says. "It's become the one place where we can really relax."
Photo by: Scott Frances
Photo by: Scott Frances
The process of putting it all together, however, was anything but relaxing. Self-proclaimed tough customers, Petrocik and Clement didn't just want the model from the horse show plopped in their backyard. They went to Caskie with numerous revisions — like putting French doors at the front of the house and moving the windows to the back, adding a deck out front and a small wing on either side (one shelters tender plants, the other is a potting area), and making the roof pitch even steeper. And though they wanted the house set in the woods at the back of their narrow lot, they insisted that no trees be harmed — so Caskie wound up cutting a hole in the deck to accommodate one of the trees. "The collaboration wasn't always easy," Caskie admits, "but the end result is spectacular. No pain, no gain."
To create a secluded and soothing destination, Petrocik and Clement dreamed up a tiny pond for the front of the house — a pond that had grown to approximately 20 by 24 feet by the time they actually hired Joseph Krajewski of Baywoods Nursery to construct it. Both Caskie's and Krajewski's crews ended up working side by side in the small backyard, against a tight deadline of June 19, the date printed on garden-party invitations that Petrocik and Clement sent to 200 people. As Petrocik remembers, "It was chaos. I lost my temper more than a few times. Some of the trucks wiped out the pachysandra I had planted beneath our willow tree. The lawn was a huge mud pit. But I have to give those guys credit. By midnight, on June 18, everything was picture perfect."
And his delight hasn't waned. "I spend more time in the little house than in the big one," he says. "Since it's heated, Myron and I can sit under the trees year round. I grab a drink and a Mozart CD, and float away out there. We still take a little ribbing about all the drama, though. Our friends call the conservatory 'Joe and Myron's folly,' but we prefer to think of it as our retreat within a retreat."
See more gardens in New York