Manitoga: Force of Nature
The Hudson Valley masterwork of mid-century designer Russel Wright battles the elements.
When the American industrial designer Russel Wright and his wife, Mary, purchased 75 acres of sloping land high above the Hudson River in Garrison, New York, in 1942, they knew little, if anything, about gardening or horticulture. But over the next 30-some years, Wright transformed the area, damaged from a century of logging and quarrying, into one of the most extraordinary examples of landscape design of all time. "Wright's greatest achievement was the landscape," says Jean-Paul Maitinsky, the site's executive director since 2011. "He went from a world of industrial design production and control to a dynamic environment he wanted to transform, and it liberated him."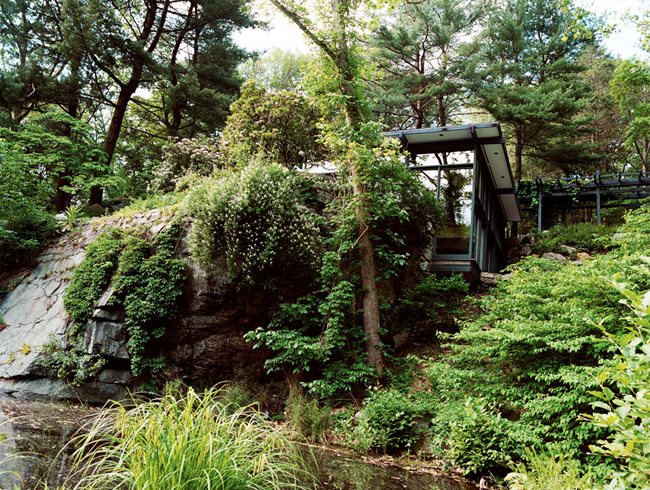 Manitoga, a modernist architectural gem and its surrounding 75 acres of lush woodlands, was conceived by American designer Russel Wright as an ongoing work of art, with nature as the medium. It is included on the World Monuments Fund Watch List, and its 75-acre landscape clearly needs help. But it's not certain how much of Russel Wright's masterful design can be saved. The most pressing issue, says the historic site's landscape curator, Ruth Parnall, are the loss of thousands of eastern hemlocks to the woolly adelgid (a nonnative insect that feeds on hemlock sap) and rampant deer browse, which continues to threaten hemlock seedlings. Photo by: Don Freeman.

SEE MORE PHOTOS OF THIS GARDEN
Named Manitoga by Wright after the Algonquin word for "place of great spirit," his property consisted of a modernist house and studio set amid miles of landscape elements he coaxed out of existing vegetation. Altogether, Manitoga was the product of his lifelong commitment to the integration of art and nature. "He wanted to live in harmony with nature rather than dominate it or erase it. This is common practice now, but in the 1940s and '50s it was rather radical," says Carol Franklin, a principal of Philadelphia landscape design firm Andropogon Associates and a frequent visitor to Manitoga from the '50s through the '70s as Wright's cousin and friend.
Now owned by the nonprofit Manitoga/The Russel Wright Design Center, the site has been a National Historic Landmark since 2006. It still stands as a testament to Wright's aesthetic and ecological achievement, but since his death in 1976, both the buildings and landscape have deteriorated. Restoration efforts have focused largely on the architecture: His studio was restored in 2004, and in 2010 a grant helped with a state-of-the-art re-installation of Wright's ecologically prescient green roof, among other things. Recently, however, more attention has turned to restoring the surrounding acreage of "forest garden," as the designer described it, which has been ravaged by weather, exotic insects, and deer. It is not just a matter of replanting, but attempting to preserve Wright's artistry.
The site received a grant this year to commission the second phase of the Manitoga Historic Landscape Report, which was written by landscape architect (and Wright's cousin) Carol Franklin in 1982. Franklin's report has functioned as a bible on Wrights woodland design, and Maitinsky is hopeful that the much-needed update will provide concrete guidance on its restoration. Photo by: Don Freeman.

SEE MORE PHOTOS OF THIS GARDEN
Wright is best known for his interior furnishings, in particular his American Modern dinnerware, a line of affordable, mass-produced, simple yet stylish ceramics that saw tremendous success from 1939 through 1959. Through his products, which also included furniture and textiles, he strove to bring a humanizing, democratizing element to a rapidly industrializing society. Good design was for everyone, he established in the 1950 best-selling Guide to Easier Living, which he co-wrote with Mary, espousing a simpler, more casual, yet aesthetically pleasing lifestyle. The human spirit could be elevated through one's surroundings, he believed, and a closer connection to nature was key. The organic contours and earthy colors of his ceramics reflect this, as does Manitoga, where nature was his medium.
For a decade, Russel and Mary used the Garrison property as a summer retreat from Manhattan. Wright studied the land and its vegetation, and finally decided to build a new home there, with a wing for his young daughter, Annie, when Mary passed away in 1952. He enlisted the architect David L. Leavitt, who shared Wright's appreciation of Japanese design. The collaboration yielded a geometric, two-story, wood-and-glass structure terraced into the sloping land on 11 levels. Taking every opportunity to blur the distinction between interior and exterior, it is not built upon the earth as much as within it. Its roof is covered with greenery, a cedar tree trunk vertically bisects the living room, giant boulders carve the space, and much of the furniture is built into the stone foundation. Floor-to-ceiling windows bring in the stunning outdoor view of the forest-hugged swimming pond that Wright created by damming the quarry on one side and diverting a stream into it on another. In its heyday a waterfall, vines, and hemlock branches cascaded over the sparkling pond's rock wall, whose contours Annie thought resembled a dragon — hence the name Dragon Rock, which now refers to this central core of the property.
A bank of ferns hugs the quarry pond outside the house. Photo by: Don Freeman.

SEE MORE PHOTOS OF THIS GARDEN
One of Wright's great passions was subtly manipulating nature for heightened sensory effect, and he worked hard to create a stimulating experience of the sights, sounds, smells, and textures of the woodlands, paying particular attention to nurturing native species. "His idea was that he'd reveal the art that we didn't see, and then people wouldn't be afraid of it and think of it as wilderness, they'd think of it as a garden," says Franklin. He had worked as a stage set designer earlier in his life, and the influence is clear. He encouraged certain species to flourish in order to create singular effects — the soft, green "moss room," a field of mountain laurel, the blossoming dogwoods of Mary's Meadow — and tweaked hemlock branches to achieve striking contrasts of light and shade. "He was designing with a big stage, and the light was the sunshine," says Franklin, adding that the Fall Path, one of several walks he designed, "is all about the light in the fall, backlighting the autumn colors."
At the heart of his design philosophy was an ecocentrism, a respect for the land that now seems ahead of its time. "He spent time looking at what was coming up and he developed an appreciation over the years of what nature was doing for free," says Ruth Parnall, Manitoga's landscape curator. "He didn't wipe the slate clean. He noticed what was happening and made adjustments to let things speak for themselves."
While the overall structure of the landscape is still intact, what is missing, says Parnall, are the details. Because of the loss of thousands of eastern hemlock trees to the woolly adelgid, a nonnative insect, the experience of paths throughout the property is dramatically different," she says. The Morning Walk, for instance, which used to deposit hikers out of a hemlock "tunnel" into the bright sunlight, is no more.
While the loss of many of Wright's artful passages may seem tragic, Franklin points out that Wright embraced the dynamism and surprises of nature. "Russel knew nature was never finished," she says. "One of the last great events of his life was a hurricane that downed tremendous trees. He rerouted paths and brought attention to the fallen pines. He loved it — scraping away without bulldozing." One has to wonder what he, as both an artist and ecologist, would have done about the landscape now. To Franklin, it's clear: "He would have accepted it, and used his imagination to turn the hemlock disaster into a theatrical event."
See more New York gardens