Robert Hughes' Shelter Island, New York Garden
Even America's best-known art critic needs time, and trial and error, to create the ideal garden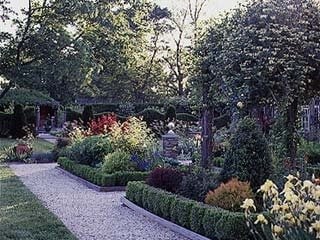 Photo by: Matthew Benson
When a plant outgrows a container, there are trusty rules of thumb for sizing up a new pot. When people need room to expand, however, simply borrowing somebody else's "perfect" plan — for a life, for a garden — is no formula for success. If you've got a life, you can make a garden that's really yours. Just don't expect the right plan to take shape overnight.
Photo by: Matthew Benson
Art critic Robert Hughes and his wife, Victoria, were all set to find their comprehensive plan back in 1990, after they'd moved into a bigger house on Shelter Island, New York. But rather than making one decisive swipe at an overall solution, their new design turned out to be ad hoc. The landscape that today looks like a series of formal spaces, strategically planned, in fact took shape as an organic — sometimes haphazard — progression. Garden designer Jeff Mendoza, the third party in this collaboration, says, "The impact of each step was part of the whole process. Most people can't imagine what that impact will be, aesthetically or financially. Even designers get surprises."
Photo by: Matthew Benson
As it turned out, the Hugheses' new place re-created the texture of their old lives, but gave it a different form. The couple had been spending weekends away from their Manhattan loft in splendid, hectic disarray in a small, hingled cottage, also on Shelter Island. A visitor might have found eggshells in the sink, bread rising under a towel, and, on the walls, Auerbachs and Goyas that Bob had collected. Crumpled drafts of reviews for Time magazine (where Bob has been art critic since 1970) were companions to a sweet Australian sheepdog and scattered fishing tackle. Elsewhere, chisels and saws hinted at Bob's ambitious carpentry projects; bolts of fabric hinted at Victoria's equally ambitious curtains in the making. A little ziggurat of raised garden beds, which Bob built from railroad ties, held vegetables and flowers. Indoors and out, there was an air of amplitude and accomplishment-in-progress.
Photo by: Matthew Benson
Bob Hughes, born and educated in Australia, is America's most popular guide to art. It all started in 1980 with The Shock of the New, a TV series that became a book of the same title, which decoded the mysteries of abstract art. Later, his The Fatal Shore became the first book about Australia to make the U.S. best-seller lists. A Jerk on One End is a memoir concealed within a book about fishing.
Photo by: Matthew Benson
Victoria Hughes has an innate sense of the pleasures and complexity of order, and an intuitive understanding of how to create it. And though she is a Californian, she exudes an English sense of ease about her domestic self, especially when another woman asks, "What do you do?" Forthright and funny, she always answers, "Nothing," though nothing could be further from the truth.
Photo by: Matthew Benson
By 1989 came the resolve, and the funds, to create what Bob called "a republic of two" — a place to practice the country arts and crafts and outdoor pleasures they both enjoyed. The Victorian farmhouse they bought, not far from the old house, had had a checkered past — at one point it was even a motel with cabins. Extensive renovation converted the shambling outbuildings into a guest cottage, a potting shed, and a carpentry barn. A buxom porch off the kitchen, complete with tables for dining and Ping-Pong, was soon in place to shade the fair-skinned, sun-hating Hugheses and their guests. One sheepdog became two.
Photo by: Matthew Benson
Making a garden took longer to figure out. They started with an amorphous grassy yard and some Norway maples. The first project was a quadrant of dry-stone raised beds close to the kitchen and barn. After Bob built a trellis to wall this garden on the south side, they filled its beds with old roses, lavender, and culinary herbs — plants redolent of English tradition (Bob's mother grew up in what is now Rosemary Verey's house in the Cotswolds). The potting shed is a workaday place for Bob to experiment with exotic vegetables: white eggplants, ever-hotter peppers, and strange lettuces, all grown from seed. He enclosed the kitchen patch (a few hundred feet from the rose garden) in a massive stockade fence. Within its wire-paneled gates, this plot feels like some outback freeholder's declaration — Bob's Aussie pioneer side surfacing as a vegetable kingdom.
Photo by: Matthew Benson
Though the Hugheses had assembled all the working parts of the garden they wanted, it didn't look right. The turning point arrived when Victoria, who became a gardener as she labored on the new place, asked Jeff Mendoza to help weave the connecting fabric. He pinpointed twin obstacles: a proposed lap pool and the sheer yardage of dark shingled walls on the buildings. The pool was easy: They set it off in a hedged enclosure, and contractor Bruce Bennett built a pool house (since covered in roses) to terminate the main axis, a new gravel path that runs the length of what was now becoming a compound. Offsetting the brown shingling required more steps, and subtler ones. The first was duplicating the rose garden's quadrant pattern outside its trellis wall, but by planting this new parterre in yellows instead of the original pastels, Jeff made the repeated geometry look fresh. The cedar arbor he placed at the paths' crossing focuses visitors on the act of traversing space; a shower of honeysuckle stops the fastest walker. "We played off every material we could think of against those shingles," says Jeff. "Gravel and bluestone paving, stone pillars, even cement." A new "dry" garden of drought-tolerant plants added textural contrast.
Photo by: Matthew Benson
As it happens, Bob's first-planted old roses and herbs needed more light and air circulation, so they were moved to a new bed near the barn. The installation of a small pool then transformed the original quadrant into a quiet courtyard, where a tiny jet of water provides sound and movement. Beyond it, when the parterre is in flower, its vibrant yellows make the shingled backdrop an asset.
Scale, more than color, distinguishes the hedged lap-pool garden. Broad architectural strokes are balanced by complex planting. Though one side of the garden has beds that mix shrubs, perennials, annuals, and bulbs in silvers, mauves, and blues, the other is simply a huge sheet of liriope. After long debate about why this garden looked static, Victoria and Jeff riskily cut the top of the hedge into waves. "Inserting whimsy into a formal space brought the garden alive," says Jeff.
In 1998 the last part of the garden was planted: an orchard of apricots, peaches, pears, and apples that recalls the farm the place once was. Ironically, with completion came another change: The Hugheses were divorced. Though the impulses that brought their garden into being have run their course, the place as it stands still embodies a precept that should steady even the neophyte gardener: In some magical way, a good garden mimics what a plant does—thoughtfully shaped and pruned, it slowly grows into the right shape.
See more gardens in New York