Best Gardens: Rooftop Living Space in Manhattan
Manhattan Rooftop garden designed by Sawyer/Benson Architecture & Landscape Architecture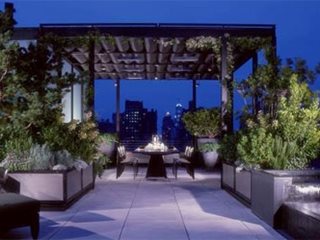 Kiss the Sky: In the evening, this garden becomes all about the drama of light. Photo by: Billy Cunningham.
Story upon story above the hum and clatter of Manhattan, a rooftop garden by Sawyer/Berson Architecture & Landscape Architecture is a flawless set for fair-weather parties that have kept growing in frequency and size since the design project was completed. "Our client, an old friend of mine, likes to have weekend guests and get-togethers — he loves nothing more than to cook and entertain. He wanted a space to accomodate a lot of people," says founding principal J. Brian Sawyer. "So we designed a serious outdoor living space. We basically created the same program outdoors as he has indoors in the penthouse." Every site has a story — this one is no different. As required by the building management company, the entire installation had to be designed to be disassembled and removed. "The entire thing sits on four columns, not touching parapet walls, the elevator bulkhead or anything. Basically, we made a steel deck on top of which everything sits," says Sawyer. Despite its modular nature, the garden has a feeling of permanence.
When he first came to Sawyer, the client knew he wanted a change beyond the standard rooftop terrace. "He just didn¹t know how far he wanted to go with it," says the designer. The architects were ready with a quiver full of ideas. "We were very influenced by Paul Rudolph's recent renovation of the East River townhouse, Beekman Place, and the way it uses exposed steel to engage the urban environment." Let it be said that Rudolph is known best for creating seamless indoor-outdoor residences along Florida's Gulf Coast, which established the Sarasota School of Architecture, and that the magic of those houses and their landscapes is translated to this kindred garden on a Manhattan rooftop, a thousand miles away.
Kiss the Sky: Custom designed mohagany sofas finished with a maritime sealer. Photo by: Billy Cunningham.
The view is different, too. Trade the mellow blue-green Gulf for a landscape of water towers poking into the horizon. But no one's complaining. "It is one of our most successful projects in that it is used exactly for the purpose it was designed for and even more. Entertaining in the garden is the central part of his life. I've seen him cook for 100 up here," says Sawyer.
The kitchen's lustrous black granite counters and Lynx 42-inch grill do make for a compelling cooking experience.
Instead of conflicting with the industrial view, the garden aims to work with its surroundings through its use of steel and concrete for structural elements and surfaces. The water tower relates to many in the distance. Yet the feeling of a retreat is still present, established by comfortable furnishings and richly layered planter boxes. Ralph Pucci furniture designer Chris Lehrecke custom- designed some pieces, including sofas and lounge chairs. The dining table and chairs inspired by French architect Jean Prouvé were designed by the firm. The plant palette was borrowed from gardens you'd find in the Hamptons near the beach where the wind and weather give the vegetation something to think about. Says Sawyer, "We knew those plants could handle the weather." Northern bayberry, herbs such as sage, thyme, rosemary and lavender, inkberry, and the creamy white panicles of 'Tardiva' hydrangea growing in planters and black, concrete Lunaform containers tone down the edges of the garden while standing up to windy days in New York. For more information, call 212-244-3055 or see sawyerberson.com.
See more New York gardens
See more rooftop gardens