Designing a Luxury Rooftop Terrace
Daniel Keeley, designer of two adjacent rooftop terraces that exemplify urban outdoor living at its finest, shares five considerations for homeowners who would like to transform their rooftop into a luxury outdoor living space.
Daniel Keeley, founder and principal of DK Design in Fayetteville, Arkansas, recently redesigned two adjacent rooftop terraces on Fayetteville Square that exemplify urban outdoor living at its finest. Rooftop spaces present a unique atmosphere for entertaining and relaxing with friends and family. Along with that atmosphere comes a unique set of conditions that impact the design and construction process. Here Keeley shares five considerations for homeowners who would like to transform their rooftop into a luxury living space.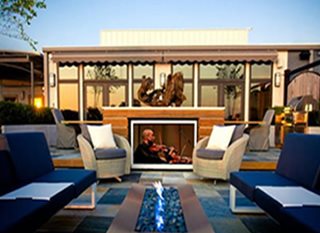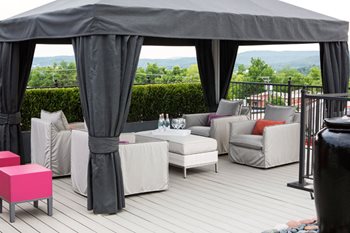 This rooftop serves as the ultimate outdoor entertaining space. Photo by: Stephen Ironside.
A tented pavilion provides much needed shade for this sun-drenched rooftop, while boxwood hedges screen an unwanted view of a parking lot below. Photo by: Rett Peek.
Logistics
For those considering a rooftop garden or outdoor living space, detailed planning and organization is crucial. The biggest challenge for Keeley and his team on these two terraces was logistics. The luxury condos are on the second level above a commercial unit so bringing in equipment, materials and furnishings took creativity. A crane was used for the heavier items, while some of the plant material was brought up in the elevator.
"Be prepared to spend more than you would for a comparable outdoor living space at ground level," cautions Keeley. Working on a rooftop is more expensive because of the access issues mentioned. "You also have to be comfortable with workers passing back-and-forth through your home during construction," he adds.
Exposure
At ground level, trees and structures provide shade and act as windbreaks. On a roof, extreme sun and wind can be nearly unbearable, making protection from these the main priority. On one of the terraces, Keeley added a tented pavilion from Jardin de Ville to provide shade over the seating area. "Because winds can reach up to 60 mph, we anchored the structure with steel reinforcement below the floor joists," he explains. Shade had already been addressed on another portion of this terrace with an existing cedar pergola attached to the condo. Furthermore, Keeley recommends built-in storage for furniture cushions that can easily be thrown around by a strong gust. On one of his terraces, a wall of stainless-steel cabinets serves this purpose.
The existing pergola covers the dining space, while a seating area focuses on outdoor artwork which slides apart to reveal a television. Photo by: Rett Peek.
The combination of upholstered furniture, a fire feature and a television makes for the perfect spot to comfortably cheer on the University of Arkansas football team. Photo by: Joe Whittkop.
Privacy
Rooftop terraces are typically found in urban areas with nearby buildings and undesirable views. While these condos aren't in the center of Manhattan, Keeley still had to compensate for close-quarters neighbors and a view of a parking lot and satellite dishes from the local television station. "These terraces share a railing and had little privacy," he recalls. Fence panels and boxwood hedges help separate the two spaces. Boxwood hedges were also used to screen the unwanted views and lift the eye up toward the Ozark Mountains in the distance.
Comfort
"From the start, we knew that these terraces would be an extension of the indoor living spaces with elements of a garden scattered throughout," Keeley says. This meant that there would be more hardscape than plants. Upholstered furniture was used on both terraces to soften the design. Each terrace also has a fire feature that takes the chill off when the homeowners are watching football on their outdoor televisions.
The flooring of each terrace was also selected with comfort in mind. "Originally they both had floating wood decks, but I wanted something that would be better for bare feet," says Keeley. For one terrace, recycled Trex decking provides the wood look but with less maintenance and no risk of splinters for the owners' grandchildren. On the other, floating quartzite pavers provide a smooth, cool and elegant surface.
This dining table is actually two square tables that can be slid apart if desired. An outdoor kitchen can be seen in the background. Photo by: Ryan Klintworth.
Each of the terraces has an outdoor cooking area. Photos by: Rett Peek and Joe Whittkop.
Function
When planning your own rooftop it is important to make sure it functions well for your lifestyle. The primary function for each of these spaces is to serve as a gathering place for family and friends. Each terrace includes dining and seating areas, as well as an outdoor kitchen. However, both families have another home in which they spend part of their time. This meant that maintenance had to be minimal. For this reason, Keeley kept greenery to a minimum and installed an automated drip watering system. "The automated drip also prevents plants from drying out too quickly because of the extreme exposure," he points out.
Additional examples of Keeley's functional design choices include chaises that lay flat and serve as benches when not being used for sun-bathing and a swivel arm that allows the wall-mounted outdoor television to be adjusted for optimal viewing.
See more rooftop gardens