14 Ground Cover Plants for Shade or Sun
14 easy-care plants that solve a multitude of problems while carpeting your garden with beautiful color and texture.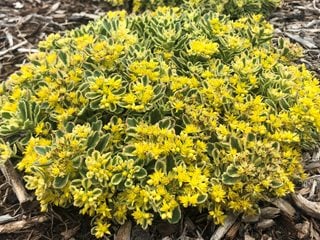 Rock 'N Low™ 'Boogie Woogie' (Sedum hybrid) Photo by: Proven Winners.
Ground covers are the ultimate troubleshooters: they overpower weeds, fill in bare spots under trees, control erosion on slopes, and hide fading foliage of spring bulbs. Some also thrive in unfavorable conditions where nothing else will grow, such as rocky soils or deep shade. Even in relatively trouble-free gardens, nothing beats these fast-growing spreaders for quickly blanketing open spaces with a dense mass of beautiful foliage. As a bonus, many also put on a seasonal display of spectacular flowers.
Whether you need a ground cover for sun, shade, or somewhere in between, there are many options to choose from. Here are some of our top picks, all of which need little attention once established.
On this page: Ground Covers for Shade | Ground Covers for Sun
GROUND COVERS FOR SUN
See more: 16 Favorite Ground Cover Flowers
*INVASIVE VS. AGGRESSIVE GROWERS
When learning about plants, it's important to understand what it means for a plant to be invasive. From the USDA website: "An invasive species is non-native to the ecosystem under consideration, and whose introduction causes or is likely to cause economic or environmental harm or harm to human health."
Keep in mind that a plant may be invasive in one environment, but okay to grow in another. So, although some of the plants above are noted as being invasive in certain regions, they are fine to grow in others.
It's also important to note that there is a difference between a plant being considered invasive and one that grows aggressively. The Universiy of Illinios Extension Service defines aggressive plants as those that have the ability to "spread fast enough within the garden as to cause issues to other garden areas where the plant is not wanted or is intended to be growing." This is not the same as being identified as being invasive.
Resources for determining if a vine or plant is invasive in your region:
Your local extension service (search online)
Local Master Gardener's Association (search online)
RELATED:
Lawn & Grass Alternatives for an Eco-Friendly Landscape
Amazing Annual Flowers for Sun
Amazing Annual Shade Plants