Lawn & Grass Alternatives for an Eco-Friendly Landscape
Give up your lawn for other more eco-friendly options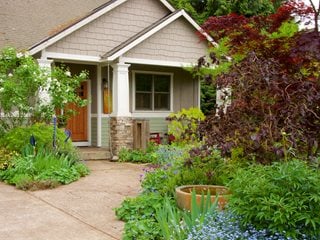 Create an inviting entryway by layering a mix of trees, shrubs, perennials, and groundcovers. Designer: Leslie Ebert. Photo: Janet Loughrey.
During the 1950s, a perfect green lawn became a status symbol of achieving the middle class dream. In recent years, more awareness has been given to the toll that traditional grass lawns have taken on the environment with the amount of chemicals, water, and mowing needed to keep them pristine.
In drier regions, water restrictions have made traditional lawns obsolete. With environmental concerns and the cost of maintenance, more homeowners are ditching their green lawns for other alternatives. Here's how to get started with transitioning your yard to a more environmentally-friendly and cost-efficient space.
On this page: Why Reduce or Get Rid of Your Lawn? | Grass Alternatives | Alternatives to Avoid | Lawn Alternative Plants | Design Ideas
Featured in: Garden Design's Top 10 Garden Trends for 2022 ("Gardening for Wildlife")
On this page:
WHY REDUCE OR GET RID OF YOUR LAWN?
There are many reasons to consider giving up your lawn. Turf grass is maintained by the regular use of inorganic chemicals, mowing, and lots of water.
Pollution runoff from herbicides, pesticides, and fertilizers is harmful to the environment.
Gas mowers produce harmful emissions and air pollutants.
The cost of regular irrigation can quickly add up.
Traditional lawns offer no benefits to the ecosystem and are a virtual desert when it comes to supporting soil organisms and wildlife.
Even replacing a small part of your lawn can make a difference. The transition away from turf grass doesn't have to happen overnight. Start by adding a small flower bed, pathway, gravel area, or wildflower meadow garden.
By replacing a traditional lawn with other plants or hardscape, you can reduce the amount of lawn care needed, and hence your carbon footprint. Not only do other plants such as natives and drought-tolerant varieties take less fertilizer and water, they offer attributes such as ornamental interest and food and shelter for wildlife.
GRASS LAWN ALTERNATIVES
A gravel walkway is surrounded by serene layered plantings in this back yard oasis. Designer: Adriana Berry. Photo: Janet Loughrey.
There are different options for grass replacement. Here are a few ideas:
NATIVE GARDENS:
Growing plants that are indigenous to your particular region has many benefits. These plants help restore soils as well as support complex ecosystems and wildlife. Once native plants are established, they need little supplemental care. A native garden doesn't need to be boring; there are many varieties that look beautiful in different seasons.
See: Native Plants - How & Why to Grow a Native Plant Garden.
BEDS AND BORDERS:
Traditional flower beds and mixed borders need not be resource-intensive. By using easy-care drought-tolerant plants and water-conserving techniques such as mulch and drip irrigation, you can greatly reduce the amount of maintenance. Transform curbside strips or other small areas into waterwise beds. Find out more on what plants to use and how to reduce your water use here.
NO-MOW LAWN ALTERNATIVES:
To simulate the look of lawn using less water and no mowing, use ground-hugging plants such as small sedges, succulents, and walkable groundcovers. These plants can be used to define narrow side yards, edge pathways, in between pavers, in curbside plantings or beds.
ECO-FRIENDLY LAWN:
If you still want a lawn but with less maintenance, there are many seed mixes available that contain drought-resistant grasses, clover, herbs, or wildflowers. These mixes need less water and little to no fertilizing or mowing. Mixes are tailored for different applications.
HARDSCAPE:
Lawn can be transitioned into areas with pathways and seating areas using permeable materials that allow water to percolate back into the soil. These include permeable pavers and crushed stone such as decomposed granite and pea gravel.
ALTERNATIVES TO AVOID
Artificial turf is bad for the environment. It uses fossil fuels to produce, retains heat, emits toxic fumes and runoff. And, artificial grass has no benefit to wildlife.
Non-permeable materials such as poured concrete patios and sidewalks divert water rather than allowing it to percolate back into the soil.
GROUNDCOVERS TO AVOID:
Many groundcovers make good lawn substitutes because they're vigorous and quick-growing. However, some varieties that are commonly sold can be invasive, depending on the region and growing conditions. These can include:
Ground ivy, Creeping Charlie (Glechoma hederacea)
Lily-of-the-valley (Convallaria majalis)
Bishop's weed (Aegopodium podagraria)
English ivy (Hedera helix)
Yellow archangel (Lamium galeobdolon)
Chameleon plant (Houttuynia cordata)
Common periwinkle (Vinca minor)
Japanese spurge (Pachysandra terminalis)
Before buying and planting any groundcover, make sure it's not invasive for your area.
GRASS ALTERNATIVE PLANTS
There are many different plants that can be used in place of lawn. Here are just a few:
LAWN ALTERNATIVE DESIGN IDEAS
Alternatives to grass in backyard: Replace the backyard lawn with functional areas for seating, dining and lounging. In addition to being easier to maintain, these welcoming spaces will motivate you to spend more time outdoors.
Pathways: Create pathways to connect different areas of the yard using permeable pavers or gravel. Use groundcovers in between pavers or along edges for a softer look.
Front yard lawn replacement: Don't be afraid to replace the front lawn. A combination of hardscape and plantings can make for an attractive, low-maintenance entryway.
Diversify plantings: A lush private backyard oasis without a lawn can be created by layering a mix of trees, shrubs, perennials, and groundcovers.
Hardscape: Hardscaping can take front and center even in a backyard area. Use gravel for high-traffic areas and a mix of stones or paver edging for transition areas.
Grass alternatives for dogs: Replace all or a portion of a turf dog run with pea gravel that's permeable and easy to clean up. Gravel will get hotter than grass, so be sure to provide plenty of shaded areas.
Create a rock garden: In curbside strips or other challenging sites, create a low-maintenance rock garden. Make sure to use plants suitable for the light and growing conditions.
The transition away from lawn can be gradual, adding beds and pathways while still keeping some grass. Designer: Loree Bohl. Photo: Janet Loughrey.
Transform a front yard with easy-care plantings and pathways made of permeable pavers and gravel. Designer: Marina Wynton. Photo by: Janet Loughrey.
Create an inviting entryway by layering a mix of trees, shrubs, perennials, and groundcovers. Designer: Leslie Ebert. Photo: Janet Loughrey.
This side yard includes a simple gravel pathway with lush plantings on either side. Designer: Marina Wynton. Photo: Janet Loughrey.
A previously unused side yard becomes an outdoor destination with a gravel patio and bench surrounded by low-maintenance plantings. Designers: Barbara Hilty and Adriana Berry. Photo: Janet Loughrey.
Eco-friendly features in this backyard include a low-maintenance perennial border, hardscape with permeable pavers and gravel, and a stylish garden shed with a green roof. Designer: Marnia Wynton. Photo: Janet Loughrey.
A corner of this small backyard features edible raised beds with drip irrigation surrounded by low-maintenance gravel. An adjacent mixed border consists of ornamental plantings interspersed with edible blueberry shrubs and groundcover strawberries. Designer: Marina Wynton. Photo: Janet Loughrey.
A mix of native and ornamental plantings benefits wildlife in this natural meadow garden. Designers: Jay Withgott and Susan Masta. Photo: Janet Loughrey.
Recreate the lush look of green lawn in challenging shady areas with a moss garden. Photo: Janet Loughrey.
RELATED READING