Q&A with Sarah Price, Garden Designer
English garden designer Sarah Price-who made a splash at the Chelsea Flower Show in 2007 and 2008-returns to the spotlight with a new garden for the 2012 Chelsea Flower Show. Our interview with this garden designer who brings a subtle artistry to her gardens and who says, "I love the ephemeral nature of garden design. It's a transient thing and is not completely under your control."
The Olympics aren't the only sensation making a heralded return to London this summer. Garden designer Sarah Price made a tantalizingly brief impression at the RHS Chelsea Flower Show with two beautiful gardens in 2007 and 2008 but has kept a low profile in the past four years. Now, as one of the principle designers working under master planner George Hargreaves, Price, 31, is helping to transform an unpromising waterside strip of industrial wasteland into the largest new urban park built in the U.K. in more than a century. There's nobody better, perhaps, to communicate her country's passion for gardening and plant collecting than Price, who brings a subtle artistry to planting design that belies her gardens' underlying, very British hardiness. Together with her return to Chelsea in May with a show garden for The Daily Telegraph, her Olympic bid has the close-knit gardening community agreeing (for once) on one thing: 2012 will be the year of Sarah Price.
The residential garden in Garsington, Oxfordshire, co-created with fellow designer Alice Bowe, contains plants signature to Sarah Price's work, including Sedum autumnalis, Stipa gigantea, and Schizostylis coccinea 'Major.' Photo by: Rachel Warne.

SEE MORE PHOTOS OF HER GARDENS
Garden Design: When you first plan a garden, is it about plants, mood, or function?
Sarah Price: I think of the totality, not the parts. I design with the emphasis on atmosphere, but all of those aspects are of equal importance. It should be a balance. Gardens are about an emotional response, but the design has to perform on all levels. I always try to design a space to be special. It has to have some sort of distinctive character. We're all so used to generic, corporate spaces.
GD: Do you have any favorite plants or least favorite?
SP: I like to vertically layer plants, and I like plants with a base accent and naked stem. Silphium terebinthinaceum (prairie dock, an American native) exemplifies this. It has cabbagelike leaves, which provide an accent at ground level, and tall, towering, leafless stems with inconspicuous yellow flowers. I don't like over-bred plants that have lost their grace and scent. I remember visiting the gardens at Hadspen House when Nori and Sandra Pope were still there and seeing lots of aquilegia (Columbine) that had self-seeded. They gave a kind of pointillist effect. The gradual buildup of layers of color really heightens visual impact.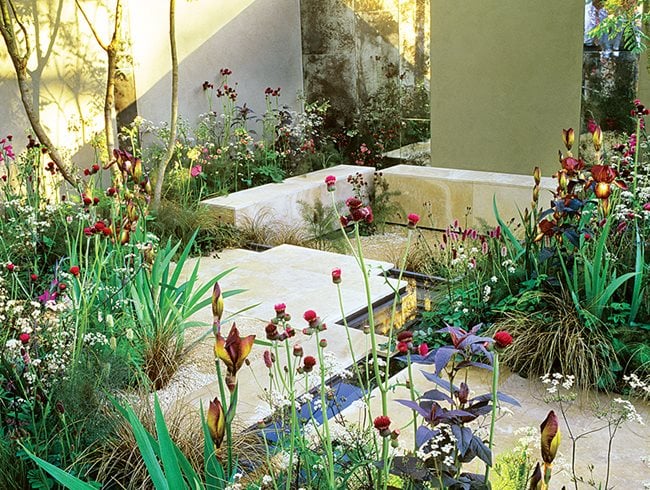 For Sarah Price's 2007 RHS Chelsea Flower Show entry, "A City Garden," sponsored by QVC, she conjured a painterly plant palette, including Cirsium rivulare 'Atropurpureum,' Anthriscus sylvestris 'Ravenswing,' Carex buchananii, Dianthus carthusianorum, and Gladiolus byzantinus. Poppies, irises, grasses, and perennials adorned the space, and Price incorporated a variety of hard materials like French sandstone and distressed antique mirrors. The graceful forms of two umbrella-shape Koelreuteria paniculata (goldenrain tree) framed the small space, forming a sense of enclosure. Photo by: Marianne Majerus.

SEE MORE PHOTOS OF HER GARDENS
GD: Does it matter to you how long your gardens last?
SP: It all depends on context. You need to embrace short term as well as long term in garden design. I'm doing the exhibition border at the Garden Museum in London, for example. It will only last two years, but it reaches a wide audience. For private commissions, I always try to use small amounts of quality materials, such as stone, that will last.
GD: What do natural plant communities teach you?
SP: They attune you to the subtleties of the landscape, even if it's as simple as two trees bending toward each other. You learn how to replicate composition, how plants distribute themselves. Nature also teaches a very different notion of color to that of an educated eye, the rhythms, the way color is interspersed. Learning from nature gives a sense of integrity to your design. It helps if you are able to intuitively pick up on patterns, the appearance of outlying singletons, and so on. For large public spaces you need a formula. Nigel Dunnett and James Hitchmough (co-designers on the Olympic park) have taught me a lot about this. You have to decide on a target number of species per square meters so that with more than 10 square meters you will have three, and so on.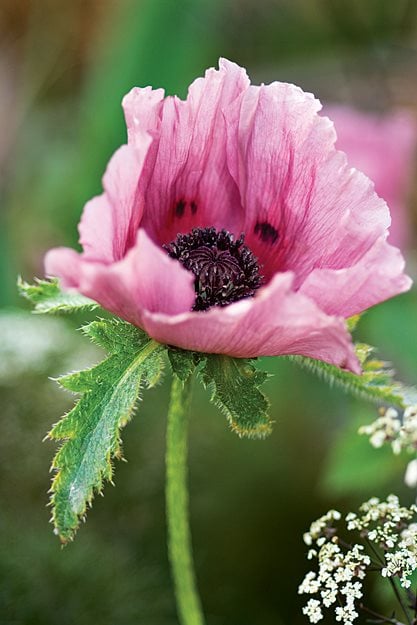 For the 2007 RHS Chelsea Flower Show entry, "A City Garden," Price used some of her favorite specimens, including Papaver orientale 'Patty's Plum.' Photo by: Helen Fickling.

SEE MORE PHOTOS OF HER GARDENS
GD: Do you have a signature?
SP: I love to use ornamental grasses. They have such a long season, and you can layer them with bulbs. They give lightness and movement, so evocative of wildness.
GD: How important is sustainability to you?
SP: It's a given that underpins all my designs. But I'd hate it if the first thing anyone said about one of my gardens was, "This is a really sustainable garden." I always think first of how a user of the space would feel—I want him to enjoy and love the space rather than the underlying principles.
GD: Why did you pick garden design over fine art?
SP: I became disillusioned with the art world. I love the ephemeral nature of garden design. It's a transient thing and is not completely under your control. I find that less stressful than being an artist. Garden design can present us with another time and dimension that we can't really control. It's a contrast to the way we live as adults. Painting and drawing came quite easily to me, but as an artist you can get into a weird, stylistic trap.
GD: What is your favorite tool as a designer?
SP: We're all so reliant on photography, we've almost lost the ability to draw. I still make sketches, very rough and messy with a Rotring ink pen on fine tracing paper. I also love to make basic models; they're brilliant for an understanding of scale.
GD: Do you collect anything?
SP: I collect weird cameras, primitive old Polaroids from the 1950s and 1960s. Also, ephemera, small objects, postcards — shifting things that reflect where you are in your life. You pick up something and it will directly influence your next scheme. If I was rich, I'd like one of Prunella Clough's late abstract paintings. She's a constant source of inspiration.
This article originally appeared in the May 2012 issue as "The Natural."
See more English gardens.
See more garden designer profiles.