My Garden: From Dull to Distinctive
Loaded with color and personality, this courtyard garden from Garden Design reader Christina Salwitz provides privacy while still letting light in, and features a flow of crushed granite to give a "bright Hawaiian beach" feel even on a dreary day.
New construction landscapes are rarely ever design conscious, particularly in the suburbs. When we downsized from our dream home, our intention was only to stay for a couple of years. Best-laid plans right? Due to changes in the real estate market, our landscape plan became one based on staying in our home as opposed to a plan for leaving. Here is the transformation that took place over a few years, where it has since been revamped into my vision of a place I'm happy to be for a while. My ultimate plan was to create a private courtyard oasis loaded with color and personality.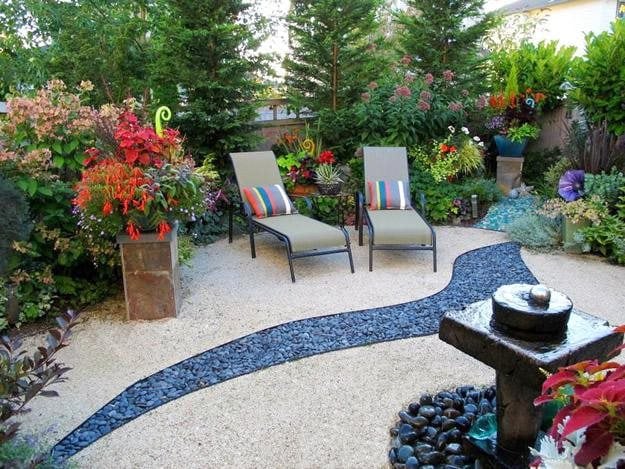 A contemporary water feature, retrofitted to work so that it overflows down into large river rocks rather than as a self-enclosed feature, is great addition for helping with summer noise and attracting birds.
Privacy is a premium on our small lot in the middle of the block, and it's ironically one of the larger of the narrow alley properties, but this does little to compensate for lack of anything interesting to look at other than a bad patch of lawn. There wasn't even one shrub, just lawn edge to edge and a ridiculous, fake drainage swale that was a shallow layer of river rock in a stripe heading from due east to west. Rocks from the swale eventually became the border edge on the side yard path.
To feature my passion for container design throughout the garden, I had pedestals built at key points; they've become one of my favorite design ideas. I chose low, wide containers to sit on top, where I can fit a lot of garden in a small space.

See more container gardening ideas.
One foot at a time, I cut away lawn all the way around as fast as my yard waste bin could take it away. I hauled in so much compost and topsoil to mound the beds up simply to be able to plant anything, as the soil is pure clay and rock.
To add interest to the side yard, rather than just a simple pass through, I added slender, small-scale trees. A very large container holds a weeping Japanese maple, a present to myself for a big birthday. A weeping larch is a visitor favorite at all times of the year. This side yard is what I lovingly refer to as "the birdy super-highway" to the feeder in the patio area.
Small, affordable, privacy plants around the edge were the first order of business, so I began with three, 1-gallon Leyland Cypress set far enough apart that I could keep them narrow, but close enough that they would get tall and not block out too much sun. On another fence line, I began arborizing three, 1-gallon plain old English Laurel so that eventually I could under-plant them and have their heads up above the top of the fence. All the while, balancing the base of evergreen plants with the smaller, showier deciduous shrubs such as Hydrangea 'Quick Fire', butterfly bush and ninebark.
Finding space to grow herbs and veggies is challenging, so I chose three, 6-foot long water troughs to use with annuals and perennials for lots of seasonal color. This year I may even add an espalier apple tree to one!
Here's an overall before and after view: a landscape crew came in to remove the last of the lawn and created a crushed-granite, light and bright patio. The color reminds me of Maui beach sand, even on a drab winter day it's pretty. Polished black river rock creates my "swoosh" as a stylish contrast.
RELATED: Small Garden Design Ideas
10 Great Plants for Small Gardens
Backyard Design Ideas