How to Grow & Care for Ninebark Shrubs
Add carefree color and year-round appeal to your landscape with this stellar shrub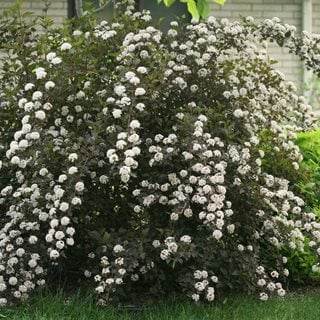 Summer Wine® ninebark. Photo: Proven Winners
For exceptional toughness, easy maintenance and four-season interest, few ornamentals can rival the appeal of ninebark. This deciduous shrub is a favorite of cold climate gardeners for its extreme hardiness and reliability. The common name of ninebark originates from the exfoliating bark that peels in layers when plants mature. The colorful foliage emerges in mid-spring, lasting well into fall. Clusters of pink or white flowers appear in late spring or summer, giving way to decorative red seedheads. Once the leaves have dropped, the bark and structure are revealed, lending beauty in the landscape that lasts all winter long.
Related to spirea, this North American native can be found in its natural habitat growing along stream banks and in moist wooded areas. Breeding innovations have resulted in varieties with foliage colors ranging from bright gold to nearly black, as well as smaller stature more suited to urban lots. The flowers are attractive to butterflies and other insect pollinators, while cut branches can be used as filler in floral arrangements.
On this page: The Basics | Planting | Care | Choosing the Right Ninebark | Pictures | Landscaping Tips
NINEBARK BASICS
Zones:
2-8
Height/Spread:
Upright arching or compact habit, 3-10 feet tall and 3-12 feet wide.
Exposure:
Full sun to partial shade; foliage color is richest in full sun.
Bloom time:
Late spring to summer
Color and characteristics:
Foliage comes in shades of deep purple, burgundy, orange, green, gold and multi-hues, with many varieties exhibiting new growth that changes color as the season progresses. Oval to rounded leaves are lobed, growing up to 4 inches long. Button-like clusters of five-petaled flowers appear in late spring or summer, blooming the entire length of the branches. Tiny red fruit or seed capsules ripen in summer and fall. The attractive exfoliating bark, which develops on mature specimens, peels in thin, paper-like layers to reveal the red and brown inner bark. The bark and structure is most noticeable in winter after the leaves have dropped. Fall color is generally insignificant.
Toxicity:
Ninebark may be toxic to humans and pets, though information is inconsistent. To be safe, contact a veterinarian, physician or poison control immediately if you think your pet or child might have ingested any part of the plant.
PLANTING INSTRUCTIONS
When to plant:
Plant in early spring when plants are dormant.
Where to plant:
In a sunny to lightly shaded site with fertile, well-draining soil that will stay evenly moist.
How to plant:
Loosen soil in the planting area and amend with compost. Remove plant from container and gently tease out roots if potbound. Dig a hole slightly deeper than the root ball and twice as wide. Place the plant in the hole so the top of the crown is level with the soil surface. Fill in the hole, tamp down soil around the base and water well. Mulch with organic matter such as wood chips to suppress weeds and retain moisture. Spacing depends on the variety.
NINEBARK CARE
Pruning, deadheading and maintenance:
Ninebark looks best when pruned minimally and allowed to retain its natural size and shape. Cut out dead, damaged and crossed limbs in early spring. Up to a third of older branches can be removed to improve air circulation. Since ninebark blooms on old wood, shape as needed just after flowering. Plants can be pruned back to the ground every few years to rejuvenate; however, this is not necessary.
Soil:
Ninebark prefers moderately moist, well-draining soil with a pH that is neutral to slightly acidic. It is tolerant of a wide variety of conditions, including rocky and clay soils.
Amendments & fertilizer:
Ninebark needs little to no maintenance once established. Apply an all-purpose slow-release fertilizer in spring as needed, and mulch around the base with a thin layer of compost or fine bark.
Watering:
Water regularly when plants are young, at least once or twice a week during summer. Ninebark prefers somewhat moist conditions, but is drought-tolerant once established.
Diseases and pests:
Healthy specimens show few, if any problems. Possible diseases include powdery mildew, fire blight, leaf spot or witches' broom. Pests include aphids.
Deer resistance:
Ninebark is generally considered deer-resistant, though some gardeners will experience damage from grazing.
HOW TO CHOOSE THE RIGHT NINEBARK
With different sizes and forms of ninebark to choose from, here are some tips to consider:
For borders and landscapes:
Choose varieties that will fit the scale of your property. Use as screening, hedging, in a mixed border, or as a focal point. Make sure to allow room for plants to mature without becoming crowded.
For containers:
Smaller types can be grown in containers as stand-alone accents.
For slopes and hillsides:
Use mass plantings for erosion control, selecting varieties that will fit the scale of your landscape.
Featured in: Garden Design's Top 10 Garden Trends for 2022 ("Designing with Dark Foliage")
LANDSCAPING TIPS
There are many ways to incorporate ninebark into your landscape. Here's how:
Create a naturescape, combining ninebark with other regional natives to benefit wildlife and pollinators.
Plant a row along a property line for privacy screening, and to define the border.
Use as hedging to break the landscape into individual garden rooms.
Plant a smaller variety in a pot and group with other containerized plants with complementary colors for a dynamic contrast.
Use as a background plant to set off flowering annuals and perennials.
Plant midway in a border in combination with other complementary shrubs, small trees and perennials.
Combine ninebark with milkweed, lantana, weigela, sage and tickseed to attract butterflies to your yard.
Use a smaller variety as edging along a pathway, as a foundation planting, or a stand-alone accent.
RELATED:
Purple-Leafed Plants
Top Perennial Plants for a Butterfly Garden
Best Flowering Shrubs for Season-Long Color