GROWING SMOKE BUSH
Add captivating three-season color to the landscape without a lot of fuss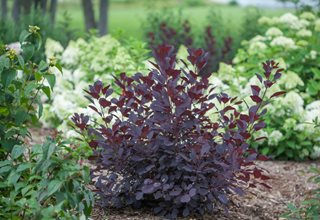 Winecraft Black® smoke bush. Photo by Proven Winners.
For high drama in the garden, few plants are more compelling than smoke bush. The most notable attribute are the large, showy flower panicles that form in summer, creating the smoky, ethereal effect for which the shrub is named. This deciduous shrub or small tree is also valued for its carefree nature and multi-seasonal interest.
This popular shrub adds unrivaled textural quality to the landscape and has been a favorite in traditional English gardens since the 16th century. Newer varieties have been bred for different foliage and flower colors, as well as more compact sizes suitable for small urban yards.
On this page: The Basics | Planting | Care | Choosing the Right Smoke Bush | Pictures | Landscaping Tips
SMOKE BUSH BASICS
Zones:
4-8
Height/Spread:
Upright bushy or open habit, 4 to 30 feet tall and 4 to 25 feet wide, depending on variety.
Exposure:
Full sun to partial shade; bloom and foliage color is best with at least six hours of direct sunlight.
Bloom time:
Late spring through early fall.
Color and characteristics:
This deciduous woody shrub or small tree has dense, multi-stemmed branching, with green, purple, or gold leaves. Tiny yellow or cream flowers appear in spring; showy panicles which develop into even showier puffs with a hazy, smoke-like appearance that last for several months. The puffy spent blooms, which resemble cotton candy, can reach 12 inches long. Panicles occur in shades of cream, pink, mauve, or purple that shift in color as they age. Fall color is red, yellow, orange, purple, or coral. Fruit is insignificant.
Types:
Also known as smoke tree, or smoke bush tree, this member of the sumac family includes two species:
American smoke tree (Cotinus obovatus) is native to the southern US.
European smoke bush (C. coggygria), which comprises most ornamental varieties, is indigenous to Europe and parts of Asia.
PLANTING INSTRUCTIONS
When to plant:
Plant during milder months of spring or fall to avoid shock from extreme heat or cold.
Where to plant:
Grow in a sunny to lightly shaded site in a container or landscape. Plants will flower and retain color best in full sun.
How to plant:
Amend planting area as needed with a 2- to 3-inch layer of compost that is worked into the soil. Make sure soil is loose and well-draining. Dig a hole twice as wide as the root ball. Tease out circling roots or slash the root ball in several places if potbound. Place in the planting hole so the top of the root ball is level or slightly higher than the surrounding soil. Fill in the hole with soil, tamp down gently to remove air pockets, and water thoroughly. Continue to water once or twice a week until plants are established.
SMOKE BUSH CARE
Winecraft Gold® smoke bush. Photo by Proven Winners.
Pruning:
Refrain from pruning for the first few years, as it can take that long for young specimens to bloom. Plants can be allowed to reach their natural shape and size, kept to a smaller size, or shaped as hedging. Larger varieties can also be trained into small trees.
In late winter or early spring, cut out dead, diseased and crossing branches, and lightly shape as needed. Since smoke bush blooms on the previous year's growth, hold off on any major pruning until after summer flowering.
Plants can also be kept smaller by cutting them back hard to the ground. This will promote new vertical shoots with larger leaves and enhanced foliage coloration. While this will control the plant's size and create a unique ornamental effect, blooms will be sacrificed.
To train into a small tree, cut out all but one or more of the main trunks and limb up the side shoots.
Soil:
Smoke bush can tolerate in a wide variety of conditions including lean, rocky soils. It doesn't do well in heavy clay or poor-draining soils. Slightly acidic pH is preferable, but plants can tolerate acid or alkaline soil.
Amendments & fertilizer:
Smoke bush needs little or no supplemental fertilizer once established. If desired, fertilize in spring with a slow-release all-purpose fertilizer or add a layer of rich compost around the root ball of the plant, avoiding the woody stem. In spring, mulch with 1 to 3 inches of organic matter such as wood chips or bark mulch to suppress weeds and retain moisture. (Learn more about fertilizers and organic soil amendments.)
Watering:
Keep soil evenly moist but not soggy. Smoke bush is drought tolerant once established.
Diseases and pests:
When planted in optimal conditions and properly maintained, smoke bush exhibits few, if any problems. Plants can develop leaf spot, rust, powdery mildew, or verticillium wilt due to damp conditions or poorly draining soil. Pests can include leafroller or scale.
Deer resistance:
Smoke bush is considered deer-resistant, though extreme conditions can result in deer grazing on plants they wouldn't otherwise.
HOW TO CHOOSE THE RIGHT SMOKE BUSH
For borders and landscapes:
Larger, quick-growing varieties will offer maximum impact. Use as a stand-alone focal point, hedging, screening along a property line, or as a background element in a mixed border.
For slopes and hillsides:
Plant a smaller form such as 'Lilla' in groupings along a bank or slope for erosion control.
For containers:
Place a dwarf variety such as Winecraft Gold® in a large pot and display near an entryway, along a path, or as a focal point.
Featured in: Garden Design's Top 10 Garden Trends for 2022 ("Designing with Dark Foliage")
SMOKE BUSH LANDSCAPING & DESIGN TIPS
There are many ways to incorporate smoke bush into your landscape. Here's how:
Integrate with regional natives in a woodland border to attract insect pollinators and enhance a naturalized setting.
Plant a purple smoke bush next to a complementary-hued shrub such as 'Sundance' choisya or 'Sun King' aralia for dramatic contrast.
Create a foundation planting along the front of your home with smaller varieties combined with conifers or other multi-seasonal shrubs for continuous color throughout the year.
Plant a larger specimen in a small island bed in your lawn and train into a small smoke bush tree. This will help break up the view and create visual impact.
Devote a corner of the yard to several varieties of differing colors and sizes. Train them into small trees for a compelling grouping, and underplant with seasonal annuals for an extra punch of color.
Use a larger, fast-growing variety to create screening along a property line for privacy or to obstruct unsightly views.
Plant a dwarf variety with colored foliage in a decorative container and place near a patio or deck where you can enjoy the multi-seasonal display up close.
Place a single specimen in an area of the yard that receives low sun early or late in the day for a dramatic display of backlit foliage.
Alternate dwarf forms with other complementary colored shrubs in a mass planting along a slope for a more compelling design.
Companion Plants:
Smoke bush companion plants can include:
Tickseed
Ornamental grasses
Helenium
RELATED:
Shrubs 101
Best Flowering Shrubs