I Love This Plant: Witch Hazel
Among the plant world's many miracles, witch hazel may be the most restorative. In colder parts of the country, it is one of the only big plants to bloom during the low-light days when gardeners feel most despondent. To stumble unexpectedly across a good-size witch hazel shrub during a snowy January walk is inevitably to be set alight by the not-quite-rational sense that spring is on its way. The flowers—delicate bits of yellow, copper, or red ribbon—blow outward from bare branches like streamers from a party cracker. Some varieties are doubly intoxicating, with a delicious and powerful fragrance that gives the lie to the icy air. Winter, says witch hazel, is not death but merely slumber: let's see if we can't get a little loud and wake the world up.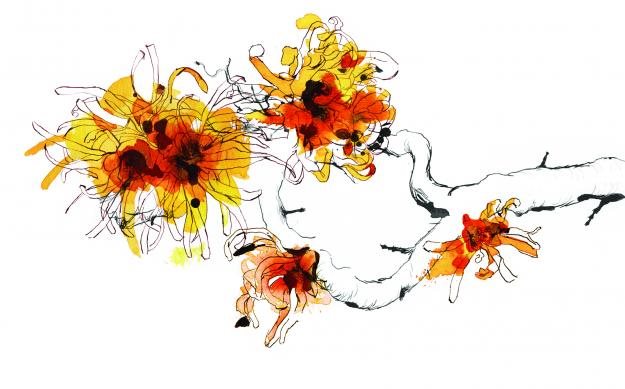 Photo by: Gianluca Foli.
Though witch hazel (Hamamelis) has an extroverted personality, its charms are relatively unfamiliar to American gardeners. Scott Canning, director of horticulture at Wave Hill, the spectacular 28-acre public garden in the Bronx, New York, is doing his best to change that by adding to the garden's witch hazel plantings and singing the deciduous shrub's praises. Last winter, he provoked a run on witch hazel at one of his favorite nurseries after astonishing a lecture audience with some of Wave Hill's most beautiful and deeply perfumed cultivars.
Canning talks about a similar moment of revelation he experienced some years ago: "It was a warm January day in the Brooklyn Botanic Garden," he says, "and as I was walking, I became aware of a very sweet, clean fragrance wafting toward me. I followed that smell at least a quarter of a mile, only to come upon a grove of witch hazels."
These are natural understory plants, forming large shrubs or small trees that slowly grow 10 to 20 feet tall. Canning grew up in Connecticut, where the native H. virginiana is so abundant in the woods that the largest producer of witch hazel extract in the world, American Distilling, is still located there.
But it is the Chinese native, H. mollis, and some of its Hamamelis x intermedia hybrids with the Japanese native that possess the powerful scent that lured Canning from afar.
Because the American species bloom in November and December, and the Asian species and hybrids in January and February, it is possible to engineer one's way entirely out of a winter depression through a diverse planting.
Canning recommends siting witch hazel for maximum wintertime drama: put them in a spot where they'll be backlit in the afternoon and the warm sun will encourage their flowers and scent to unfurl. While American natives are open spreaders, the Asian natives and hybrids form a vase shape, but all require some room.
Otherwise, witch hazel is unfussy, fairly drought tolerant, willing to put up with full sun or part shade, and largely unbothered by diseases or insects. Hamamelis virginiana cultivars are hardy to Zone 3, H. xintermedia cultivars to Zone 5.
Among Canning's favorite cultivars, 'Birgit' ranks towards the top for what he describes as its "entrancing dark-red color with purple overtones." He also likes 'Rochester' for its powerful fragrance and deep-orange blooms with red centers. "The first warm spell in winter, to see that thing in full bloom-it is really remarkable," he says. "Witch hazel is the plant of hope."
Some of our favorite varieties of witch hazel:
Hamamelis x intermedia 'Primavera' Available since 1969, this upright grower blooms from late January into March. Its honey-yellow flowers have a bright, rich scent.
H. x intermedia 'Orange Beauty' Wider than it is high at maturity-12 feet by 10 feet-the Orange Beauty's deeply pigmented flowers have a strong smell and are deer resistant.
H. x intermedia 'Birgit' Maximum size is 12 feet wide by 15 feet high. Dark red flowers are smaller than those of other witch hazel varieties and emit a mild fragrance.
H. x intermedia 'Rochester' Maximum size is nine feet wide by nine feet high. Copper-orange flowers bloom early and give off a strong, spicy scent not unlike that of tuberose.
H. mollis 'Brevipetala' A vase-shaped upright that can reach 12 feet wide by 12 feet high. Yellow blooms flourish in full sun and can flower from January through March.
H. x intermedia 'Arnold Promise' Shrubs grow 20 feet high and are heavy bloomers, producing strongly scented yellow flowers into March.
Related:
Witch Hazel: A Tonic for Body and Soul
Michele Owens cofounded the blog Garden Rant and is the author of Grow the Good Life.