Loving Giant Snowdrops
Snowdrop fanatic David L. Culp, who has the second-largest collection in the country, talks about this winter-blooming bulb, saying that "anything that blooms against the odds has a place in my heart." Plus: His favorite plant pairings for the Giant Snowdrop.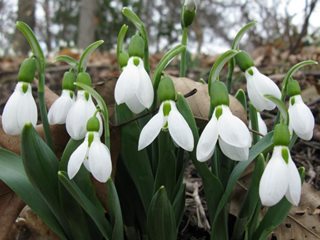 (Photo by: Bob Gutowski, Morris Arboretum)
When late winter cabin fever has me in its bitter grip, galanthus reminds me that all is not lost. The snowdrop, as it's commonly known, is understated and refined, yet that pristine white flower contrasted against the dull winter ground gives it an eye-popping allure. I'm a plant breeder in Chester County, Pennsylvania. I'm also an unrepentant plantsman who gardens as a competitive sport. Anything that blooms against the odds has a place in my heart. Galanthus also allows me to say I have something blooming through the winter. Galanthus nivalis is the common snowdrop, and I use it for massing on scruffy hillsides.
But the giant—especially the Galanthus elwesii hybrids—has larger flowers and more variants. Named after Henry John Elwes, a plantsman and hunter who collected them in Turkey, the G. elwesii were introduced into commercial trade in England in the 1870s. You can still see Elwes's wonderful collection at Colsbourne Park, his estate in the Cotswolds, in central England, where his descendants still live. I wouldn't say I'm obsessed, exactly, but my collection is up to about 90 different cultivars, which makes it easier for me to attend the British Galanthus galas and lunches in late winter—I had to have 50 before anyone took me seriously. I now have the second-largest collection in the United States (after Hitch Lyman at Temple Nursery, up in New York's Finger Lakes region).
I use the real virtuosos along the edge of pathways or as exclamation points at the front of borders, where their differences can be readily appreciated. One of my favorites is G. elwesii 'Robin Hood,' a single bloom with a little X in the middle of the inner petals. Some people see it as crossed sabers; I see it as a kiss. 'Robin Hood' presents its flower at an unusual angle and its outer petals are long and tapered, so they are very elegant.
I'm also partial to a double-flowering cultivar called 'Godfrey Owen,' but in truth, picking my favorite is a little like trying to pick out your favorite offspring—you love all your children.
Learning to recognize those distinguishing details—the sinus markings, the angle of the flower, the height of the ovary above the foliage—trains your eye to look at detail and nuance, which makes you a better gardener. Since so few other plants are in bloom when the snowdrop makes its appearance in late winter, you can really focus on them. In fact, my Galanthus collection is the only thing in my garden that I label. For me, gardening is as much about art as it is nomenclature or taxonomy, but in the case of galanthus, I display the information because their distinctions are so detailed and subtle. I do this for me, but also for people who are looking at my garden; this way, they can learn what they like.
David L. Culp's Plant Pairings for the Giant Snowdrop
(Photo by: David Edwards)
Pink
Cyclamen coum bloom at the same time as galanthus, and so do pale lavender Crocus tommasinianus, which are especially great because they naturalize. Also, squirrels don't eat the crocus as much as the hybrids. See more on crocus.
(Photo by: Denny Barron)
Black and White
When I want some real drama, I'll match up G. elwesii with black flowering Helleborus orientalis. It makes for a striking contrast that looks like it could have been dreamed up by Coco Chanel. See more hellebores.
(Photo by: Peter Birch)
Yellow
Yellow galanthus is a rarity, but you can find yellow in 'Spindlestone Surprise,' 'Wendy's Gold,' and one I discovered, now named 'David L. Culp.' Use it with yellowberry holly, or yellow twig dogwood.
RELATED: