Privacy Landscaping: How to Design for Privacy
Make your yard more private with these options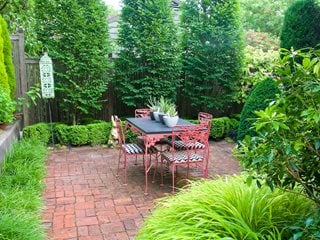 A variety of privacy options makes this small space more visually pleasing. Hardscaping including a retaining wall and wooden fencing are softened by layered trees, shrubs and perennials. Eloise Carson garden. Photo: Janet Loughrey.
With more people living in bigger cities and closer together, outdoor privacy has become more important than ever. Even those who live in apartments, condos, or lofts with an outdoor space can benefit from ways to screen their home, whether to protect from prying eyes, to block out unsightly views, or create a sense of intimacy.
There are many ways of creating your own private space with hardscaping or plants. Here's what to consider, along with some landscaping ideas to get you started.
PRIVACY CHALLENGES
Evaluate your space to determine what type of screening is necessary. This may include one or more of the following situations:
Block a neighbor's second story window from looking down into your backyard
Design a buffer from a nearby public space, such as a bustling sidewalk or street
Create separation between a neighboring yard
Hide an unsightly view
Create privacy between garden areas such as a patio, deck, or hot tub.
Provide security from would-be intruders
Define a safe haven for children and pets to play
TYPES OF PRIVACY BARRIERS
An intimate seating area on a backyard deck is enclosed by bamboo screening for additional privacy. Joanne Fuller garden. Photo: Janet Loughrey.
Consider the types of privacy barriers you'd like to use. These can include:
HARDSCAPE BARRIERS
Fencing, either solid or with openings to allow light in. Materials can include wood, bamboo, metal, wire mesh, vinyl, or composites.
Walls, including stacked stone, concrete, brick, metal, cinder or masonry block
Soil berm to elevate the landscape
Outbuilding such as a shed or greenhouse
Garden structure such as a pergola, trellis, arbor, or privacy roof
Gate for a driveway, side yard, or backyard
Patio umbrella for an outdoor seating area
Screening such as lattice or slatted panel that allows light in
Canopy for a patio or deck that also provides shade and shelter from rain
Fabric such as outdoor-friendly curtains
LIVING BARRIERS
Living barriers have the added benefits of absorbing traffic or other urban noise, blocking the wind, reducing dust, and providing shelter and food for wildlife. Consider different types of plants for screening:
Trees provide a canopy from overhead or to the side. They can also be planted in a row and pleached into a wall-like form. (See 15 Trees for Privacy.)
Shrubs can be used as formal or informal hedging to create a living wall. (See 15 Best Privacy Shrubs.)
Vines can be grown up a trellis, arbor, or pergola.
Ornamental grasses and other perennials can provide seclusion while allowing light and air circulation.
Combine plants such as trees, vines, shrubs, and perennials with different heights and shapes to create a layered buffer zone.
COMBINATION BARRIERS
Different types of privacy barriers can be combined for an eclectic look. For example, a wall can be topped by a fence, or a fence can be combined with a tree.
FACTORS TO CONSIDER
A soil berm topped by a fence separates an urban yard from the adjacent public sidewalk. David Best garden, designers Barbara Hilty and Adriana Berry. Photo: Janet Loughrey.
During the design process, consider:
Scale. Choose privacy barriers that are in scale with the space.
Style. Make sure hardscape materials and plants complement the style of your home.
Cost. Find solutions that fit within your budget. Select materials and plants that will be as durable as possible, as this will cost less in the long run.
Light. Will a privacy solution create too much shade in your own yard or for neighbors? Will it cast shadows over a swimming pool or a vegetable garden that requires full sun?
Local rules. Check local building codes or HOA rules which have their own specifications for fence height, outbuilding size and property line setbacks.
Don't overdo it. Adding too many privacy barriers, or barriers that are too large, can make a yard feel boxed in. Using a variety of barriers can help make an area feel more spacious.
Ask the experts. Consult with a landscape designer, architect, or contractor for more elaborate projects.
When choosing plants:
Growing conditions and habit. When selecting plants, consider light, soil, mature size, and amount of maintenance.
Be a good neighbor. Will a tree or hedge planted next to a property line become a problem for neighbors? Consider overhanging branches that may cause leaf litter in your neighbor's yard, or a hedge that needs to be regularly pruned on your neighbor's side.
Avoid long-term damage. If planted in the wrong spot, the root system of a tree or other large plant may eventually create structural damage to a home or outbuilding. Bamboo is often used as screening, but the roots need to be contained in a sturdy barrier to prevent spreading or damage.
Consider maintenance. A well-built fence is easier to maintain than a hedge that needs regular pruning. Make sure there is easy access from all sides for plants that need pruning. (See: 21 Low-Maintenance Plants)
Add security. Choose prickly plants such as holly or hawthorn to deter would-be intruders. Make sure privacy options don't give intruders places to hide.
Add a few finishing touches:
Soften hardscape barriers. Adorn lattice panels, wooden fencing, or other structures with fast-growing vines, hanging baskets, garden beds, or potted plants to make them feel more integrated into the landscape. Choose vines that won't overwhelm or destroy the structure.
Let the light in. A lattice screen, slatted fence, or gate with openings can lend privacy but at the same time allow light in, also offering glimpses of the view beyond.
Dress it up. To create visual interest, add plant hangers or shelves for potted plants along a fence. Use a large decorative container as a focal point. Add string lights for festive appeal. A water feature will help drown out urban noise and create a tranquil ambience.
Join us for our next webinar!
Plant Combinations: Finding the Right Mix
with Dan Benarcik
Thursday, January 25 @ 6PM EST
PRIVACY LANDSCAPING IDEAS
Multiple privacy solutions for this sloping urban property include a soil berm, retaining wall, fencing, pergola and layered vegetation. Nancy Plumlee garden, designer Lori Scott. Photo: Janet Loughrey.
A simple formal hedge is embellished with containers for visual interest. Eloise Carson garden. Photo: Janet Loughrey.
Shrubs and perennials in different sizes, colors, and shapes lend privacy and visual interest to a side yard along an urban street. Jenn Ferrante garden. Photo: Janet Loughrey.
A translucent screen between two side yards provides privacy while allowing light into a deeply shaded garden area. Joanne Fuller garden. Photo: Janet Loughrey.
A pet-friendly yard is enclosed with solid and open fencing combined with hedging for privacy. Nancy Plumlee garden, designer Lori Scott. Photo: Janet Loughrey.
A tall concrete wall and metal gate separate two adjoining back yards. Linda Ernst garden, designed by Laura Crockett. Photo: Janet Loughrey.
RELATED:
Zen Garden Design
Garden Room Ideas
Front Yard Ideas & Landscaping
Backyard Ideas & Landscaping
Side Yard Ideas & Landscaping
Moon Garden Design