Designing With Foliage Over Flowers
Harness the power of foliage in your garden
Flowers are fleeting, but foliage is forever! Well, maybe not forever, but foliage lasts much longer in the garden than most flowers and provides just as much excitement. In fact, foliage is one of the garden's most diverse and powerful elements. Besides color, foliage plants can also possess unique textures, sizes, or shapes to provide breathtaking beauty and act as problem-solvers in the garden.
FOLIAGE COLOR
Knowing how to creatively use color as a problem-solver is one of the most powerful tools in your garden design toolbox. Whether helping to unite a disjointed garden or breathing new life into it, focusing on colorful foliage can elevate your garden to a new level.
Create a complex color echo by seeking out unusual sources of color, like shades of raspberry found under the leaf of this 'Honeycrisp' coleus.
Add cohesion.
If your garden seems a bit chaotic, with plants placed with no rhyme or reason, creating color echoes among the disjointed plants can be the key to unifying the design. A color echo is created by choosing a specific color and repeating it throughout the garden bed, acting as a ribbon of harmony that helps tie everything together.
In addition to working with single or multi-colored leaves, there are many other aspects of foliage to consider, helping to create a complex color echo. For example, look under the leaves for hidden and often brilliant colors. Coleus and heucheras (coral bells), for instance, often have colorful and contrasting shades on the underside of their leaves.
Or, consider incorporating the color of a plant's new growth throughout your garden bed. For example, many peony, rose, Pieris, or Photinia varieties are tipped with bright, garnet-colored leaves each spring as their new growth emerges. Highlight this unexpected burst of color with surrounding plants in similar shades to make an impressive statement in the spring garden.
This garden bed is anything but boring, thanks to the bright chartreuse foliage of the gold oregano, and the red foliage of the sterile 'Orange Rocket' berberis. Garden: Ruby Andrews.
Avoid predictability.
Too much repetition can often result in a ho-hum experience. Dynamic gardens need a balanced mix of repetition and contrast to keep things interesting, yet cohesive.
Contrast creates dynamic energy through the visual tension created by different elements (i.e., complementary or opposing colors, textures, or shapes). If your garden has more predictability than pizzazz, the solution might be as straightforward as injecting it with a contrasting color.
FOLIAGE TEXTURE
There's no doubt that foliage texture is an alluring component in the garden, creating an irresistible physical reaction among young and old alike—who can resist the uncontrollable urge to stroke the soft leaf of a lamb's ear plant? Texture, however, is also a design workhorse, able to solve a wide range of everyday garden problems.
The oversized, heavily toothed foliage of this honeybush (Melianthus major) combined with its glorious glaucous color, makes this a guaranteed focal point in any garden bed.
Focal point.
Heavily textured, bold foliage rivals the showiest of blooms, making them prime candidates for the garden's focal points. Use caution with such a commanding element, however, as too many plants with these qualities can quickly look chaotic. Judicial use and placement are necessary to make a stunning statement.
The wispy blades of the grasses help shine the spotlight on the magnificent, structural agaves. Cornerstone Gardens, designed by Oehme, van Sweden.
Supporting cast.
Certain foliage textures can help shine the spotlight on focal point plants. For example, to help accentuate the oversized, crinkly leaves of a structural artichoke plant, consider surrounding it with the airy foliage of threadleaf coreopsis (C. verticillata 'Moonbeam') or the wispy blades of a Berkeley sedge (Carex divulsa).
Conversely, those same heavily textured plants can help inject much-needed excitement into a garden filled with an excess of finely textured plants. Again, it's all about the ratio of repetition and contrast!
At The Highline Garden, the ample use of delicate textures adds cohesion among the various planting beds.
Binders.
Drifts of fine textures have an otherworldly, ethereal effect, similar to clouds, and are a crucial element in the popular New Perennial Movement. These delicate textures softly fill the negative space between more extensive, bolder plantings. These drifts act as a binder of sorts, tying together separate areas of the garden with a cohesive and orderly flow.
FOLIAGE SHAPE
Shape typically refers to the outline of the leaf; examples such as heart-shaped, elongated, round, or deeply lobed are just a few descriptions that come to mind. And while the color and texture of foliage are important characteristics, the shape of a leaf is also a force to contend with.
The oversized, oval leaves of the hosta, cabbage, and kale echo one another, creating unity among what could be a disparate grouping.
Subtle shape echoes.
Just as it's important to create echoes with color and texture, the same can be said for foliage's shape and it is a surefire way to weave cohesion and unity throughout the garden.
Creating shape echoes takes a little practice, but once this skill is mastered, the subtle result is sublime. For example, consider the spiky, sword-shaped foliage of a Phormium and how it echoes the upright, feathery wands of a nearby grass (Calamgrostis foliosa.)
The tiny oval leaves of the azalea combined with the bold and oval foliage of the bergenia results in an eye-catching combination.
Refreshing contrast.
As mentioned above, too much repetition can result in a sleepy (dare we say boring?) garden. However, dynamic shape combinations can wake the eye, providing a much-needed jolt of excitement.
VARIEGATED FOLIAGE
When the leaves of a plant contain more than one color (commonly white and green or yellow and green), it's referred to as having 'variegated foliage.' And with a bit of strategic placement, this variegated foliage is a 'wow factor' moment just waiting to happen.
The delicate foliage of variegated buckthorn (Rhamnus alaternus 'Variegata') adds an elegant touch to this serene and green garden. Garden: Lani Freymiller.
Break up a 'sea of green.'
An overabundance of all-green shrubs can result in a lackluster garden, thanks to the 'sea of green' effect. Adding a variegated shrub or two is a welcome contrast, with the unexpected pop of color adding a bit of excitement back into the garden.
The gold and yellow variegated foliage of the Hakone grass (Hakonechloa macra 'Aureola') and daphne (Daphne odora 'Maejima') warm up this shady side yard. Garden: Lisa Mitchell.
Warm up a shady garden.
Yellow variegated plants act as the 'missing sunshine' in darker, shady gardens, providing the welcome illusion of warmth. These cheerful colors offer a burst of color among shadows and dark corners.
The hosta's bold, glaucous foliage adds a calming element when placed near two variegated plants.
Combining variegated plants.
Combining two variegated plants side by side is often considered a surefire way to create a visual headache, thanks to the overly busy foliage combinations. However, many gardeners don't realize that you can mix several variegated plants together in a small area with a little know-how.
The key to successfully combining variegated plants is to remember the importance of contrast, both in leaf size and shape and even texture. And, if you can add a nearby plant with a bold, solid color, it will act as the referee among this potentially chaotic grouping.
Featured Video
Foliage Over Flowers: Exciting Plant Combinations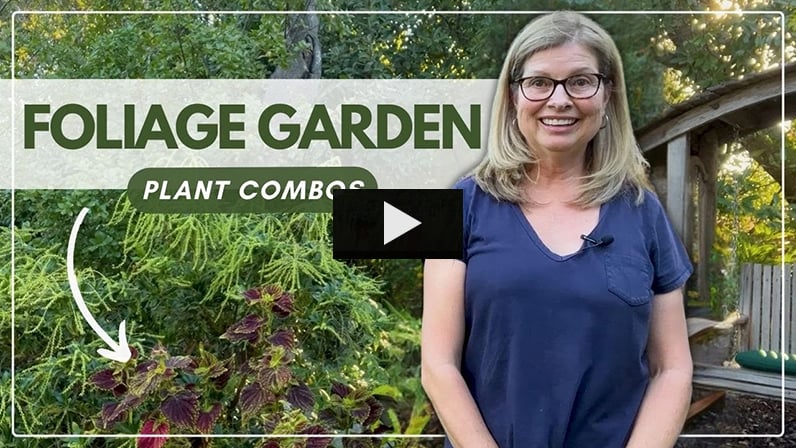 Rebecca's got a love for foliage that's downright infectious! "It's all about foliage!" she exclaims, as we step into her garden. You'll discover that flowers aren't the only stars—oh no, these foliage plants shine in a spectacular way!
---
RELATED:
Best Foliage Plants to Grow
Top 15 Evergreen Shrubs for Your Garden
Aiming for Aesthetic Edibles