Aiming for Aesthetic Edibles
Gardeners, chefs, and authors alike embrace the function and form of edible design in gardening, believing there no longer needs to be a separation between delicious looking and delicious tasting landscapes.
It's no doubt that you've been reading and hearing "Foodscaping," "Ornamedibles," or "Farm to table cuisine" a lot lately. A new era in this movement is dawning and making it "cool" to not only grow edibles anywhere, but to do it in a way that makes it part of your living landscape.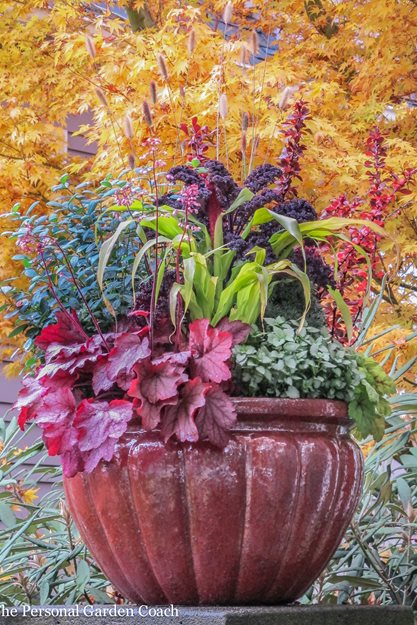 A blueberry shrub in a fall combo pot. Photo by: Christina Salwitz.
There is no need for horticultural segregation; you can have an eclectic mixing of edibles and ornamental plants, and it actually makes for a tougher and healthier garden with less need for pesticides and fungicides. When you can place plants according to their cultural needs no matter the location, you can creatively use location to cure problems rather than fit a plant into a constrained condition.
A sophisticated fall combination with Toscano kale. Photo by: Christina Salwitz.
Aside from the need for fencing off edible plants from deer and rabbits, gardeners are more excited than ever to see how many ways they can challenge the expected use of plants in combinations that are unique to them, their palate, and visual aesthetic.
Lettuce and violas are a simple and colorful combo for any place in the garden. Photo by: Christina Salwitz.
Chartreuse Alpine Strawberries and Heucherella in partial shade. Photo by: Christina Salwitz.
Another factor of the edible/ornamental gardening culture is that many gardeners understand a need for growing food in an eco-friendly manner. Using water wisely in warmer climates, choosing plants that react well to heat and drought and recycling or composting where possible for sustainability and spotlighting of organics. Even finding ways to be able to grow edibles where there is some shade is gaining steam.
Broccoli, Corn and Coleus why not? Photo by: Christina Salwitz.
Gardeners are demanding horticultural drama AND edibles, function AND form. A viable location for growing food that is beautiful is expanding at a dizzying pace. From the use of recycled materials to tearing up the front lawn, the number of ideas we are seeing every day is expanding greatly. Balconies, terraces, fire escapes, and driveways are all becoming space for gardens.
They also want an interactive landscape for children and neighbors, as well as places to relax and take in the beauty. Educating kids to explore the garden with the senses of touch, taste, feel, and smell is an important part of introducing the next generation to gardening.
Is there much that makes a gardener happier than color? Even an edible gardener gets excited about a red ripe tomato! The saturated, rich, triumphant color of flowers, foliage, bark, and berries make our hearts beat faster. Annual and perennial flowers play a HUGE role in this garden style too.
'Scarlett Sentinal' Apple is a columnar apple that easily fits smack in the middle of the landscape. Photo by: Christina Salwitz.
Gardeners who push the design limits for the landscape with edibles want delicious fruit too! Even tiny spots can be bountiful with bumper crops of gorgeous fruit tucked into surprisingly small spaces and containers.
The "grow-your-own-food revolution" is in full swing for gardeners who make their edibles beautiful in all kinds of spaces.
Other books for growing ornamental edibles are:
The Beautiful Edible Garden: Design A Stylish Outdoor Space Using Vegetables, Fruits, and Herbs by Leslie Bennett and Stefani Bittner Edible Spots and Pots: Small-Space Gardens for Growing Vegetables and Herbs in Containers, Raised Beds, and More... by Stacey Hirvela Groundbreaking Food Gardens: 73 Plans That Will Change the Way You Grow Your Garden by Niki Jabbour The Edible Front Yard: The Mow-Less, Grow-More Plan for a Beautiful, Bountiful Garden by Ivette Soler Sugar Snaps and Strawberries: Simple Solutions for Creating Your Own Small-Space Edible Garden by Andrea Bellamy Grow Great Grub: Organic Food from Small Spaces by Gayla Trail
Can your landscape support more edibles? Aim for adding more function and tastiness to YOUR garden designs!
Featured in: Garden Design's Top 10 Garden Trends for 2022 ("Maximizing Balconies & Porches")
RELATED:
Growing Ornamental Peppers