2024 Trends in Garden Design
We share 10 gardening trends on the rise in 2024
The current trends in gardening can be summed up in two words—resilient and creative. Resiliency is required not only from gardeners forced to work with unpredictable climate change (and all that's associated with it!) but also from plants. And for gardeners, resiliency leads directly to creativity, whether embracing new concepts, thinking outside the box, or adapting to a new "normal".
1. Enhancing Your Garden with Edimentals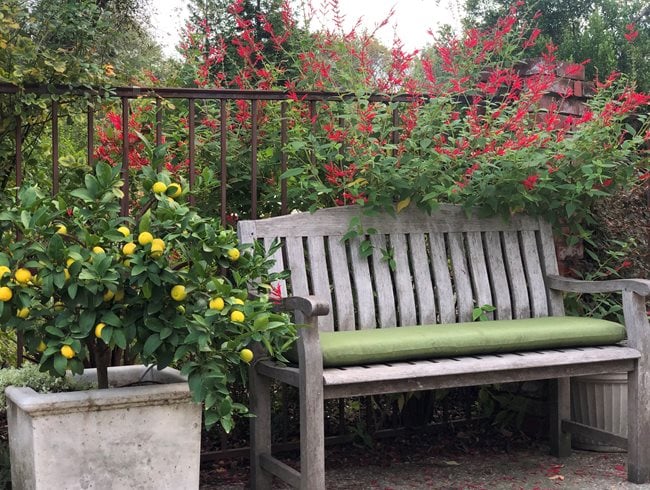 Pineapple Sage (Salvia elegans) is not only a fantastic fall-blooming perennial, but its scarlet flowers add a colorful touch to salads, herbed cheeses, and dressings. Or, just pick a handful for a pineapple-scented bouquet!

"Each Thanksgiving for the past 25 years, my daughter (and now her younger cousins) enjoy munching on the scarlet red blooms of my pineapple sage, relishing in the fact that they can wander around snacking while catching up with one another." Photo by: Rebecca Sweet
A term coined by writer Stephen Barstow of Norway, edimentals are plants that are both edible and ornamental, therefore serving more than one function in the garden. Edimentals are typically plants that live for more than one year and include perennials, shrubs, and even trees. Using edimentals is a fantastic way to incorporate design elements such as color, texture, and form within a traditional vegetable garden.
Need more reasons to incorporate edimentals into your traditional garden?
Lower maintenance. Edimental plants are often easier to care for than traditional annual vegetables, with fruiting times throughout the year rather than all at once.
Hardier plants. Because edimentals are perennials, shrubs, or trees, their deeper roots make them much more hardy than annuals and better able to face drought or the occasional pest infestation.
Kids love them! When sprinkled throughout the entire garden (versus in a dedicated vegetable bed), edimentals are a great way to draw kids out of the house and into the garden, encouraging them to forage while they wander.
A few examples of edimentals include: dahlias and daylilies (both flowers and tubers), anchusa and chicory flowers, currants and gooseberries, silene flowers (an excellent 'spiller' in containers, too!), elderberries, asparagus, and fennel.
Of course, some annual edimentals are also worth mentioning, especially those that blend so well with non-edible plants, including rainbow chard, kale, and nasturtiums (fill the flowers with cream cheese to make little peppery-tasting 'purses!')
See more on incorporating edibles in your ornamental garden beds: Aiming for Aesthetic Edibles, Groundbreaking Food Gardens, and Edible Flowers, as well as books in our bookstore under the Growing Food tab.
2. Exploring Naturalistic Planting & the New Perennial Movement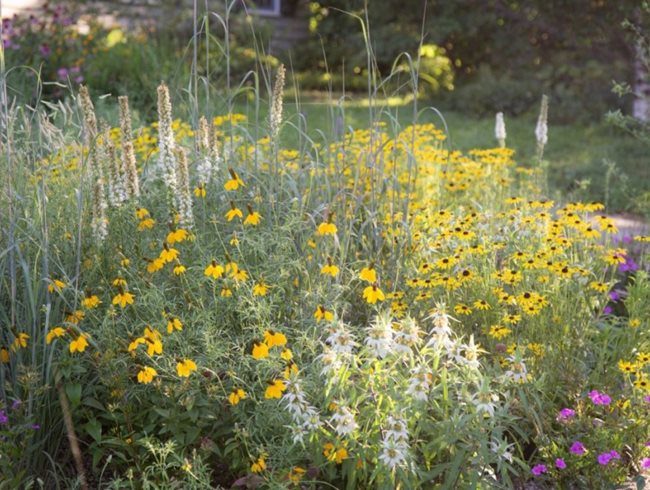 Primarily consisting of native plants, the drifts of flowers and grasses in this residential garden result in a soft, dreamy, prairie-like effect. And, it just so happens to also be a gravel garden, too (see #2 above)! Design & Photo by: Kelly D. Norris (See more of this garden.)
Originating in the Netherlands in the early 1980s, the New Perennial Movement is finally becoming a mainstream design aesthetic. Just peek in any garden magazine, and you'll see loads of gorgeous examples, sometimes referred to as New Wave Planting or Naturalistic Planting.
It's a slightly wilder, softer aesthetic, neither manicured nor neglected, but one that takes its cue from nature. It's a garden filled with drifts of plants and grasses (relying heavily on native plants) that appear to have naturally re-seeded themselves in place, though in reality are carefully placed and chosen. The emphasis isn't on showcasing orderly plant collections; instead, the focus is on a diversity of plants that blend with surrounding nature, welcoming wildlife and pollinators.
Here are just a few reasons why this aesthetic is gaining popularity:
Freedom from constant maintenance. There's something glorious about letting a plant go to seed, hanging on to its structure throughout the winter, or embracing imperfections and accepting that bugs will nibble plants.
Doing good. It's a great feeling knowing you're doing something good for the soil, the wildlife, and pollinating insects (which are at an all-time low).
Artistic freedom. Experimenting with natives and non-natives to create naturalistic and symbiotic plant communities fosters artistic freedom, knowing there are no hard and fast rules.
Learn how to transform your lawn into a naturalistic meadow.
Check out these books for more on this landscape style:
3. Preserving Every Drop with Eco-Friendly Rain Gardens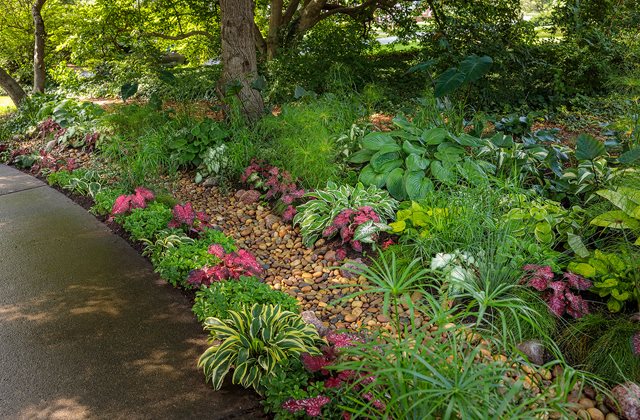 This shaded area along a driveway that collects water during heavy rains was turned into a lush and beautiful landscape. Photo by: Proven Winners. See more of this garden and how it was created.
With drought a regular occurrence in many regions, rain gardens have soared in popularity as a method to slow down the flow of rainwater and irrigation, keeping every last drop of precious water on site and out of the street's storm drains.
Capturing wasted water is just one of the benefits of a rain garden. Minimizing roof and driveway pollutants from rain runoff is another, as the roots of the plants slowly filter the water.
Plants chosen for rain gardens need to handle the feast or famine amounts of water and include many natives, grasses, and sedges with their long, deep root structures.
Read more on designing rain gardens.
4. Learning to Love Bugs (Even Those That Munch!)
While we don't want full-blown infestations destroying our gardens, a shift in perspective of a few visitors can result in a more sustainable garden. Pictured: (clockwise) Aphids, spider mites, assassin bug (beneficial), and whiteflies.
Ok, "love" may be extreme, but more people are at least tolerating bugs in their gardens, letting go of the unsustainable concept that leaves need to remain intact at all times. Admittedly, for some bugs, this is easier said than done. Even so, with insect biodiversity at a crisis level and a growing understanding that all living things are ultimately connected, it makes sense that the Royal Horticulture Society recently de-classified slugs and snails as pests. Yes, you read that right!
Of course, there are still some bugs that will perpetually be on the naughty list (i.e., invasive jumping worm, lantern fly, and pine bark beetle, to name a few,) but there's been a fundamental shift in how we perceive the vast majority of bugs, even those that make us squirm.
So, before you reach for the nearest pesticide, consider these organic options:
Plus, see this list of beneficial insects that can give you an extra hand in the garden.
5. Adapting & Growing with a Changing Climate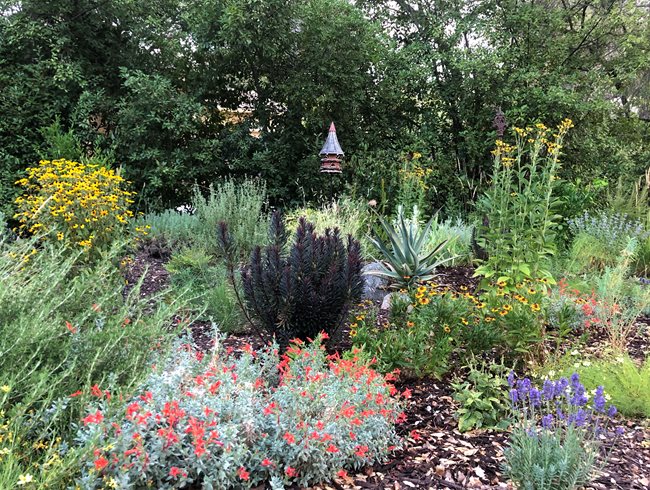 Making every drop of water count in this low-water garden is a top priority, so plants selected need to be as drought-tolerant as possible, including California fuchsia (Zauschneria californica), euphorbia, rosemary, and aloes. Design & photo by: Rebecca Sweet.
Our gardens (and ourselves!) must adapt to weather rapidly becoming hotter/colder/wetter/drier than ever before, forcing us to re-evaluate the garden's role in our lives. Many are walking a tightrope between the desire to create aesthetically stunning gardens and gardens that won't harm the environment.
Luckily, it's not an either-or choice thanks to various factors, such as embracing new design aesthetics (see above!), innovative breeders, designers, and gardeners who focus on sustainable beauty, and increased native plant selections available in nurseries, to name a few.
By embracing change instead of fearing it, we can create gardens that are more than just a pretty face. Our gardens can also provide home-grown organic food, support wildlife, and help to increase pollinator diversity while also being more sustainable.
A few things gardeners can do to work with changing climates:
Stay informed. Resources such as local agricultural and university extension offices, climate data websites, online gardening forums and communities, as well as local botanical gardens can all be helpful in keeping up-to-date on changes in your local climate and growing conditions.
Choose the right plants. Using native plants, as well as those that are more heat or cold tolerant and drought and pest resistant will lead to better success in your garden.
Adjust watering practices. Some areas are receiving less seasonal rainfall, and others more. Stay flexible and adjust your watering schedule accordingly.
Shift planting dates. Keep track of shifts in growing seasons and adjust your planting and harvest dates to accommodate them. Check local resources or extension offices for updated planting calendars and shifts in frost dates.
Be prepared. Plan ahead and be prepared for more extreme weather conditions with supplies such as row covers to protect from unexpected frost, shade cloth for excessive heat, and materials for wind breaks.
Learn more about global warming and gardens and climate-resilient gardening.
6. Beyond Dining: Creating Unique Outdoor Spaces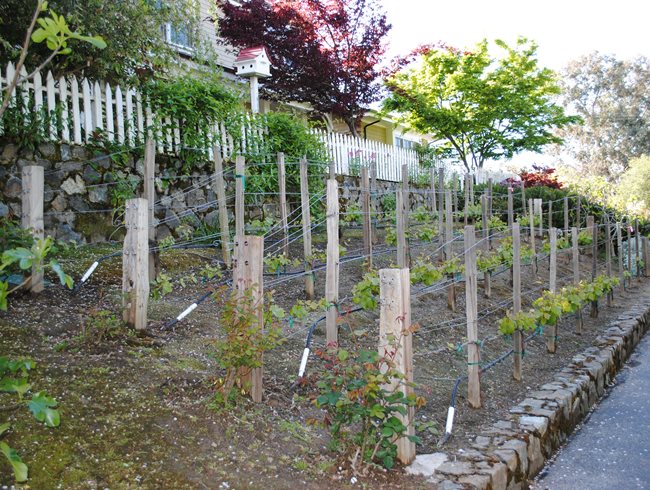 Removing their little-used front lawn, these homeowners embraced their love of wine and created a small vineyard instead. Photo by: Rebecca Sweet
With more people than ever working out of their homes, gardens are being transformed into hard-working spaces for the entire family. Of course, outdoor cooking and dining remain one of the top requests when designing a garden, but spaces devoted to other aspects of everyday living are a growing demand. For example, homework stations for the kids, quiet reading nooks just for you, a tiny vineyard that provides a case (or two) of wine, or a small corner garden that provides the quiet serenity necessary for meditation or yoga. The list goes on and on.
Find inspiration to create your own unique garden space with these articles:
7. Embracing Gravel Gardens for Low-Maintenance Beauty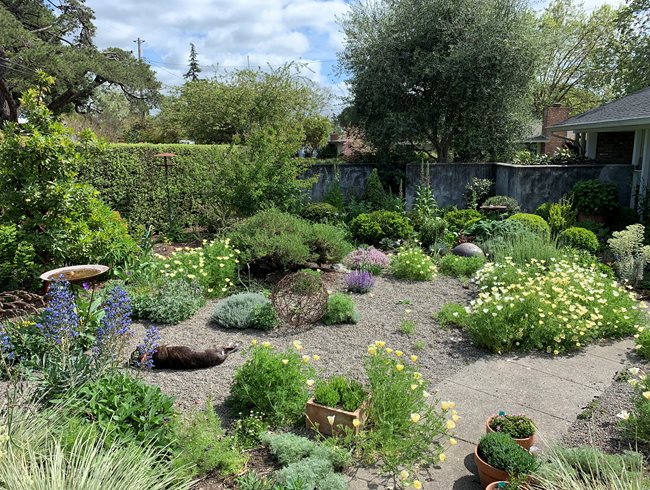 This gravel garden is alive with color, texture, and form (not to mention buzzing with pollinators, wildlife, and the family dog!) all while using much less water than traditional gardens.
See more of this garden. Photo by: Denise Kelly.
With temperatures trending hotter and drier than ever before, gardeners are re-evaluating their plant choices, planting methods, and dependency on water to create thriving gardens. Gravel gardens tick all the boxes of a sustainable, low-water garden.
Beth Chatto is often given credit for introducing gravel gardens to the world. In fact, she famously made it clear that, "This garden was not to be irrigated in times of drought. Once established, the plants must fend for themselves or die." If you've been lucky enough to see her gardens, you know that despite a few deaths here and there, the vast majority of plants have thrived in these seemingly harsh conditions.
What exactly is a gravel garden? In a nutshell, it's a low-water, low-maintenance garden bed primarily consisting of gravel instead of soil, with carefully chosen plants throughout. Gravel of a uniform size (ranging from pea gravel down to 1/4 inch) is evenly spread over the existing ground to a depth of 4 to 6 inches. The root-ball base of a 3- to 4.5-inch potted plant is then placed near the top of the ground and surrounded with gravel. Placing the root-ball base near the ground encourages the roots to grow deep and down, resulting in a much hardier plant that can withstand drought.
More benefits of a gravel garden:
No soil = no weeds! Gravel is an effective barrier to germinating weed seeds, and the few that do find their way into your garden are often isolated in the soil near the plant's crown.
Less fertilizer. Plants rarely (if ever) need fertilizing as the goal is to encourage slow growth with deep roots. The established plant will ultimately be more compact, requiring less staking and dividing.
Less maintenance. Less water, less weeding, and less dividing means up to 75% less maintenance than typical garden beds.
Prevent root rot. Gravel is naturally fast-draining, helping prevent wet roots (and the dreaded root rot) during winter months.
See stunning examples of gravel gardens: Where it all started at Beth Chatto's garden, Olbrich Botanical Garden's Rain and Gravel Gardens, and get ideas for what to plant with this list of drought-tolerant plants.
8. Preserving Our Gardens in Creative Ways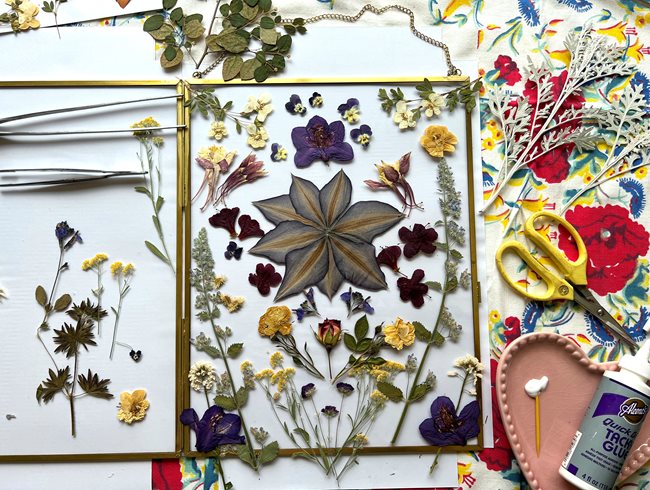 Pressing flowers is a meaningful way to preserve special moments in time. In this example, pressed flowers from a previous garden create a long-lasting, beautiful, and unique work of art. Photo by: Rebecca Sweet.
There's been a huge resurgence in pressed and dried flowers as a meaningful way to enjoy the garden for years to come and to commemorate important events. Weddings, vacations, and birthdays come to mind, but also consider the joy preserved flowers can provide to someone who may be moving away from a beloved garden, to commemorate a life, or used as bespoke holiday decorations.
Whether pressed or dried, flowers and foliage will develop muted and vibrant colors—it's always a surprise to see the final result! Some varieties even maintain scent, which is often another welcome surprise.
To whet your creative appetite, search "pressed and dried flowers" on Instagram to see a whole host of eye-candy images (take a peek at @thedandelionfoxart, @velvetcurationco, or @botanical_tales).
9. Rediscovering the Beauty & Biodiversity of Stumpery Gardens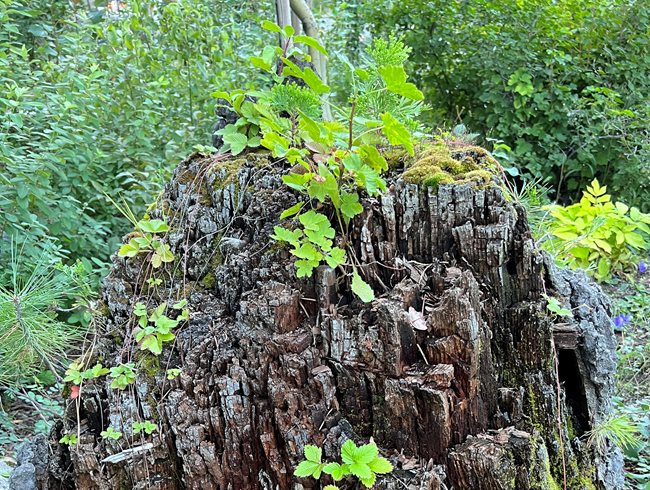 In this shady garden, wild strawberries, ferns, and a native currant have found their home in the nooks and crannies of this very old tree stump.

Photo by: Rebecca Sweet.
While once a Victorian fad designed to show off fern collections, stumperies are again making a comeback. Only now, the focus isn't only on plant collections but also on creating wildlife sanctuaries while showcasing shade-loving plants.
Simply speaking, a stumpery is a shady garden that features strategically placed stumps, logs, and unusual pieces of wood as the focal points. The goal is to carefully place these stumps in a naturalistic manner, appearing to have always been there and to allow them to slowly and naturally decompose. Shade-loving plants are placed in, on, and around the stumps and include hostas, hellebores, ferns, scilla, and snowdrops, to name just a few. Wildlife, such as frogs, newts, beetles, and loads of other insects, are encouraged to make their homes in the various wood elements of a stumpery, adding to the natural beauty of these gardens.
Take a peek at some glorious examples of stumperies:
10. Cultivating Garden Knowledge at Home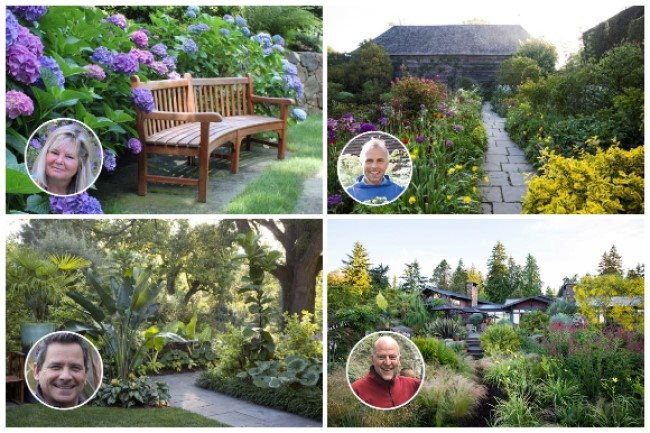 Join us for webinars with expert gardeners from around the world.
Thanks to the pandemic forcing us to embrace virtual technology, online education is booming more than ever. Between webinars, masterclasses, YouTube videos, social media, etc., it's easier than ever to connect with fellow gardeners and designers worldwide and on a day and time tailored to our schedule.
And honestly, while nothing beats working in the garden on a warm spring day, learning about it in the comfort of your own home is second best.
If you're looking to add to your gardening knowledge or connect with the larger gardening community, check out our 2024 webinars with gardening experts from around the world. Get more information, see what's next, and sign up to be notified when registration opens for each webinar.
---
Related:
2023 Garden Trends