2021 Trends in Garden Design
We share 9 gardening trends on the rise in 2021
See the new trends report: 2024 Trends in Garden Design
With everything going on in the world, many people are discovering the solace that comes from gardening and adding green to their lives, and experienced gardeners are diving deeper into their gardening activities and trying new things. There's something so satisfying about tending to something and watching it thrive—and even gardening failures hold important lessons to be learned. We foresee gardening activities in 2021 being all about adding a bit of joy to your life, whether your garden is a windowsill or an acre of land.
1. Gardening. Period.
The biggest garden activity gaining traction is…well, gardening. This increased interest in gardening has brought with it a slew of new gardeners. While many newbies are looking for ways to start growing their own food, they're also interested in the following: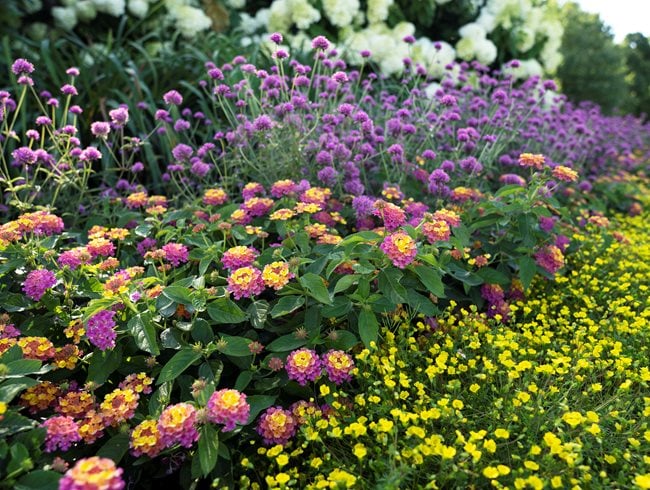 Pre-planned garden designs, like this pollinator garden, include plant lists and planting plans that make life easy for beginning gardeners. Photo by: Proven Winners.
2. Gardening Sustainably.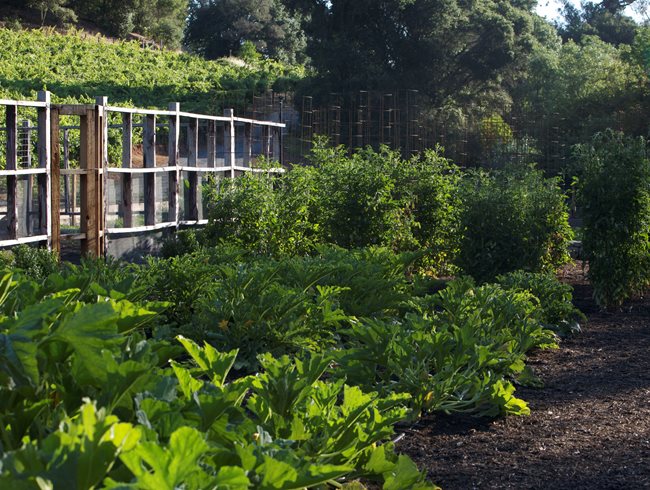 This organic garden in Sonoma County created by designer Mick Kopetski is tended with all organic materials. Frequent helpings of organic matter are the secret behind the potager's bumper crops of summer squash and tomatoes. Photo by: Barbara Ries.
The sustainable gardening movement continues to gain traction, and we're happy to see that there's been an uptick in interest from our readers looking for information about how they can make their gardens more environmentally friendly. Here are some ideas to get started:
Practice water conservation. Include drought-tolerant plants in your landscape. Put plants that need more water in spots where the soil stays moist. Other ideas: design a rain garden and/or collect and use rainwater.
Make your own compost. It's better for the environment, your garden, and your wallet. Learn more about composting, including what to put in it (and what not to) to get the right balance and how to use compost in your garden.
Plant natives. Learn more about native plants and find out what is native in your area with The National Wildlife Federation's Native Plant Finder.
Use organic methods. The benefits of organic gardening are far-reaching. Learn safe ways to deal with pests, weeds, and fertilizer.
Apply mulch. Mulching saves water by regulating soil temperature, thus preventing soil from drying out. It also suppresses weeds, adds nutrients to the soil, and prevents erosion.
Plant trees. Their beauty alone is noteworthy, but their ability to absorb CO2 and give off oxygen makes them remarkable. Trees also provide food, protection, and shelter for wildlife. When planted strategically, their shade can cool your home, saving energy and money.
3. Creating Your Own Garden Getaway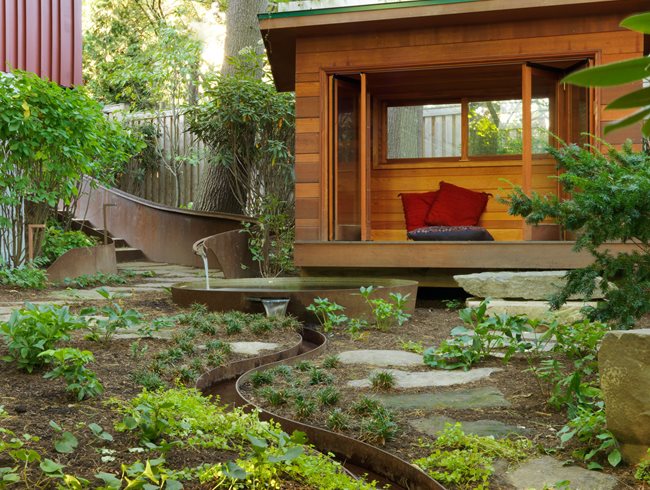 In this tranquil garden in Cambridge, Massachusetts, this water rill provides the soothing sound of water, helping make the garden a tranquil space. Garden designed by Julie Messervy and Anna Johansen. Photo by: Susan Teare.
Many people are turning to their gardens for a place to relax. Small balconies and large backyards alike are being transformed in record numbers into places to escape and unwind.
Choose low-maintenance plants that bring beauty but don't require unmanageable work from you throughout the year.
Create a space for quiet contemplation with a Zen garden design.
Add the sound of water with a small tabletop fountain, built-in fountain, or small pond.
Keep it cool on hot days with shade from an umbrella, shade sail, pergola, or (even better) a shade tree.
Make it cozy and extend your time outside by adding a fire table, fire pit, or outdoor fireplace.
Work from home tip: If you have a window with a view to the outdoors, find ways to improve it. You can add a hanging planter, plant a climbing vine, or set out a group of containers with plants in colors you love.
4. Growing Food in All Kinds of Spaces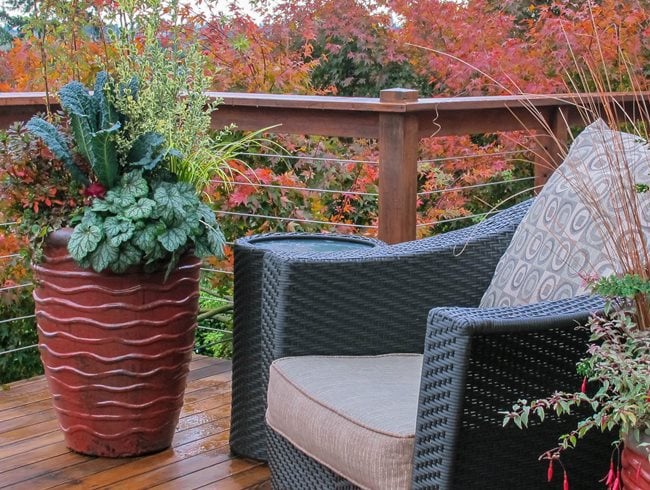 In this container combination designed for fall, Toscano kale is mixed in with ornamental plants. Photo by: Christina Salwitz.
Due to a nationwide increase in cooking at home and a growing concern about food scarcity, more and more people are starting their own kitchen gardens. Many have discovered that you don't need raised beds in a dedicated vegetable garden to grow food at home. Here are some ideas we've seen:
Get more ideas for small space food gardens.
5. Getting Creative With Containers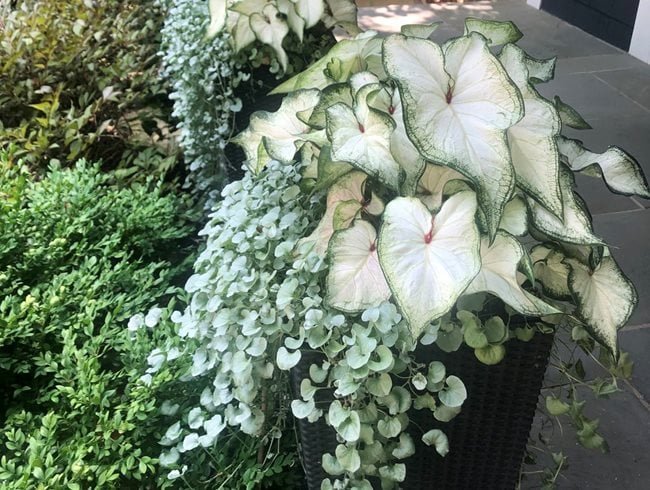 Gardeners are getting more creative with container combinations and including tropicals like this Heart to Heart™ 'White Wonder' caladium, paired with Proven Accents® Silver Falls™ dichondra. Photo by: Proven Winners.
Container gardening isn't a new concept, but it continues to rise in popularity—probably because anyone can do it, no matter the size of your space. Increasingly, people are growing in smaller spaces like balconies and patios. And people are getting creative—container gardening isn't just for annuals! There's been an increased demand for the following plants:
Container watering tip: If you're worried you'll forget to water your pots, install automatic drip irrigation that can be set on a schedule, or try these beautiful self-watering planters.
6. Choosing One Color & Going For It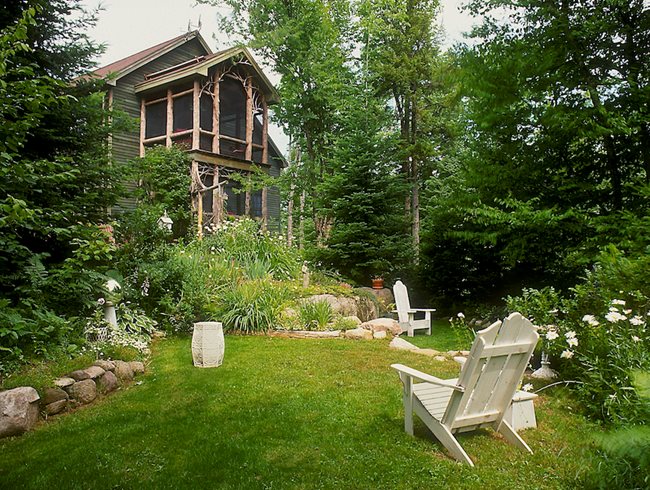 This Adirondack-style moon garden was sited to be seen from the home's second-story sleeping porch. Designers: Charles Atwood King and Karen Lamitie-King. Photo: Janet Loughrey.
If there's a color you especially like, why not go all out? That's the mentality of gardeners all across the country—as proven by the surge in popularity of monochromatic gardens. Before you write it off as boring, take a look at these gorgeous ideas:
7. Learning & Buying Online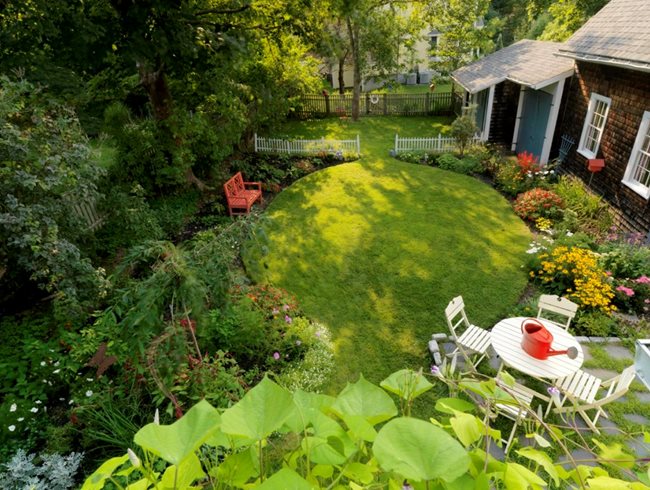 Online design services give gardeners the opportunity to get advice from landscape designers, even when an in-person meeting isn't possible. This landscape was designed remotely by Home Outside. Photo by: Susan Teare.
With the shift in staying home more, gardeners have figured out ways to learn and get their gardening "fix" online. Here are some of our favorite online resources available for gardeners who aren't able to venture out:
Learn. With limited in-person learning opportunities, you can now learn just about anything from the comfort of your own home (or garden). To help narrow your search, we've rounded up a few of our favorite online gardening classes.
Get design advice. Thanks to technology, online design services like Home Outside give homeowners the ability to get professional advice from a landscape designer, no matter where they live.
Buy plants. Gardeners are sometimes hesitant to order plants online, but you'll be pleasantly surprised at the quality of plant you'll get in the mail from a respected brand such as Proven Winners.
Take a virtual tour. Many botanical gardens are offering virtual tours right now. Search online for your favorite garden to see what they are offering, or maybe find a new favorite from these suggestions:
8. Adding More Houseplants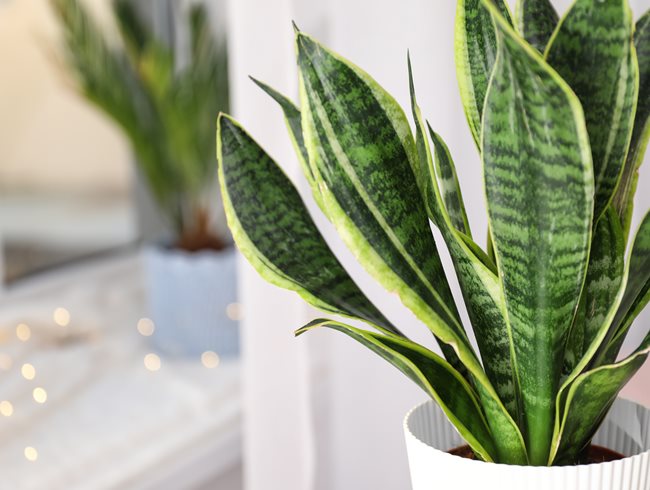 Snake plants (Sansevieria) are a favorite houseplant to grow, and it's easy to see why: they're easy to care for and adapt to a range of growing conditions. See some of our other favorite Sansevieria plants. Photo by: Aquarius Studio / Shutterstock.
Yes, houseplants have been trendy for a long time, but their spotlight only continues to burn bright. It won't be fading anytime soon—especially with the increase in home offices and the desire to make home spaces more enjoyable—and we are here for it!
Make your home look like a stylish jungle with ideas from indoor gardening pros like Hilton Carter.
Learn more about what plants will do well in your home with a consultation from a houseplant expert like Daryl Cheng of House Plant Journal, who offers a virtual grow space consultations.
Watch and learn with informational and entertaining houseplant videos from sustainability activist and houseplant enthusiast Summer Rayne Oakes of Homestead Brooklyn.
9. Getting Kids Involved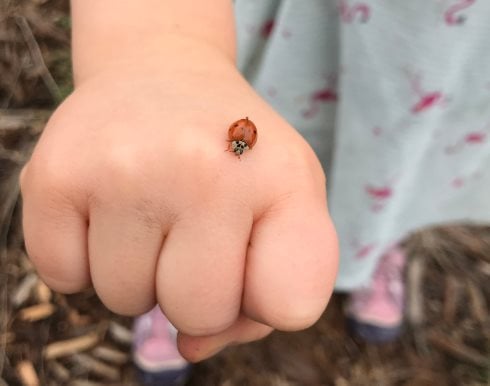 Going on a bug hunt is just one of many ways to get kids engaged in the garden. Photo by: Justine Guidry.
As children are spending more time at home with home schooling and distance learning, parents are looking for ways to get them outside and keep them busy. In addition to the many health benefits of being outside, outdoor play and being involved in gardening offers endless learning opportunities!
See more garden-related activities for kids with ideas ranging from creating leaf crowns to growing food from kitchen scraps.
Related:
2020 Garden Trends
Design Your Ideal Outdoor Living Space