Snake Plant - A Guide to Growing Sansevieria
One of the best houseplants for beginners, this old-fashioned succulent is making a comeback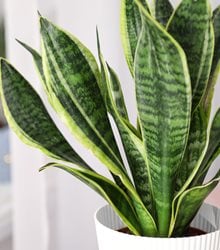 Sansevieria trifasciata 'Laurentii'. Photo by: Aquarius Studio / Shutterstock
In recent years, succulents have become one of the hottest trends in home décor because they look exotic, yet are super-easy to grow. One old-school succulent enjoying a resurgence in popularity is Sansevieria, more commonly called snake plant because of its long, sinuous foliage. Not only is it one of the few succulents that doesn't require a sunny windowsill to thrive, it's also one of the best houseplants for improving indoor air quality.
"When sansevierias started their steady climb in the popularity polls, new varieties started emerging. As for care, they are all bulletproof." says Tovah Martin, author of The Indestructible Houseplant.
Today, there are more varieties than ever before, from short and cylindrical to tall and elegant, with variegated leaves displaying streaks of silver, gray, yellow, or white. Once you're introduced to the versatility of these tough and forgiving houseplants, you'll want to include at least one in nearly every room of your home.
On this page: Basics | Planting Tips | Care and Maintenance | Snake Plant Pictures | Display Ideas