21 Best Indoor Plants For Any Location
Choose the right type of indoor plant for your home or office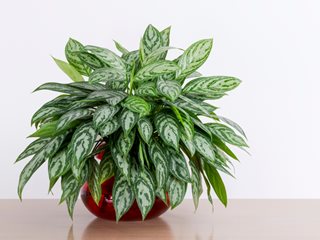 Chinese evergreen. Photo by dropStock / Shutterstock.
Does your green thumb turn to stone when it comes to growing plants indoors? Don't give up hope. Anyone can master indoor gardening by choosing good indoor plants for the different microenvironments in the home, whether it's a warm, humid room or a drafty low-light corner. And some indoor plants are tough enough to survive just about anywhere.
Selecting a plant with light requirements that match the location can be one of the most important factors in the success—or failure—of growing a healthy plant.
On this page are indoor plants for:
Plants suitable for north-facing windows or locations along interior walls. Many plants labeled for low-light conditions tolerate it and grow slower, but may do better in slightly brighter or medium light. (See more houseplants for low-light.)
Plants suitable for east-facing windows, south- or west-facing windows that have sheer coverings over them, or 3 to 5 feet from south- or west-facing windows.
Plants suitable for unobstructed south- or southwest-facing windows.
BEST INDOOR PLANTS FOR LOW LIGHT
BEST INDOOR PLANTS FOR MEDIUM LIGHT
BEST INDOOR PLANTS FOR BRIGHT LIGHT
RELATED READING:

7 Common Houseplant Pests & How to Treat Them
Common Poisonous Plants for Dogs & Cats
Common Plants Safe for Cats & Dogs