A GUIDE TO GROWING ORNAMENTAL PEPPERS
Add these colorful plants to containers, beds, and borders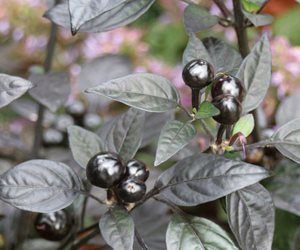 'Black Pearl' ornamental pepper. Photo by Proven Winners.
Ornamental pepper plants are prized for their colorful fruit in shades of red, orange, yellow, purple, black, and white. There may be multiple colors present on one plant at the same time, as they change colors as they mature and ripen.
Can you eat ornamental peppers? Although normally grown for their brightly colored fruits, the fruits of ornamental peppers are edible. But beware, most are too hot to really enjoy their flavor. The leaves, however, are toxic to humans and pets.
BASICS
Zones:
Perennial in Zones 9b-11, grown as an annual elsewhere.
Height:
6 to 36 inches tall
Exposure:
Full sun (6-8 hours per day)
Soil:
Rich, loamy, well-draining soil for in-ground plants; good all-purpose potting soil for containers.
Bloom time:
Flowers appear in mid-to-late spring, and the resulting peppers can remain on the plant until the first frost.
PLANTING
When to plant:
Plant outdoors only after all chance of frost has passed. Minimal nighttime temperatures should be no lower than 60 degrees, and a soil temperature of 70 degrees.
Where to plant:
Ornamental peppers can be grown in vegetable gardens, as well as flower beds and ornamental borders. Their small stature and showy colors also make them perfect for containers. They can also be grown inside, but may require supplemental lighting.
How to plant:
Work some organic matter into the soil. Dig holes deep enough so that plants are at the same level as in their pots. Water thoroughly after planting. Add a layer of mulch around the plants to help retain moisture and control weeds.
ORNAMENTAL PEPPER PLANT CARE
Pruning ornamental peppers:
Pruning isn't necessary, but growth tips can be pinched to encourage more branching and a fuller plant.
Water:
Keep soil moist, but not waterlogged.
Pests and diseases:
Similar to garden peppers, ornamental peppers can be bothered by aphids and spider mites which can be treated with an insecticidal soap. The most common disease are fungal, including Botrytis and Pythium root rot, and are more prevalent with wet conditions and poor air flow.
For more: A Guide to Growing Peppers
ORNAMENTAL PEPPER VARIETIES
RELATED:
A Guide to Growing Peppers
Garden Edibles: Success Secrets
How to Grow Strawberry Plants