A Modern Garden in Deer Country
Author and designer Jan Johnsen shares how to create a landscape that is not only stylish, but will create harmony between you and those (sometimes) pesky deer.
Deer and gardening do not mix. The deer chomp on everything, leaving gardeners dejected and disillusioned. But have heart! You can create a stylish landscape using deer-resistant plants such as ornamental grasses, Japanese forest grass, boxwoods, and more. Some plants I show here are not deer-resistant, such as pines, but we cover those in light mesh in the winter and spray often with deer repellent. In summer, the plants are not touched because there is other food to eat out in the woods.
The photos here show a modern landscape I created for a wonderful client who lives in deer country. The house is a white contemporary structure with large windows—perfect for creating an indoor-outdoor setting.
An Inviting Entry Walk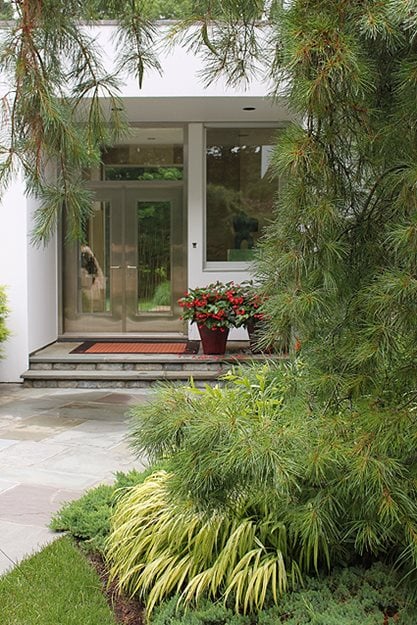 The wide entry walk leads to a front landing and two long steps. Two large pots filled with red dragon wing begonias brighten the doorway. I placed a weeping Pinus strobus pendula (white pine tree) on the right of the walk and it has now grown in to gracefully drape over. In winter, we protect this with deer mesh. The yellow-green blades of the deer-resistant Hakonechloa macra 'Aureola' (Japanese forest grass) is a vibrant accent. Photo by: Jan Johnsen.
Plantings at the Entry
Planted along with the forest grass are other deer-resistant plants that add texture and contrast. Shown here are the evergreen Leucothoe axillaris (leucothoe) and the dense, blue-green needles of the Juniperus procumbens 'Nana' (Japanese garden juniper). The juniper hugs the ground and this planting combination looks great all year round. A boxwood hedge is in the background. Photo by: Jan Johnsen.

Design Tip: Always make sure to slightly mound the plant bed for a better display and to facilitate drainage.
RELATED: How to Create a Peaceful Garden
The Viewing Garden
The viewing garden is all about contrast. This photo, taken through a window, shows the tawny-red concrete squares and rectangles that float in a field of crushed gravel. I placed large native boulders deep into the earth to jut out from within this field. Deer-resistant ornamental grasses soften the edges. Photo by: Jan Johnsen.
Blue Fescue: Always a Star
Low-growing Festuca ovina var. glauca (blue fescue) is a mound-forming grass with outstanding blue-gray foliage. It is a great deer-resistant accent and shines in well-drained, rock gardens. In hot, humid summers it tends to "melt" or decline so if this occurs, cut it back. It can be divided frequently to maintain vigorous growth. 'Elijah Blue' is one of the best of the blue fescues. Photo by: Jan Johnsen.
A Functional, Artful Accent
This striking metal bird bath, with its round basin and stand, seemed to call for a circular base so we fashioned a large, round bluestone for it to sit on. I placed it near the soft grasses for a beautiful contrast. Photo by: Jan Johnsen.

Design Tip: Soft grass blades look wonderful against metal or stone features. And a bird bath always helps our avian friends.
Repetition Always Helps
I had to create screening and interest in a narrow space so we planted white pine trees (we trim them every year) and I placed a series of terra-cotta planters as a repetitive element. The trees are repeatedly sprayed with deer repellent in winter. I filled the planters with gravel to keep them in place. We chose not to plant them up…but they would look outstanding with something in them. Photo by: Jan Johnsen.

Design Tip: Bluestone on edge makes a great plant bed border, as shown here.
Side Dining Terrace
We built a wall and installed a bluestone terrace off the side of the house to serve as a place to grill and eat outside. The wall offers partial protection and the terrace opens up to a lower garden. Viburnum and boxwood are the deer-resistant shrubs here. It is a lovely setting to enjoy on a summer evening. Photo by: Jan Johnsen.

Design Tip: The bluestone pavers are set in a "planking" pattern which looks like long strips of paving. It adds a contemporary touch to the landscape.
Jan Johnsen is a landscape designer (Johnsen Landscapes & Pools), blogger (Serenity in the Garden), and author.
Books by Jan Johnsen
RELATED:
Deer-Resistant Perennials (from Proven Winners)
Deer-Resistant Plants