How to Create a Peaceful Garden that Promotes Relaxation
Transform your outdoor space into a serene sanctuary with these expert techniques
Any gardener can tell you that the act of putting your hands in the soil and tending to a garden can be a relaxing and therapeutic experience. Afterall, just being outdoors can reduce stress, promote a sense of happiness, and improve our quality of life.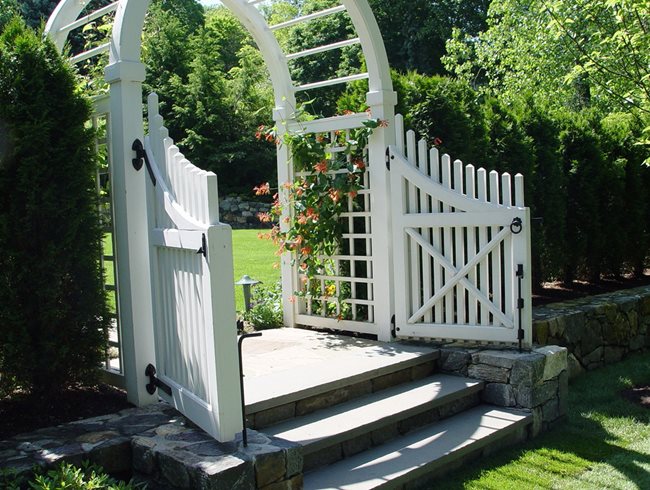 Jan Johnsen of Johnsen Landscapes & Pools designed this backyard landscape in Chappaqua, NY, to create a backyard getaway for the homeowners.
While gardeners know these benefits to be true, they also know that gardens aren't always serene, tranquil spaces. It's not exactly easy to plan a garden in a way that puts the mind at ease. As landscape designer and garden author Jan Johnsen says, "we enjoy creating a beautiful outdoor space and savor the calm it bestows upon us." She believes that there are specific techniques and elements we can incorporate to make our gardens a more visually pleasing environment that we can relax in and enjoy. Here, we share just a few of our favorite design lessons from Jan.
1. INCORPORATE THE SWEEP OF A CURVE
Curved lines are easy on the eyes and give them something to follow. Here, a curving garden bed displays red salvia and white impatiens. Photo by Jan Johnsen.
Gently curving lines are easier on the eyes than straight lines with sharper corners, and in gardens, curves give our eyes something to follow. "By laying out a plant bed or even a walkway in a strong, playful line you invite people to explore," Johnsen says. Her trick for laying out a curve? Pick a central radius point, then use marking paint or powdered limestone to mark the ground as you pivot from the central point. Get more musings about curved lines from Johnsen.
2. PRACTICE COLOR ECHOING
As Johnsen describes it, color echoing is when "one color weaves through a landscape via the use of flowers, ornament, foliage, and even furniture." This creates a sense of cohesiveness that carries the eye around the outdoor space. Choose the color you'd like to see more of, then incorporate it bit by bit.
Join us for our next webinar!
WORKING WITH BULBS:
The Great Dixter Way
with Fergus Garrett
Saturday, October 21st @ 12PM EDT
3. PAIR FLOWERS AND GRASSES TOGETHER
Violet-blue 'Rozanne' geranium blooms among dwarf fountain grass. The two look great together and both tolerate full sun or partial shade, making them great companions. Photo by Jan Johnsen.
As Johnsen puts it, "flowers and grasses make a happy union because they allow each other to shine." Ornamental grasses serve as a beautiful backdrop for colorful blooming plants, and Johnsen recommends combining various colors, shapes, and textures. See some of her grass and flower combinations.
4. ADD "FOOD FOR THE NOSE"
Pleasing fragrances are therapeutic and incorporating them into your garden is just one way to put your mind at ease. Here are some places Johnsen recommends including scented plants in your landscape:
Close to your house so you can catch a whiff of the aroma every time you enter your home.
On a sunny patio or near a south-facing wall (the reflected heat makes the odors a little stronger).
In enclosed spaces, such as a walled garden or small side yard—so the scent collects instead of being carried away by the breeze.
5. USE NATURAL MATERIALS AS MUCH AS POSSIBLE
Johnsen used stones to design this drainage area, creating a feature that is not only functional but also adds to the garden's aesthetic. Photo by Jan Johnsen.
By incorporating materials such as river rock and large stones to create features we want or need in our garden, we can create something that's both aesthetically pleasing and sustainable. The neutral tones of natural materials have a calming effect, giving our gardens a more peaceful feeling than materials that can sometimes look out of place.
6. FIND YOUR GARDEN'S POWER SPOT
According to Johnsen, a garden's power spot is the place in your garden that holds the most interest. For example, a location that provides a beautiful view of the sunset, a spot where you can sit under the shade of a tree and listen to the breeze, or a corner of your garden that's particularly quiet. Johnsen recommends finding that power spot and then figuring out how to make the most of it. Maybe add a comfy chair or a piece of garden art that will draw you out to the spot.
These are just a few of the many ways Johnsen transforms gardens to turn them into serene, tranquil spaces for homeowners to enjoy. Interested in learning more? Tune into our webinar, Serenity By Design with Jan Johnsen on April 20, 2023!
RELATED:
Landscape Design Tips
Planting Ideas