Our Favorite Fall Container Ideas
21 tips for creative container gardens that say "autumn"
Fall is the perfect time to try something new with your containers. While a basket of mums is a classic choice, sometimes you need a little variety. We've rounded up our favorite fall container plants and ideas to help inspire your creativity.
8 WAYS TO TAKE YOUR FALL PLANTERS TO THE NEXT LEVEL
Thanks to our friends at Proven Winners for sharing these photographs! Check out these special considerations before potting up your own fall containers.
Pair fall colors with rustic elements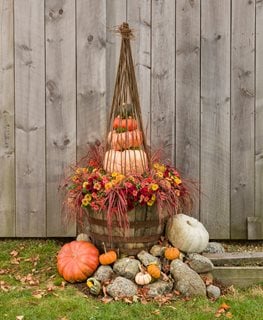 Photo: Proven Winners
Bringing bold fall colors together with rustic elements makes this a winning combination for a seasonal display.
Recipe:
Superbells® Tropical Sunrise calibrachoa
Graceful Grasses® 'Fireworks' variegated red fountain grass
Supertunia® Black Cherry® petunia
Supertunia® Honey™ petunia
Plus:
Pumpkins
Willow Obelisk
Container:
Barrel planter
Make a simple statement
Photo: Proven Winners
When you have a stunning urn like this, keeping the plantings simple is the best way to make a statement.
Recipe:
Superbells® Dreamsicle® calibrachoa
Superbells® Red calibrachoa
Graceful Grasses® Toffee Twist sedge
Container:
Footed Urn
Contrast plants & pumpkins
Photo: Proven Winners
Fill a wide pot with lush green sedum, then top with pumpkins, gourds and fall leaves for a fresh take on autumn.
Recipe:
Proven Accents® Lemon Coral® sedum
Plus:
Pumpkins
Gourds
Fall leaves
Container:
Grooved planter bowl
Choose surprising colors
Photo: Proven Winners
If you're looking to break away from the traditional fall color palette, this moody combination is for you.
Recipe:
Proven Accents® Silver Bullet® wormwood
Soprano® Purple osteospermum
Graceful Grasses® Vertigo® purple fountain grass
Supertunia® Bordeaux™ petunia
Dolce® 'Silver Gumdrop' coral bells
Container:
Trough planter
Reflect the autumn landscape
Photo: Proven Winners
The rich, earthy colors of this container perfectly reflect the changing palette of the autumn landscape.
Recipe:
Proven Accents® Illusion® Midnight Lace sweet potato vine
Graceful Grasses® Fiber Optic Grass scirpus
Graceful Grasses® 'Fireworks' variegated red fountain grass
ColorBlaze® Rediculous™ coleus
ColorBlaze® Royale Apple Brandy® coleus
Container:
Corten steel cube
Don't be afraid of the dark
Photo: Proven Winners
This grouping of containers combines multiple shades of black and purple foliage for a sophisticated look.
Recipe:
Proven Accents® Sweet Caroline Bewitched After Midnight™ sweet potato vine
Proven Accents® Sweet Caroline Sweetheart Jet Black™ sweet potato vine
Graceful Grasses® Red Riding Hood dwarf purple fountain grass
Graceful Grasses® Vertigo® purple fountain grass
Supertunia® Royal Velvet® petunia
Kodiak® Black diervilla
Dolce® 'Silver Gumdrop' coral bells
Container:
Aged stoneware planter
Use bright fall flowers
Photo: Proven Winners
Bright orange fall flowers make this a lively planter that rivals any summer combo.
Recipe:
Campfire® Fireburst bidens
Lakota™ Fire coneflower
Dolce® 'Cherry Truffles' coral bells
Primo® 'Mahogany Monster' coral bells
Fun and Games® 'Hopscotch' foamy bells
Glamor Red kale
Coral Queen Red flowering kale
Purple Baron millet
Container:
Green glazed pot
Put a modern twist on fall
Photo: Proven Winners
Three rows of color blocked plantings that epitomize the thriller, filler, spiller container approach.
Recipe:
Graceful Grasses® purple fountain grass
Hippo® Rose polka dot plant
Proven Accents® Lemon Coral® sedum
Plus:
Mini pumpkins
Container:
Wooden window box
6 TIPS FOR MAKING CONTAINERS COUNT IN THE FALL
"When summer ends there is no reason to cart off pots and containers in preparation for winter," says Dennis Schrader of Landcraft Environments, Ltd. in New York. "Autumn is a perfect time to design and plant interesting combinations that mirror the colors, shades, and textures of the season."
These plants say "autumn" with the deep purple of 'Redbor' kale and Heuchera x 'Crimson Curls', the fiery multicolor ornamental peppers, the vibrant orange and yellow of 'Delta Fire' pansy, and rust-brown of Carex 'Prairie Fire', plus the yellow, orange and rust colors of Jasminum officinale 'Fiona Sunrise', Lysimachia congestiflora 'Aurea', and Heuchera 'Lime Marmalade'. Design by Landcraft Environments, Ltd. Photo by Rob Cardillo.
GROUP SINGLE-SPECIMEN CONTAINERS FOR AN UNCONVENTIONAL DESIGN
Arrange multiple containers, each with a single plant, to create a large composition. "You can move them around to try different looks," explains Schrader.
THINK OF A CONTAINER AS AN INTRODUCTION TO THE REST OF THE GARDEN
Incorporate plant material from your garden into your combination. Autumn is the time to incorporate dry grasses, seed heads, and other cut branches, leaves, and more that reflect what's going on in the garden.
TAKE WEATHER INTO ACCOUNT
Planting containers near the end of the growing season means you can focus on the short term, and don't have to plan for the long haul. "You can really jam plants in there without worrying that they will outgrow their pot," notes Schrader.
CHOOSE CONTAINERS YOU LOVE
Look for pots that let moisture out, age well and are beautiful. Build a collection in a variety of materials and sizes.
SWAP OUT HOLIDAY DECORATIONS TO MAKE YOUR COMBINATIONS LAST LONGER
For autumn, you can add Halloween decorations then replace them with Thanksgiving décor for a refresh that requires minimal effort.
IF YOU HAVE A BEAUTIFUL POT, WHY HIDE IT?
Fill it with plants that enhance its assets. "When you have a gorgeous container, show it off. Don't cover it up with trailing plants," Schrader advises.
TAKE AN ONLINE COURSE WITH A PROFESSIONAL CONTAINER DESIGNER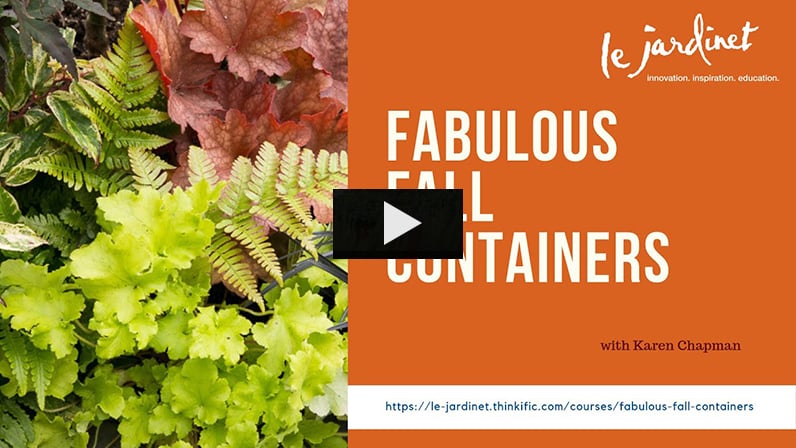 Join Karen Chapman to learn how to create containers that celebrate fall.
7 OF OUR FAVORITE FALL CONTAINERS FROM INSTAGRAM
Croton (look for the upright leaves with red undersides) is usually grown as a houseplant. But we've spotted it in many fall containers this year and think it makes a wonderful addition!
Here croton makes an appearance again, as an off-center colorful foliage element that fills the space between the tall grass and the lower plantings.
We especially love the seed pod in the middle right of this container. Cut one from your own garden or buy them dried from a floral or craft shop.
Ornamental peppers are another fun way to spice up your autumn planters! Pair them with ornamental cabbages and kales for a harvest theme.
Still love mums? Why not start with them at the center of your container and surround them with ornamental cabbage, kale and pappers as well as creeping jenny and celosia.
There's a lot to be said for sticking to just a few colors. No traditional fall orange here, not even the pumpkins!
In this example, millet makes the perfect fall thriller.
RELATED:
Fall Porch Ideas
Fall Tips & Chores
20 Best Fall Flowers
Winter & Holiday Container Ideas
Summer Container Ideas