Fall Gardening Tips and Chores
Ideas for extending the season and preparing your garden for next spring
Fall is the time to wind down and put the garden to bed. By preparing now, you can save time next spring when the growing season ramps back up. Check these things off your to-do list soon so that an unexpected early hard frost or snowfall doesn't catch you by surprise. Then, sit back and start dreaming about next year's garden to help you get through those darkest days of winter.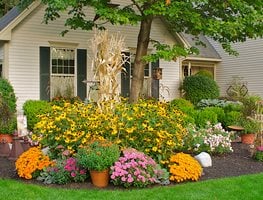 Design by: Rob Saba and Mark Hogan. Photo by: Janet Loughrey.
Celebrate autumn
Replace tired-looking summer annuals with mums, ornamental kale and grasses. Arrange pumpkins and gourds around the yard and home, and decorate lamp posts and arbors with dried cornstalks. Cut branches of cotoneaster and beautyberry to adorn your dining room table for festive harvest dinners, or stick the branches into year-round outdoor containers for extra seasonal color. Get more ideas for dressing up your porch (or patio) for fall..
Design by: Vanessa Nagel. Photo by: Janet Loughrey.
Extend the season
If your yard doesn't already have one, install a fire pit or small portable fire bowl to take the chill off cool fall evenings. Place the fire pit on a patio or in a backyard area where there's already seating. Take time to gather around with family and friends to toast marshmallows and reminisce about summer. Learn more about designing with fire pits.
Photo by: Janet Loughrey.
Bargain hunt
Check out your local nursery for end-of-the-season bargains. More expensive trees and shrubs are often discounted so that nurseries don't have to carry extra inventory through the winter. Plant new specimens as soon as possible and keep them well-watered until they go into dormancy. See our recommendations for 21 Low-Maintenance Plants.
Design by: Laura Crockett. Photo by: Janet Loughrey.
Renovate beds
Now that the weather is cooler, it's a good time to divide and move perennials. Do this at least several weeks prior to your average first hard frost in order to give plants time to recover from transplant shock and establish new roots. Cover garden beds with several inches of mulch for extra winter protection. Get ideas for incorporating perennials.
Support wildlife
Rather than cutting back all of your perennials now, leave plants with seed heads, such as coneflowers, asters and ornamental grasses to provide food for your feathered friends through the harshest months. Make sure your garden includes native trees and shrubs with late-season berries, such as hawthorn, viburnum and beautyberry for seasonal color as well as additional food for wildlife. Find trees and shrubs with berries.
Photo by: Janet Loughrey.
Add sustainability
Incorporate eco-friendly practices into your fall cleanup routine. Instead of bagging fallen leaves to be hauled away, finely shred leaves with a mower and layer or work them into beds to enrich the soil. Add leftovers to the compost pile. Winterize compost by insulating with a thick layer of leaves or straw to trap the heat that is generated as organic matter breaks down. Cover with a permeable cloth to allow moisture in and to keep material from blowing away. Learn more about how and what to compost.
Photo by: Janet Loughrey.
Think spring
By late winter, gardeners are eager for any sign of spring. Fall is the time to plant spring-blooming bulbs to fill bare spots in the perennial border, or along pathways where they can be seen up close. Plant scented flowers such as daffodils or hyacinth near your home's front entrance where the fragrance will be most enjoyed. Learn how to plant, grow and care for bulbs: Bulbs 101.
Design by: Linda Ernst. Photo by: Janet Loughrey.
Protect your pots
In colder climates, wash and store ceramic and terra cotta pots in a cool, dry place where they won't freeze and crack. Sturdy metal, stone, fiberglass or plastic pots can be left out and used for fall and winter arrangements. See a roundup of some of our favorite fall containers along with 21 tips to create your own festive fall planters.
Photo by: Janet Loughrey.
Take stock
Make a list of what worked well in the garden, and what could use fine tuning. Is a key tree getting too big? Did design elements such as hardscaping and plant combinations work together effectively? Think ahead to next year's projects, such as building a new path, patio or water feature. Find tips for creating an enticing garden.
Design by: Debbie Brooks. Photo by: Janet Loughrey.
Put the patio and tools to bed
Wipe down patio furniture with mild soap and water, and store in the garage or garden shed. Scrub excess dirt from garden tools and oil the metal parts to prevent rust. Store tools in a cool, dry place. Disconnect hoses and drain for storage, and cover faucets and hose bibs with insulating material to keep them from freezing. Learn more about daily and seasonal maintenance for garden tools.